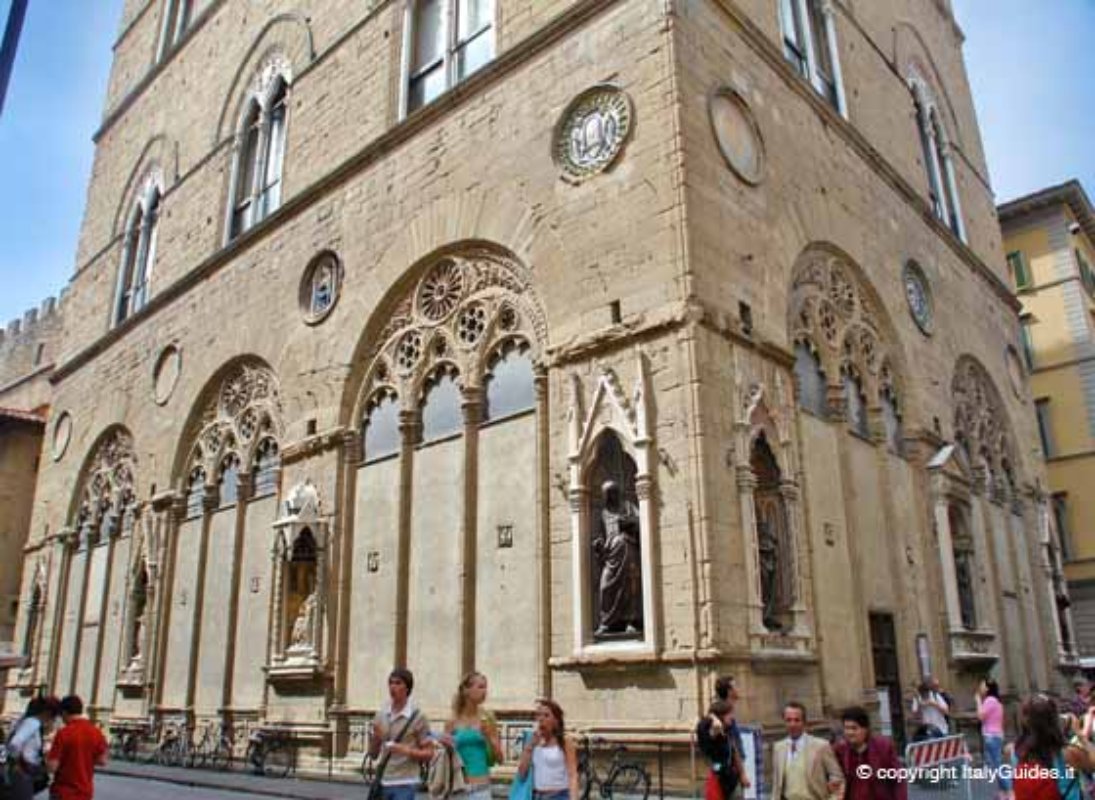 Itinerary: Charity in Florence
Visit Orsanmichele, Loggia del Bigallo, the Misericordia and more
ORSANMICHELE
The Florentine building which best expresses Christian charity is the
church of Orsanmichele.
It was originally a loggia for selling wheat. It's keepers used to
distribute offerings among the poor
, and people soon began to attribute many miracles to the image of the Madonna depicted there. The interior became a church in 1367, while the upper floors retained their function as a granary until 1569.
LOGGIA DEL BIGALLO
The building, characterised by an angular Gothic loggia, was the home of two Brotherhoods founded in 1244 by Pietro da Verona,
Saint Pier Martire
.
The people of Maggiore di S.Maria (Bigallo) devoted themselves to the sick and to orphans, while those of Novella di S. Maria (Misericordia) dealt with prisoners, the sick and the burying of the poor or of those with no family.

On the loggia there are traces of a fresco in two scenes: the foundation of the society, and the preaching of Saint Pier Martire.
PALAZZO DELLA MISERICORDIA
At the headquarters of the Misericordia,
La Carità (1970) by Pietro Annigoni and the emblem of the Brotherhood (the initials FM under the cross)
represent the purpose of the organisation:
charity is to carry others on your back, but it would be impossible if Christ hadn't first carried the cross on his back for our redemption.THE HOSPITAL OF SANTA MARIA NUOVA
The construction of the hospital complex of Santa Maria Nuova was expanded over the centuries with the cloisters in 1420, the long corridors in the shape of a cross and the loggia of Buontalenti which contains the church.
In the cloister is the monumental fresco of Christ with the Samaritan (Alessandro Allori, 1577).ORATORY OF SAN MARTINO DEI BUONOMINI
The society was born from a proposal from the Prior of the San Marco convent,
Antonino Pierozzi
, for a small company of people who would help the 'shameful poor', those people who were humbled by adverse economic or political situations and were too ashamed to beg.
Frescoes by Ghirlandaio illustrate the work of the Misericordia and of the society.
GIOTTO'S BELL TOWER

Charity – between Faith and Hope – is a woman holding in her right hand a heart and in her left a cornucopia full of flowers and fruits. She represents the fruitfulness of faith, and the hexagonal tile below shows the art of building. The relationship between the two is emphasised: charity moves people to construct not only buildings but humanity. The originals of the panels are displayed in the Museum of the Opera del Duomo.
 
You might also be interested in