Discovering Florence's historic centre
Must-see gems in one of the world's most beloved cities
Florence's centre is home to outstanding historical treasures, which is why, in 1982, UNESCO declared the area a World Heritage Site. It's not hard to agree with that decision: a visit to piazza Duomo and you'll be treated to incredible traces of the Renaissance, like the Cathedral of Santa Maria del Fiore, built in a typically Italian Gothic style, and Giotto's famed bell tower. The cathedral's imposing dome, built by Brunelleschi, remains an outstanding example of architectural genius.
Next, head to Palazzo Medici Riccardi, the first Renaissance building in Florence, designed by Michelozzo. Not far, you'll come across the Basilica of San Lorenzo, commissioned by the Medici family to Brunelleschi. Its façade is very atypical because it's unfinished. Inside, the church is home works by Donatello and Michelangelo. But as for Buonarroti's most famous pieces, visit the Accademia Gallery, where you can see Michelangelo's David in all its magnificence. Just a few steps away, piazza Santissima Annunziata and the Istituto degli Innocenti will fascinate you.
Walking down via dei Calzaiuoli for shopping, you'll arrive to piazza della Signoria, the city's historical-political centre and home to Palazzo Vecchio. Just around the corner, visit the Uffizi Gallery, where masterpieces of Renaissance painting are beautifully collected.
The Basilica of Santa Croce is where you can admire the funerary monuments of important people like Galileo Galilei, Niccolò Machiavelli and Michelangelo. Once you've crossed the Ponte Vecchio, you'll find yourself in the Oltrarno area, home to historic artisan shops, where craftsmen still use traditional techniques to produce their high-quality products. While in Florence, don't forget to visit Palazzo Strozzi, Palazzo Pitti, Boboli Gardens and the Church of Santa Maria Novella, near the train station. Piazzale Michelangelo offers a beautiful view over the entire city (go there at the sunset).
Florence is an international mecca for culture, the city is truly one-of-a-kind!
You might also be interested in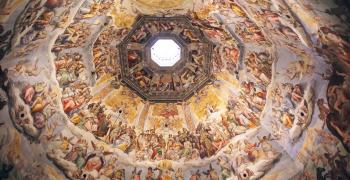 Learn more
Art and Culture
Tuscany is the cradle of the Renaissance and known all over the world for its immense artistic and cultural heritage.
continue...