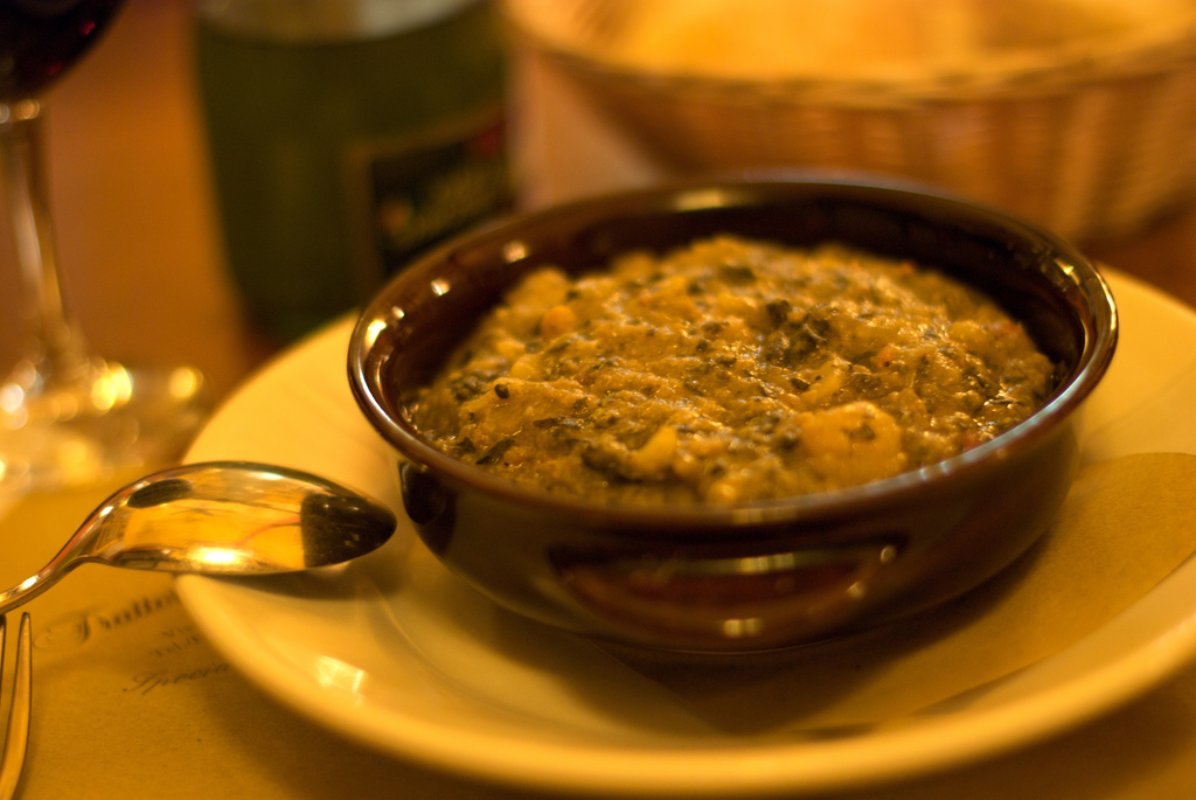 First courses
Reboiled Soup a.k.a. Ribollita recipe
This very simple peasant soup substitutes meat with bread, in Tuscany it is also known as minestra di pane (bread soup-stew) or zuppa di magro (or lean soup) although we can't properly define it as vegetarian since the Friday dish (no-meat ) custom quickly arose to flavour the soup with lard, pork crackling or best of all with a ham bone that may be used in the initial phase of the preparation.
We commonly call it
ribollita
because it is consumed the day after its preparation when it is warmed up in a pot with extra olive oil and reboiled.
Ribollita
is simple, inexpensive and made with stale unsalted Tuscan bread and a variety of vegetables including the typical Tuscan kale. Bread soup, and therefore
ribollita
too, are typically winter dishes also because the main ingredient –
Tuscan kale
– is a vegetable that can be found exclusively in winter.
The version we decided to post is the certified one, on May 24th 2001, the florentine Delegation of the Italian Cooking Academy stated this is the "Ribollita DOC" recipe and signed this official document. Although this is the official tuscan bread soup, you don't have to strictly stick to it, remember that this was a poor dish made from whatever vegetables were on hand, use your imagination and don't worry about getting it wrong.
400 g dried cannellini beans
400 g of dried unsalted bread
400 g of Tuscan kale
700 g white cabbage
300 g swiss chard
2 medium sized potatoes
1 spoon of tomato paste
thyme
1 onion
2 garlic cloves
2 celery stalks
2 carrots
extra virgin olive oil
salt and pepper
Soak the beans overnight then discard the water and boil them in abundant water until soft adding salt towards the end. Drain them (keeping the water), blend half of them in a food mixer and keep 1/3 of the beans whole.
Chop the carrot, celery, onion, garlic and sauté with oil in a large saucepan with some thyme. After a few minutes add the cut up potatoes and the other vegetables together with the spoonful of tomato paste that you need to melt in a little warm water.
Slice the bread into thin slices and place them into the pot with the soup and stir for a few minutes. Take the pot away from the stove and add salt, pepper and some olive oil.
Now, at this point you should leave your soup to rest…..if you can't wait go ahead and taste it knowing that in this phase it is not a ribollita soup, since it hasn't reboiled! The next day use some olive oil to reboil it for a few minutes and pour a little extra virgin olive oil.
You might also be interested in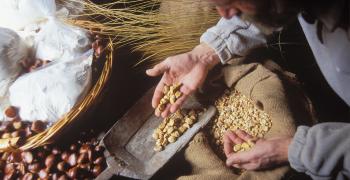 Learn more
Food and Wine
Olive oil, wine, truffle and other culinary delights make up the excellence of Tuscan gastronomy. ...
Continue...