Desserts
Schiacciata alla Fiorentina. Tuscan Carnival Cake
Schiacciata alla Fiorentina is a tradidional spongy cake from Florence, popular around Carnival time. Find out here our recipe.
350g all purpose flour
100g sugar
2 eggs
80 g of olive oil*
80 ml of milk
1 orange - its juice
16 g of vanilla flavored baking powder **
powder sugar to finish
Mix all ingredients together except for the baking powder in a large bowl.
Finally add the baking powder and mix in, leave to rest for half an hour at room temperature.
Pour into rectangular silicon baking pan.
Bake for 30 minutes at 200 degrees celcius. Cool on rack.
Transfer to plate.
* Originally this florentine cake was made using lard instead of olive oil.
** Tip when adding baking powder always use a small sieve to make sure it is perfectly smooth.
You might also be interested in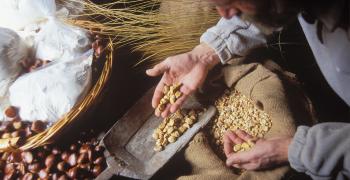 Learn more
Food and Wine
Olive oil, wine, truffle and other culinary delights make up the excellence of Tuscan gastronomy.
continue...