location_cityHistorical Buildings
Giotto's Bell Tower in Florence
The bell tower of Santa Maria del Fiore was begun by Giotto in 1334
Giotto's Bell Tower – 84.70 meters tall and 15 meters wide – stands in Piazza Duomo in Florence. A magnificent example of Florentine Gothic architecture of the 1300s, it is decorated with white, red and green marble like the adjacent Cathedral of Santa Maria del Fiore. The bell tower was begun by Giotto in 1334 and after his death, the work was continued by Andrea Pisano. It was finished in 1359 by Francesco Talenti, the mastermind behind the upper windows.
The bell tower's sculptural decoration is immense and includes one of the most complex figurative cycles of the Middle Ages, with 56 reliefs across two parallel registers and 16 life-size statues in the niches, created by the Florentine masters of the 14th and 15th centuries, including Andrea Pisano, Donatello and Luca Della Robbia.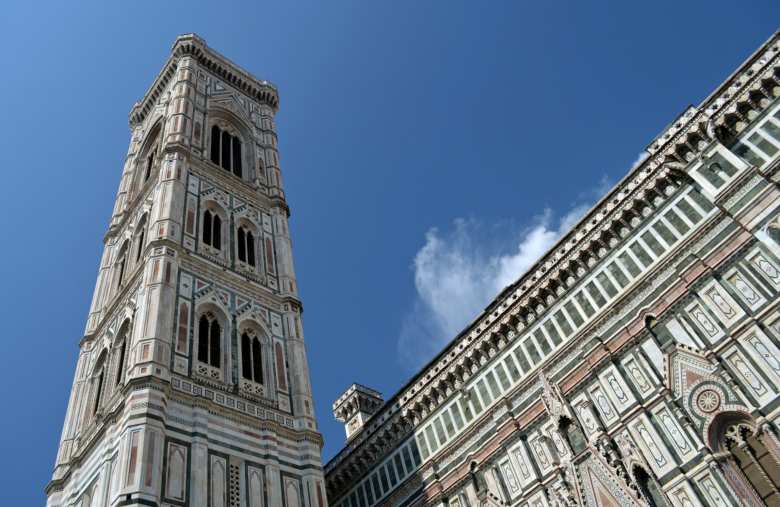 In the hexagonal panels and lozenges are depictions of the Creation of Man, his Activities, the Liberal Arts, the Planets, the Virtues and the Sacraments. The statues in the niches represent the Patriarchs, Prophets, Kings of Israel and the Pagan Sibyls, including the beautiful group depicting the Sacrifice of Isaac by Donatello, a splendid example of the naturalism that was so popular in the 1400s. The originals of the sculptures are all inside the Museum of the Opera del Duomo behind the cathedral.
Those who would like to enjoy an incredible view of Florence's historic center can climb the bell tower: after 414 steps (there is no elevator), visitors will reach a large panoramic terrace overlooking the city.
Florence
A stunning city where you will lose yourself in the art, history, fashion and traditions of Tuscany
No one plans a visit to Tuscany without planning a visit to Florence: the city of the lily is a treasure trove of artistic treasures and the centre of a fervent vitality. Aside from its exceptional heritage of art, bearing witness to its centuries of civilisation, Florence can be enjoyed in so many ways: promenading along the enchanting riverbanks at sunset, entering the bohemian alleys of ...
Morekeyboard_backspace