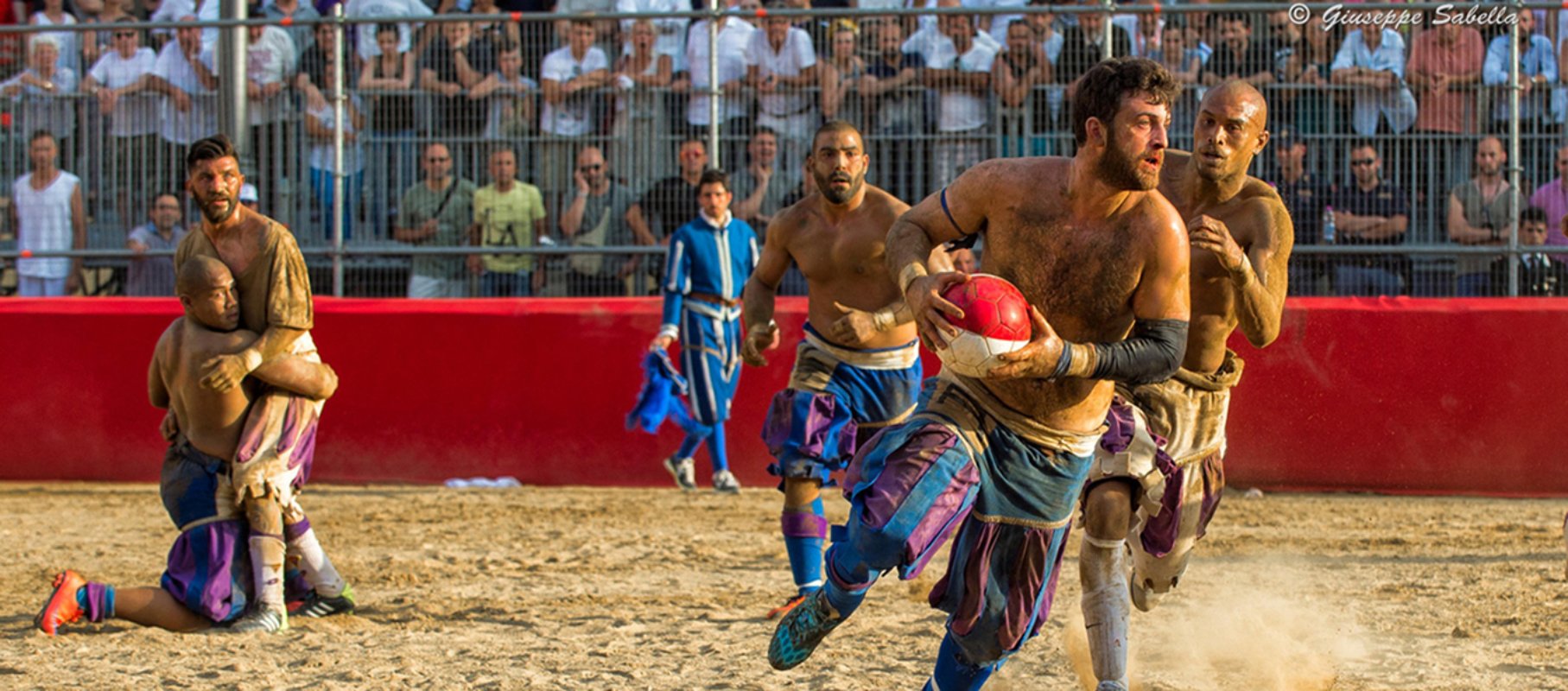 Calcio storico fiorentino is one of the best-known folklore traditions of Florence. Also known as "calcio in livrea" or "calcio in costume", the term refers to a centuries-old sport, a ball game played between teams. This practice was probably born out of a different type of competition, Harpastum, from the Greek verb ἁρπάζω (harpázō), which means to "tear, grab, or take away with force". At that time, the ball was stuffed with rags or leather; today, there's just air inside.
There is concrete evidence of calcio storico as early as the 16th century. Anyone who isn't familiar with this tradition will probably feel like he or she is watching a combination of calcio, rugby and wrestling, but the rules are somewhat different.
Originally, calcio storico was instituted as a way to entertain the wealthy and affluent classes of Florence and matches would take place on the night before Epiphany and just before Lent.
There are 4 teams (each one made up of 27 calcio players, or "calcianti"), representing the 4 historic districts of Florence (the Bianchi of Santo Spirito, the Azzurri of Santa Croce, the Rossi of Santa Maria Novella, and the Verdi of San Giovanni). They compete in multiple rounds, first playing two semifinals, the winners of which advance to the final.
The matches take place on a "field" (actually a town square) covered in sand and run for about 50 minutes. The goal of the "calcianti" is to bring the ball to the end of the enemy's side of the field and make it into the net to score a goal. Once the time allotted is up, the winning team is the one that has scored the most points. Once the victory is announced, the winning team receives a prize: a Chianina heifer.

Currently, the three matches (two semifinals and a final) run in piazza Santa Croce in the month of June in the lead up to the annual celebrations of Saint John the Baptist (or San Giovanni, Florence's patron saint) on June 24. All of Florence turns especially festive that day with a magnificent historic costumed parade through the historic center; come nightfall, there are special fireworks launched from Piazzale Michelangelo and visible along the Arno riverbanks.
Organization
Comune di Firenze
Tel. 055 2616054
Florence
A stunning city where you will lose yourself in the art, history, fashion and traditions of Tuscany
No one plans a visit to Tuscany without planning a visit to Florence: the city of the lily is a treasure trove of artistic treasures and the centre of a fervent vitality. Aside from its exceptional heritage of art, bearing witness to its centuries of civilisation, Florence can be enjoyed in so many ways: promenading along the enchanting riverbanks at sunset, entering the bohemian alleys of ...
Morekeyboard_backspace