Desserts
Pan di Ramerino - Tuscan Easter Recipe
Pan di Ramerino is a dessert typically consumed during the Lent period and in the past traditionally prepared in Florence on Holy Thursday, before Easter.
Ramerino means rosemary, one of the main ingredients of these soft buns of medieval origin, simple to prepare but very tasty.
Here is the recipe to prepare them at home!
25 g (1 oz) rosemary spigs
25g (1 oz) fresh yeast
a pinch of sugar
a pinch of salt
310 ml (1 .1/4 cups) tepid water
500 g (1 lb 2 oz) bread flour
60 ml (1/4 cup) olive oil
Strip the rosemary leaves off the stems and discard stems. Put the yeast into a bowl with the pinch of sugar. Stir in the water and leave it to activate.
Put the flour into a large, wide bowl or onto your work surface. Add the yeast, most of the rosemary, half a tablespoon of salt and most of the olive oil and mix well to incorporate. Knead the dough for about 15 minutes, until you have a smooth and compact ball. Add a few drops of water or a little more flour, adjust, until you obtain the right consistency.
Put the dough into a bowl, cover and leave to rise for an 1 1/2 hour until it has doubled in size.*
On a surface you should previously dust with flour, cut the dough into smaller chunks and roll into balls. Sprinkle the tops with the remaining rosemary and then drizzle with the olive oil.
Dust a baking tray with flour and put the bread loaves onto the baking tray, allowing some spray in between loaves (they will spread while baking). Use a knife to draw a cross on the bread, cover it with a cloth and leave in a warm place for another 30 minutes. Meanwhile preheat the oven to 200°C (400°F). Put the baking tray into the hot oven and bake for about 35 minutes, until the top is golden and the bottom of the loaves should also be golden.
Tip* Always leave dough in warm places - for it to leaven well.
You might also be interested in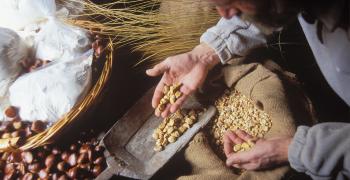 Learn more
Food and Wine
Olive oil, wine, truffle and other culinary delights make up the excellence of Tuscan gastronomy.
continue...