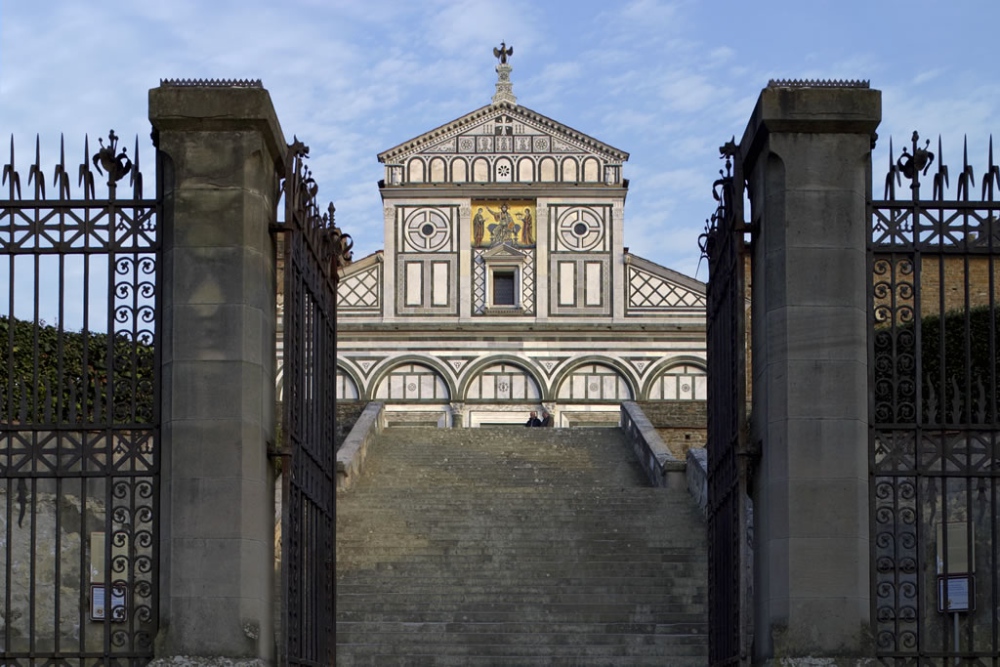 Places of worship
Abbazia of San Miniato al Monte in Florence
The Florentine Romanesque masterpiece dominates the city from above
The Abbey of San Miniato al Monte in Florence is located above piazzale Michelangelo, in one of the highest points in the city, offering a wonderful view of the historic centre. The abbey, built between the 11th and 13th centuries, is a masterpiece of Florentine Romanesque architecture: the white and green marble façade is splendid, boasting a mosaic at the centre that depicts Saint Minias, the Virgin Mary and Christ.
Depictions of an eagle and a bolt of cloth, the symbol of the cloth guild, can be seen in many parts of the church, including at the top of the façade, as it was the guild that financed the construction of the church, built where a small oratory dedicated to the Christian martyr Minias once stood. According to legend, Saint Minias was beheaded on the banks of the River Arno and, carrying his head in his hands, went to die at the top of the hill: this is where the oratory was founded, rebuilt into a church in 1018.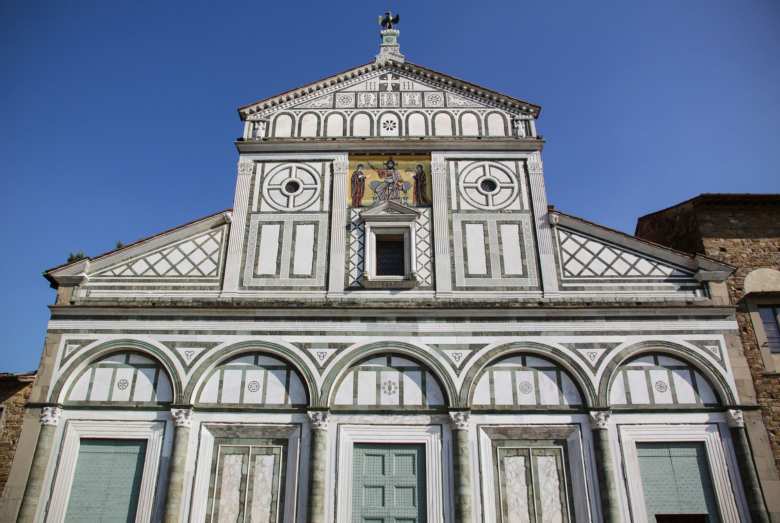 The interior of the church boasts a wonderful marble floor, with a depiction of the zodiac and a crypt underneath, where visitors can admire curious Romanesque capitals.
There are also works of great value in the church, like the Chapel of the Crucifix by Michelozzo, with glazed terracotta vaults by Luca della Robbia, and the Chapel of the Cardinal of Portugal, also decorated by Luca, and perhaps also by Andrea della Robbia and Alessio Baldovinetti, while in the sacristy, visitors can see frescoes depicting the life of St. Benedict by Spinello Aretino.

The Abbey of San Miniato al Monte is located just above the famous Piazzale Michelangelo, one of the highest points in Florence from which you can enjoy a wonderful view of the historic center, a UNESCO World Heritage Site, as well as the Abbey itself.


Info: sanminiatoalmonte.it
Florence
A stunning city where you will lose yourself in the art, history, fashion and traditions of Tuscany
No one plans a visit to Tuscany without planning a visit to Florence: the city of the lily is a treasure trove of artistic treasures and the centre of a fervent vitality. Aside from its exceptional heritage of art, bearing witness to its centuries of civilisation, Florence can be enjoyed in so many ways: promenading along the enchanting riverbanks at sunset, entering the bohemian alleys of ...
Morekeyboard_backspace