Following in the footsteps of medieval pilgrims: the Via Francigena in Tuscany
The Via Francigena is an ancient road running from France – hence the name "Francigena" – to Rome in Italy, although Canterbury in England is considered the main starting point, much further away from France.
The Via Francigena passes through England, France, Switzerland and Italy, 400 kilometers (250 miles) of which are in Tuscany. During the Middle Ages, the Via Francigena was an important pilgrimage route, not a single road, although it comprised several possible routes that changed over the centuries (all roads leads to Rome, you know!).
The Via Francigena, unlike ancient Roman roads, connected abbeys and not cities, linking sacred places of the Christian world. This road soon became an important artery travelled by men and merchandise, thus contributing to the great rebirth of European commerce.
According to history, the first person to complete the Via Francigena was Archbishop Sigeric of Canterbury in 990 AD. He documented his return journey for a total of 1 700 kilometers, covering about 20 kilometers a day.
Along the Via Francigena pilgrims, crossing unspoilt landscapes, you can find plenty of monuments and artistic treasures. The Via Francigena is also a perfect specimen of slow travel, where pilgrims can take advantage of the hospitality and low-cost accommodations.
Today, the Via Francigena can be covered on foot, by bike and on horseback. In 2012, around 1.200 pilgrims walked the Via Francigena. In 2009, the Region of Tuscany presented plans to restore the entire route detailing the low environmental impact infrastructures to be created. Last week, the Department of Culture and Tourism of Tuscany announced its application for UNESCO World Heritage Site recognition.
Tuscany's Via Francigena starts at the Cisa Pass in Pontremoli, following a mule track as far as the Pieve di Sorano in Filattiera and then continues to Aulla. The road reaches Massa and Pietrasanta and Camaiore in Versilia, following one side of the ridge of the Apuan Alps.
Then it's Lucca's turn, with its splendid cathedral. Continuing, pilgrims will come across Altopascio, Porcari and Fucecchio, then they cross the Arno River and arrive at the ancient town of San Miniato.
Then on the Val d'Elsa road, you go up and down on hilltops covered with vineyards, olive trees and cultivated farmland. Then you encounter San Gimignano, Monteriggioni, magnificent Siena, the white roads of the Val d'Arbia and the hill town of Buonconvento.
In Val d'Orcia you will also come across the medieval fortified villages of San Quirico, Bagno Vignoni and Radicofani.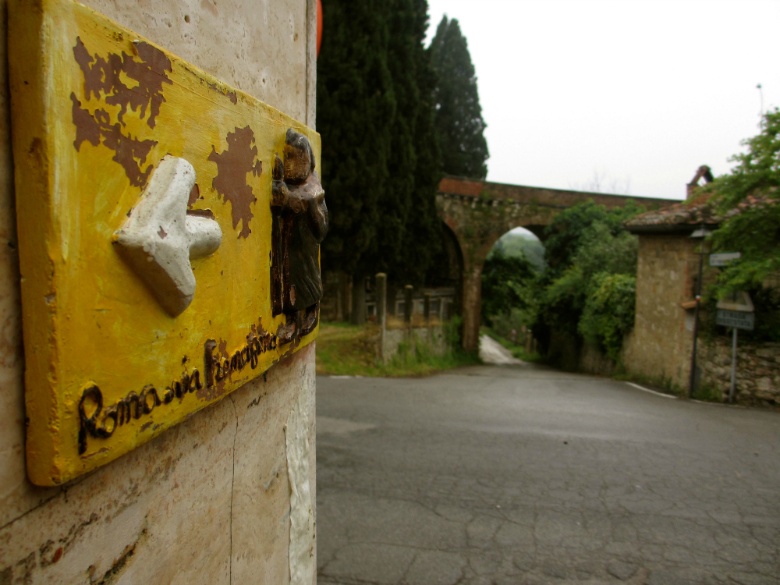 Tuscany's Via Francigena step by step
Applying for a Pilgrim's Passport
The Pilgrim's Passport is a personal document that pilgrims on the Via Francigena fill out during their journey as a souvenir of the road they have travelled.
By presenting this document to participating parishes and municipalities, pilgrims can receive a special stamp.
&
Francigena and Spiritual Routes