location_cityHistorical Buildings
Aghinolfi Castle in Montignoso
A gem of a place on the slopes of the Apuan Alps, to the left of the Tascio stream
Proximity to the sea and direct control of the nearby via Francigena have always made Aghinolfi Castle in Montignoso an exceptional strategic point. An 8th-century document attests to the existence, even in the Lombard era, of Aghinulfo, an unknown character who seems to have been a functionary at the Lombard court in Lucca. The castle was built, albeit fitfully, in the late Middle Ages by the Lucchese government, which considered Montignoso a valuable place for control of the sea. The most recent military occupation of the castle was in 1945, when it was held by a Nazi garrison, who made a few architectural changes and turned it into one of the main strongholds along the Gothic Line.
There are many elements to the complex: a wide ring of walls, flanked by towers, encloses two spaces, both large but of different dimensions. The higher area contains the weapons-training ground and a patrol route, supported by numerous arches; a keep built on a large octagonal building (probably the oldest in the whole complex), which, via a walled courtyard, is joined to a circular tower, the bastion of San Paolino. The octagonal building, which is thought to date from the 1100s, seems to have had both military and residential functions over the centuries.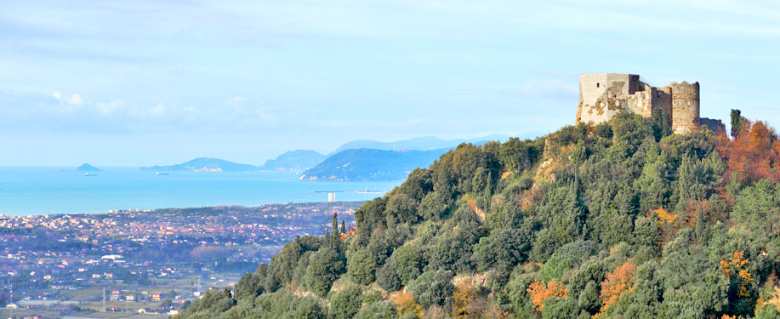 Restoration works on the castle, begun in 1998, have consolidated the ruins and integrated them with walls more recently constructed. A panoramic terrace has thus been created, and a display room has been furnished with a glass floor to allow you to look down through the historical layers of the building.
A visit to the castle will allow you to enjoy a beautiful view of the sea and the mountains and to understand the story of the monument, by way of the surviving material evidence.
Montignoso
From Mountains to the sea, a charming territory loaded with history
The territory around Montignoso, in the Riviera Apuana, is enclosed by the mountains and the sea. From the Versilia coast to the peaks of Pasquilio, its hamlets each boast their own unique characteristics. Cinquale is lapped by the waves, the perfect place for a relaxing holiday at the hot springs or on the beach, which are always evocative in this area, the mountains framing the background. ...
Morekeyboard_backspace