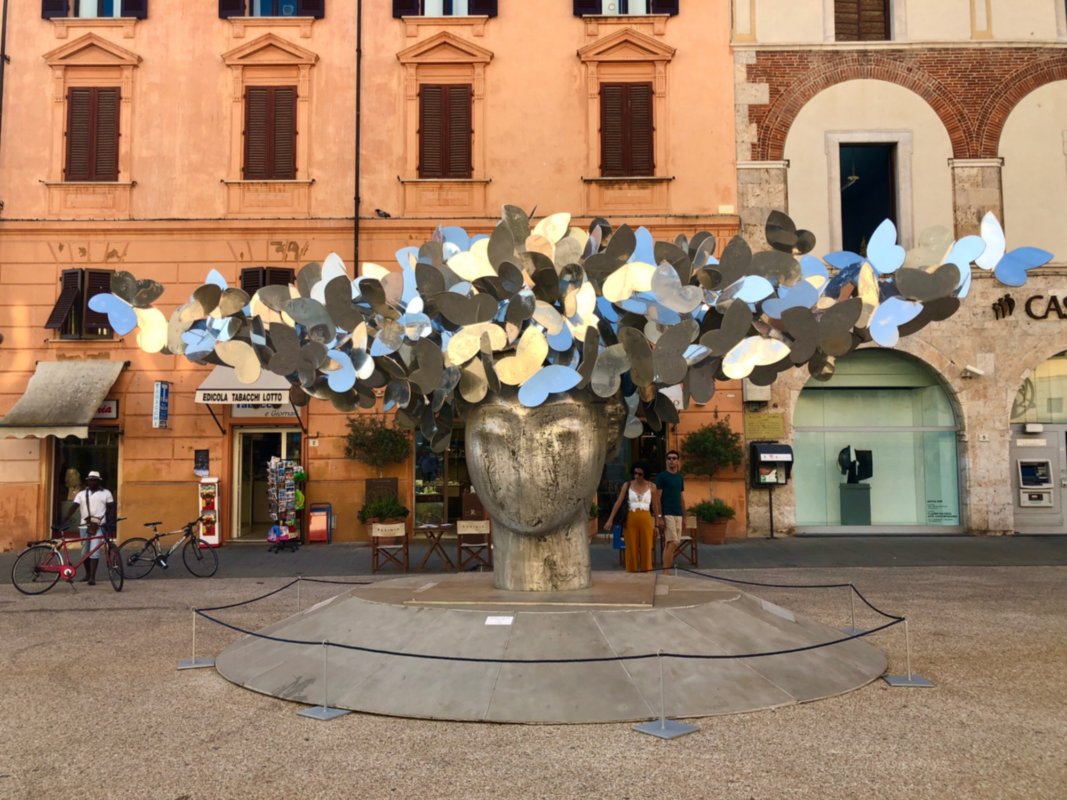 A creative enclave with a unique joie de vivre
Nestled in the backdrop of the Apuan Alps is the cheerful town of Pietrasanta, a place well known to important figures in the art world such as 21st century artist Igor Mitoraj who once said about the area: "I remember when I arrived here by train ... the scents, the fast-changing landscapes, the colours. It was love at first sight." And it is not hard to see why.
This elegant town dates back to the 13th century and has long embraced artistic expression along the Via Francigena pilgrim path, especially towards those who embrace sculpture (due to its close access to the nearby marble quarries). Thus, it is perfectly permeated with art galleries and museums to bring out anyone's inner creative soul.
Personally, I find it to be an endlessly charming stop to "just be" even if only for a day, a welcome break from the busy sandy beaches that lie not far from the center. The summer is when the city really comes alive, perhaps because of the easy beach access and pretty squares just beckoning you to linger over a drink.
directions_walk

Means of transport

On foot

directions

Distance

4 km

access_time

Duration

1 day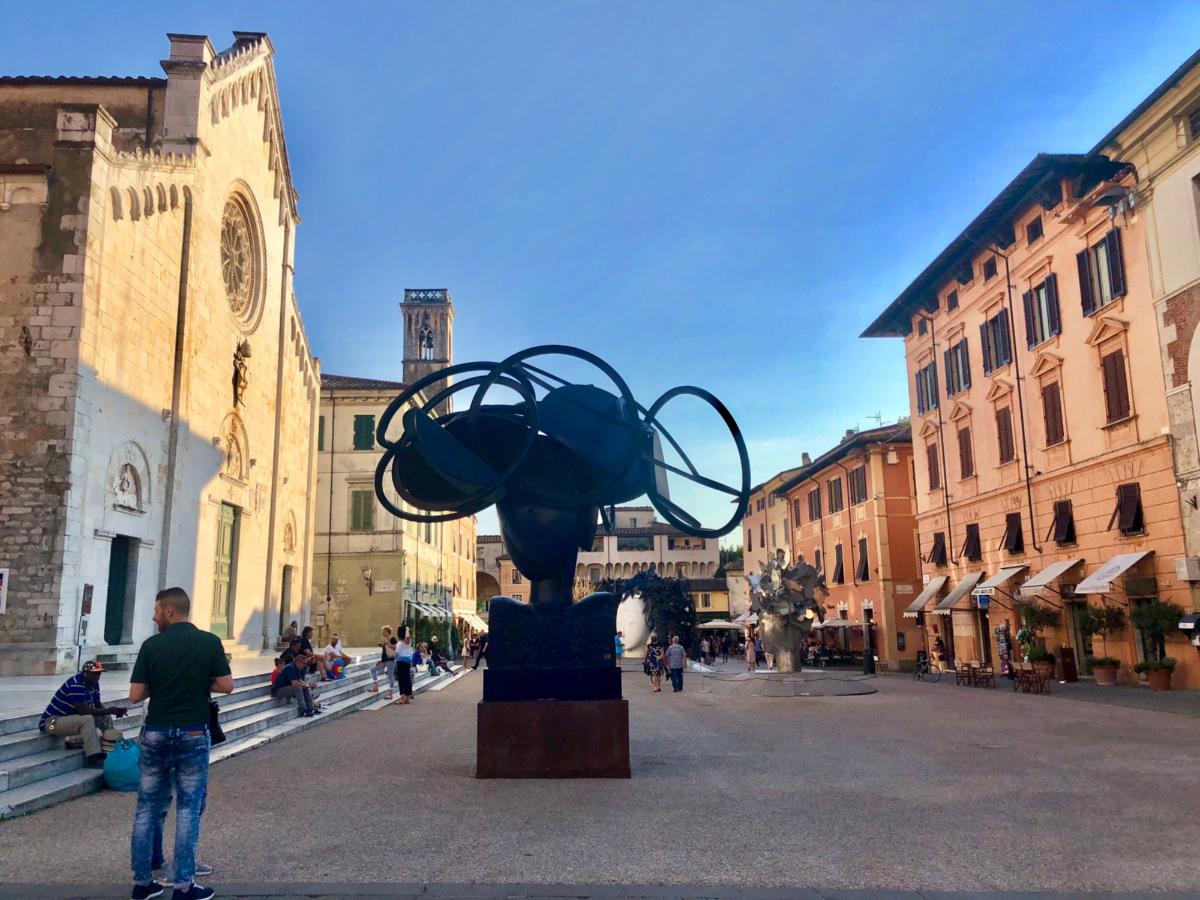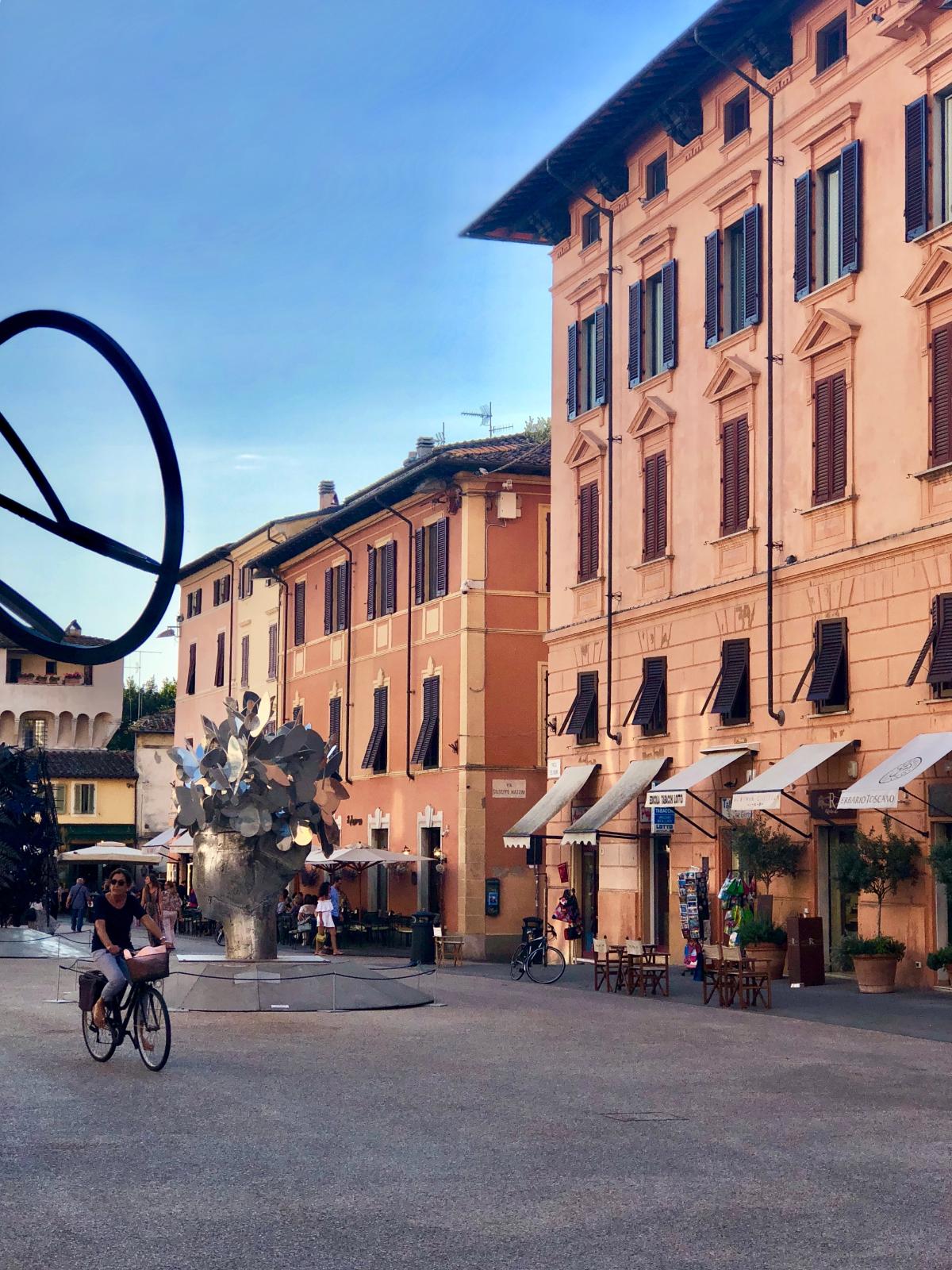 Coffee in Piazza Duomo
To visit, you'll likely enter the city through its only remaining city gate "Porta a Pisa" adjacent to the Florentine 'Rocchetta' fortress, also known as 'Arrighina' where you will instantly be transported to the rectangular vibrant Piazza del Duomo where much of the action morning to night takes place with large sculptures taking center stage in various areas of the square. It's a lot to take in at first, in a good way. This is the quintessential place to grab a seat and enjoy the Italian art of people-watching and slowly sipping a coffee or aperitivo later in the day.
Make sure to pop into the 14th century main church, the Romanesque-gothic Duomo di San Martino built over a previous church featuring a bell tower with an incredible helicoidal staircase. Follow that with a visit to Sant'Agostino church and complex with its beautiful cloister, the complex itself is also home to the civic library and the Bozzetti Sculpture Museum. Also worth a peek are the historic Teatro Comunale and the Palazzo Moroni, that houses the archeological museum of Versilia where you can find salvaged items from prehistoric times to the Renaissance.
Stroll down Via Giuseppe Mazzini to visit the historic Church of San Antonio Abate with its Botero frescoes and ancient wooden statues depicting saints and don't miss a visit to the Chiesa della Misericordia with frescoes featuring the Gates of Paradise.
Via Garibaldi instead is home to the old-world baptistery, home to a pair of ancient baptismal fonts before exploring the streets fashionable art galleries and small boutiques.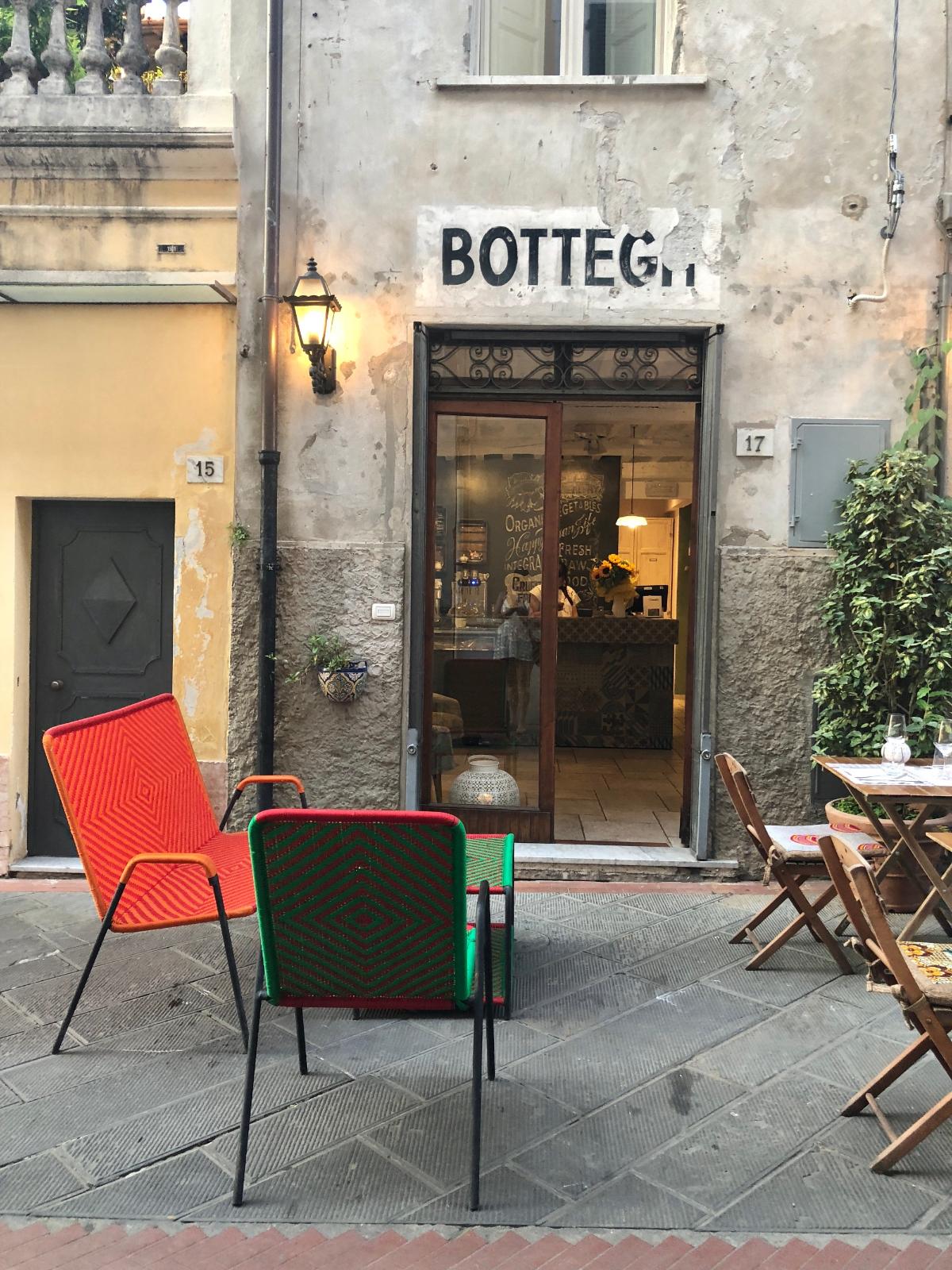 A Surf and turf lunch
When you're feeling peckish there are no shortage of great restaurants in the historical center featuring an interesting selection of surf and turf thanks to the close proximity to both mountains and sea. My advice is to keep an eye out for quality local products such as the famous "lardo di colonnata" (which boasts) IGP quality certification) – my favorite kind of fat, cured in "conche" marble basins with fragrant herbs in a small town near the Carrara marble caves. You'll often find it melted deliciously on top of crusty bread, the perfect antipasto to any meal.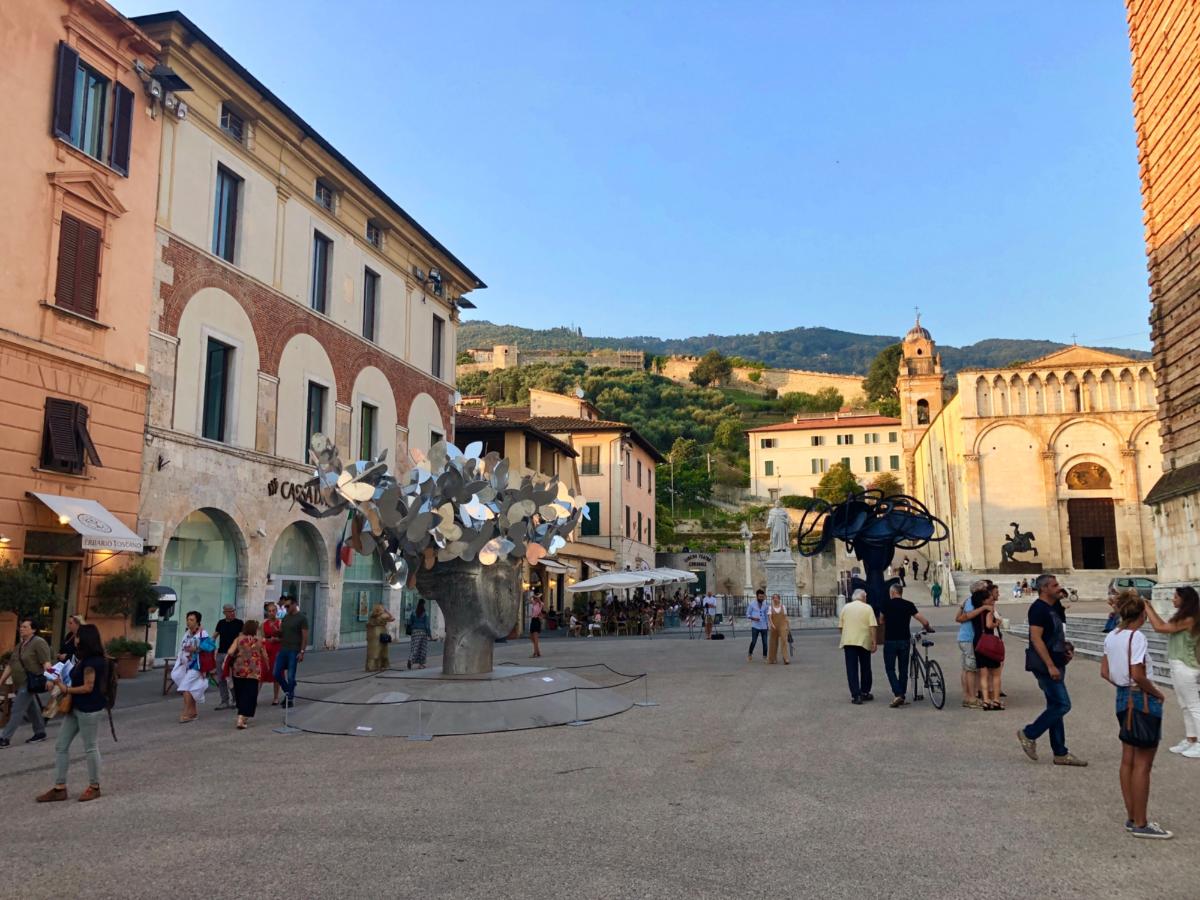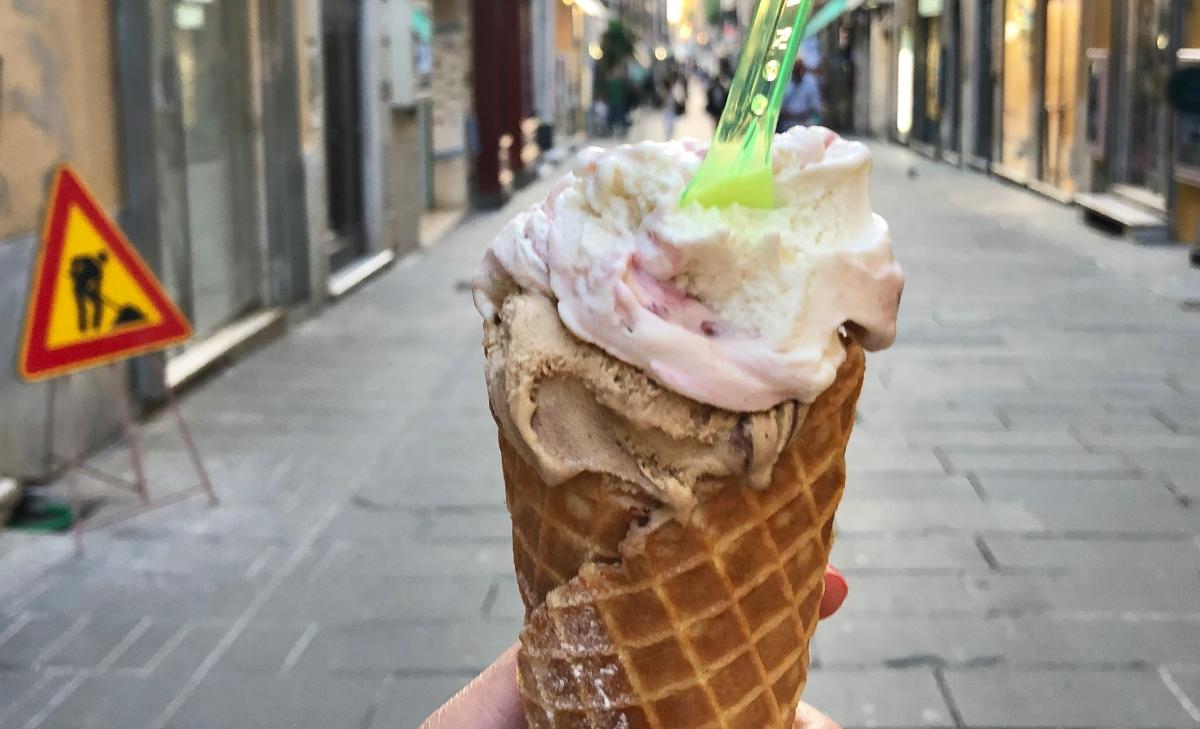 The "passeggiata" hour
Going away in the opposite direction of Piazza Duomo you'll find the MuSA Virtual Museum of Sculpture and Architecture on Via Sant'Agostino, 61. This multimedia space is eclectic and features a fascinating video explaining the history and area of Pietrasanta - keep in mind that it mostly open in the summer or through private visits that you can book by emailing visite@musapietrasanta.it.
We wouldn't pass up the chance to visit the many art studios especially in a place where even art legend Michelangelo learned from local artisans. What I especially love about being here is just strolling down each street, especially before dinner during the requisite "passeggiata" hour around 5-7pm as the light starts to fade.
For a panoramic look at area, head up the steep Via della Rocca to the ancient fortifications of the city aka the Rocca di Sala and 14th century Guinigi Palace, the former residence of Paolo Guinigi (of Lucca) in 1408. Unfortunately, the palace isn't open to the public but it still remains a beautiful place to take in great views and work off your lunch!
In addition, keep an eye out for works of art housed around various squares, especially during the summer months when the local commune works together with local and international artists.
Remember that Pietrasanta is near the popular beaches Marina di Pietrasanta and Forte dei Marmi, long been a favorite in fashionable Versilia; also worth visiting in the vicinity are the cities of Pisa, Viareggio and Lucca and the fascinating marble quarries of Carrara. You could also base here to discover the untouched and lovely areas of Lunigiana and Northern Tuscany.
Versilia
Golden beaches, an inland dotted with small villages and nature reserves waiting to be explored, a moderate climate and a nightlife full of performances and entertainment: this is the Versilia, a stretch of coastline that extends for 20 ...
Scopri Versiliakeyboard_backspace