location_cityHistorical Buildings
The "Spedale" in Altopascio
In the Middle Ages, it was a hospice renowned throughout Europe
The town of Altopascio has always been visited by pilgrims walking along the via Francigena. As a result, since the Middle Ages, the community has worked to make their stay comfortable and to guarantee rest and lodging.
In Altopascio, a veritable tradition of assistance was developed, carried out primarily under the auspices of the Order of Saint James of Altopascio: starting in the second half of the 11th century, wrapped in their characteristic black cloaks, they worked with pilgrims in a variety of ways, transforming simple hospitality into a specialized refuge for medical assistance. The novelty of this was in its healthcare, offering aid aimed at wayfarers with the help of competent personnel, like lay doctors and surgeons.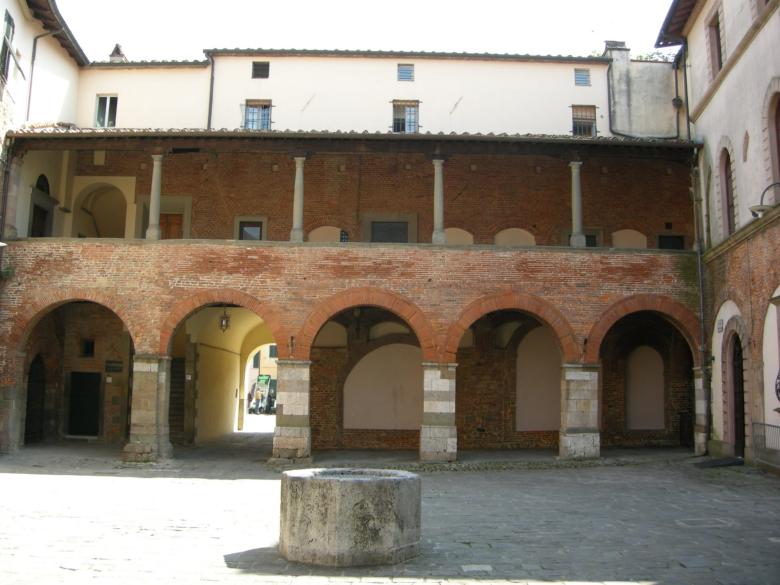 The laws regulating assistance that the monks – who began to become known as the Knights of the Tau because of the cross sewn on their cloaks – applied were very clear, one even focusing on the meals to be provided: the duty to offer every pilgrim bread so they could gain their strength was reiterated, and this bread is still today a tradition in Altopascio.
The medieval hospice, or spedale, was surrounded by a strong perimeter wall that gave it the appearance of a fortress; the entrance was through the Porta degli Ospedalieri, and the interior included two large courtyards, one dedicated to the monks and the other for hospitality. The Church of San Jacopo and the bell tower were also part of the complex, the latter serving as a sort of lighthouse for pilgrims, who could see it from a distance. In the 15th and 16th centuries, the hospice was transformed by the Capponi family first into a fortress and later into a farm.
Info: altopasciocultura.it
Altopascio
KNOWN AS THE CITY OF BREAD, THIS HISTORIC STOP ALONG THE VIA FRANCIGENA HAS A CHARMING HISTORICAL CENTER
Altopascio has been known as a rest stop for pilgrims traversing the Via Francigena (a pilgrimage route running from Canterbury to Rome) for centuries, but it is also called the "city of bread" because of the long-standing traditions passed down through generations in a region known for its abundance of grain. ...
Morekeyboard_backspace
You might also be interested in