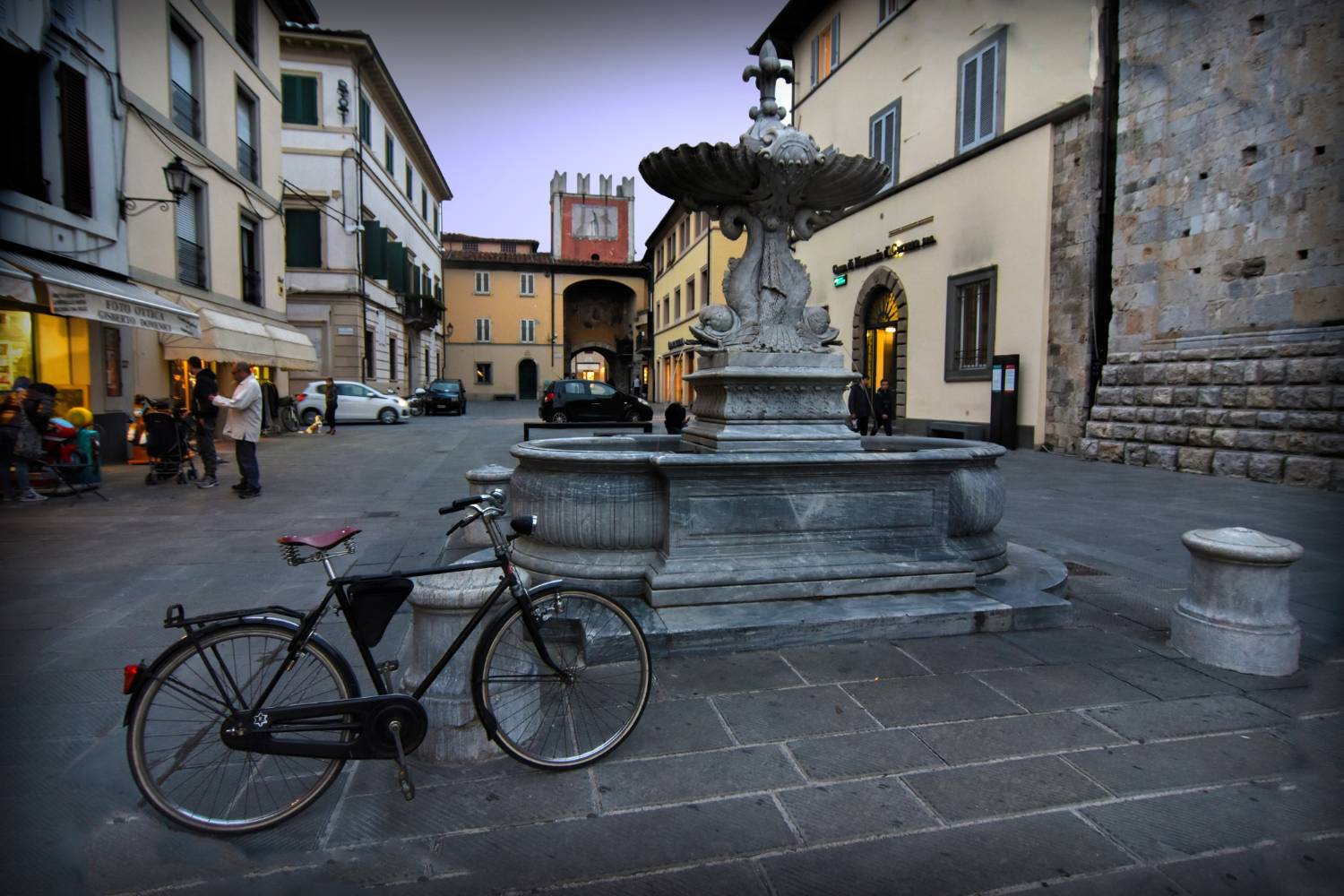 The town in northern Tuscany drenched in history and tradition
Touring Camaiore, between sea and mountains
Camaiore is unique in that it offers the best of both worlds; it's just a short drive from the sea as well as the mountains, being comfortably positioned between the two. It has a small town vibe with a lasting flavor of culture begging to be explored to the fullest extent, and that is exactly what we set out to do! As we began our tour of this small town along the Via Francigena in northern Tuscany, it was apparent that we stumbled upon a concentration of lively people, savory foods, and ancient history meant to amaze and encourage curiosity. Life seemed to thrive in Camaiore, with local merchants selling their vegetables and elderly men sprawling on the benches and chatting in each other's company.
That's one thing that Tuscany has to offer that sets it apart, the opportunity to experience local life while maintaining a sense of wonder as seen through the eyes of a visitor. It is in this, that Camaiore proves that "Tuscany is Beautiful Everywhere" and the reason we started this exploration with the "Toscana Ovunque Bella" project in the first place.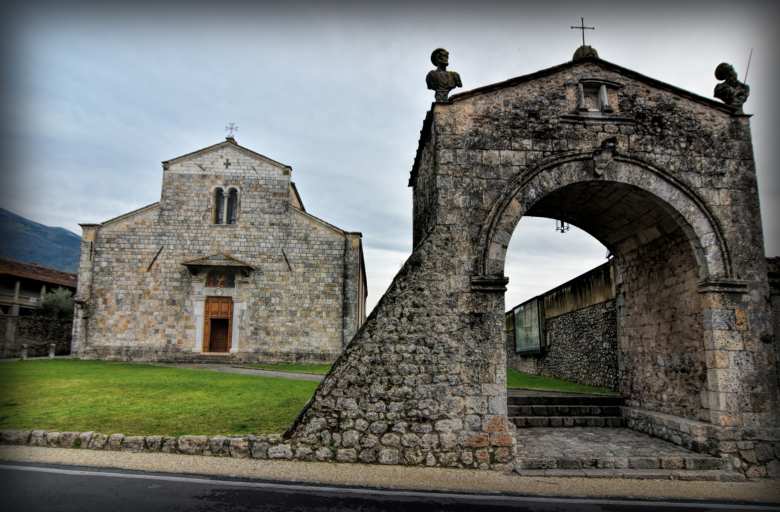 We embarked on our tour of the day with Luca, a local man who knows the very heartbeat of Camaiore inside and out. We explored three churches that hold together the religious traditions of Camaiore, each having their own unique significance and history. The Badia di San Pietro sits just outside the heart of the town, being the host of an impressive bell tower. Just a five-minute walk later, we stumbled upon the Chiesa dei Dolori which boasts a vast array of art covering its walls. Last but not least, we made our way to the Collegiate di Santa Maria Assunta, a church which sits comfortably on the corner of a piazza adorned with kids running around and locals riding home on their bikes, groceries in hand.
After our exploration of the churches, we strolled through the streets and we watched the livelihood of the town play out. The energy of Camaiore was evident, and the town conveyed an intense sense of community. It was visible that Luca is proud of his town as he entered the shops throughout the main strip as if it were his very own home.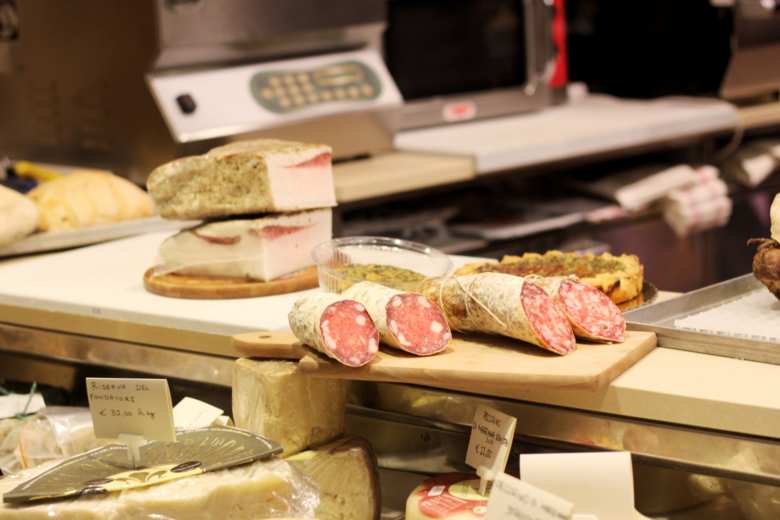 As we continued on our tour, the local flavors waded through the air; those of "torta di pepe" and local cured meats. The "torta di pepe", or pepper cake, is a specialty in Camaiore; one that nonnas excel at. It has a peppery spice and a soft texture due to the rice that envelopes this salty, pie-like dish.
The local cured meats are those typical of Tuscany, flavorful with a marbling of fat throughout. Tuscan cuisine is one that incorporates traditions passed down through the generations, making comfort inevitable and the flavor undeniable.
The Archeological Museum of Camaiore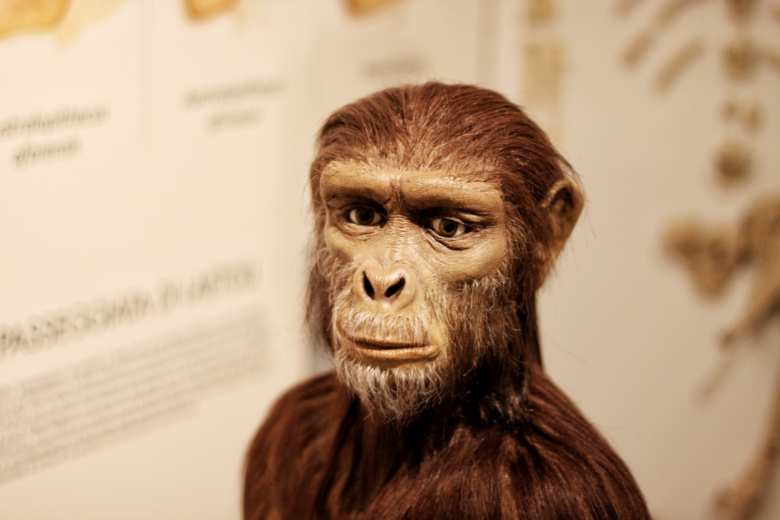 A bit of window shopping later, we arrived at the Archeological Museum of Camaiore. The museum is surprisingly modern and tells a tale of Camaiore and its role in human history. From its growth during the Middle Ages, the role of the Via Francigena in forming Camaiore, and how it all relates to modern day.
Replications of what we looked like many years ago before modern man contrasted nicely with the churches we saw earlier; two different beliefs that live in harmony in one town. As I pondered this, I realized that this fits in nicely with Camaiore; different beliefs, different people, and different lives all mingling to induce a harmonious community cultivated by the existence of the Via Francigena.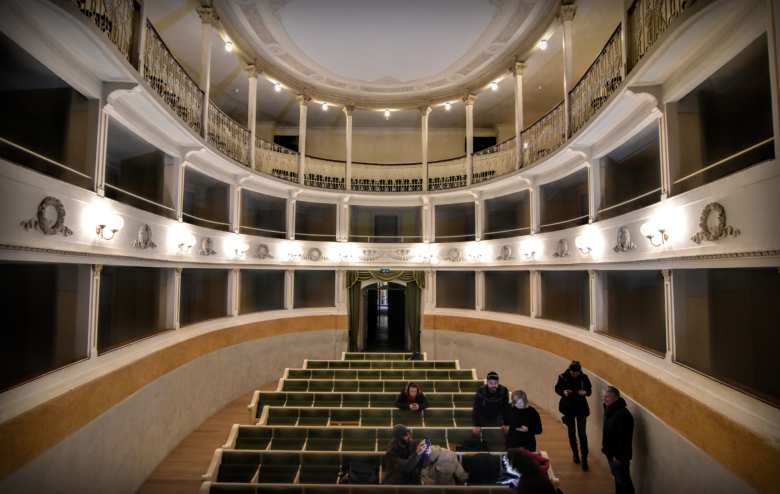 Next up we found ourselves in the local theatre, called "Teatro dell'Olivo". With minimal seats inside, the theatre exuded an elegance that couldn't be denied. Between plays and comedy shows, they have events here often. It's a meeting place for this small town, a place for the locals to get out and enjoy their free time and a way for visitors to get a sense of everyday life in Camaiore.
Camaiore doesn't have a big monument like the Colosseum, and it didn't bring pizza to the world, but what it does offer is something that is arguably even better; a genuine taste of local life with an utmost appreciation for culture and the history that has formed modern day. Best yet, it has yet to be discovered by the big crowds; it is truly a hidden gem that tells its own unique story in an intensely mesmerizing way.
You might also be interested in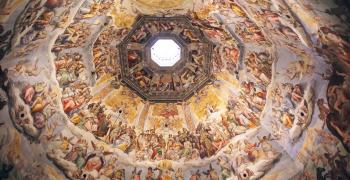 Learn more
Art and Culture
Tuscany is the cradle of the Renaissance and known all over the world for its immense artistic and cultural heritage.
continue...