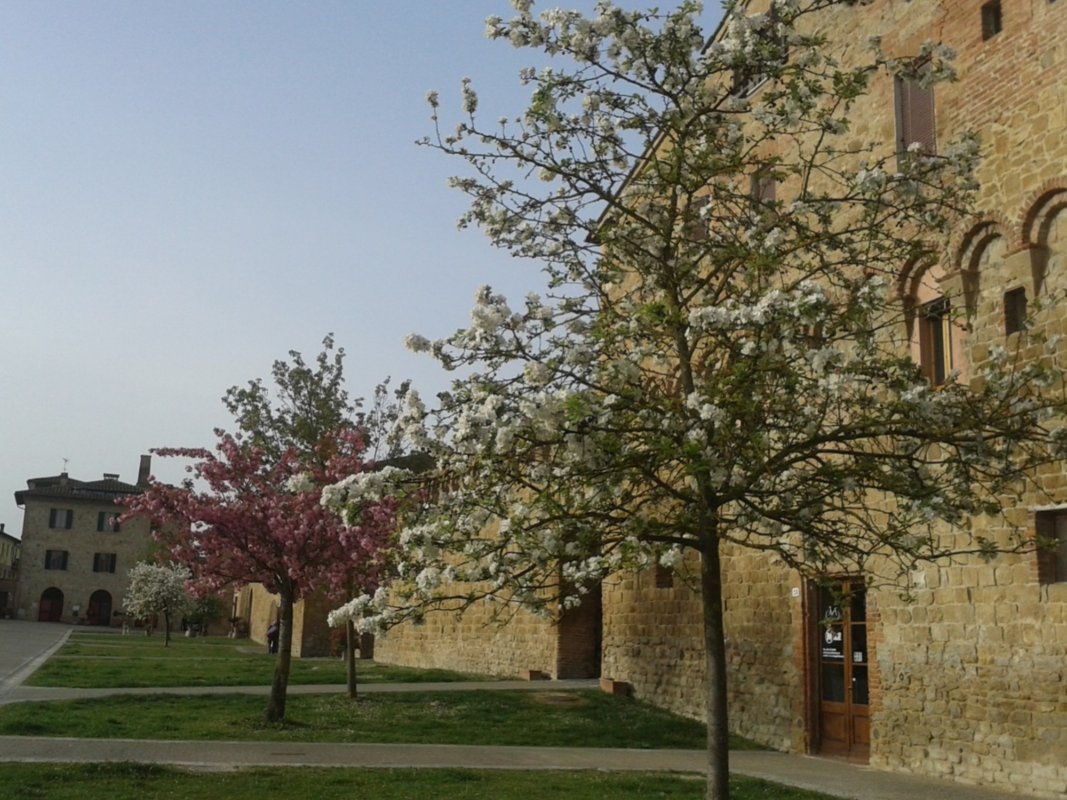 Buonconvento
The small town is located where the river Arvia and Ombrone converge
Read the story of Buonconvento on

Buonconvento
A hospitable land with a taste of memory
"After passing Siena and having crossed the ponte d'Arbia, it's her, a land of light that always stays close to me, even when I'm far away" (M. Luzi)

Read the story of
There have been settlements on the site where Buonconvento is today since ancient times. The first documented evidence of human habitation here though dates back to the end of the twelfth century. It is documented as being an important town for trade, thanks to its strategic position on the two rivers, the Arvia and the Ombrone.
HISTORY
The pilgrims' route that travels from northern Europe to Rome, the Via Francigena, also passes close to Buonconvento and would have brought a lot of trade to the town. The first written reference to the town appears in a document dated 1191 in which the King of France, Filippo Augusto, notes passing through 'Bon-couvent' on his way back from the crusades.

Buonconvento became an even more important strategic town during the period when it was under the rule of Siena in the thirteenth century. In 1289 it was invaded by Sienese Ghibellines and occupied by imperial troops led by Enrico (or Arrigo) VII of Luxembourg. It was here in Buonconvento on the 24th August 1313 that the emperor died – his death signalled the end of the hopes of the Ghibelline forces.

After having been captured for a time by the army of Perugia, Buonconvento was fortified by the Sienese between 1371 and 1385. The old town centre is still surrounded by the splendid walls built in this period to defend the town. In 1480 Buonconvento took on Sienese citizenship. When Siena fell in 1559, the town (along with the rest of Siena's towns) became part of the Grand Duchy of Tuscany which was ruled first by the Medici and then by the Lorena.

TODAY
The main economic activities of the area are all in some way connected to agriculture, in particular to the cultivation of cereals, grapes, olives, flax and hemp. Mulberry trees are also grown for silk worms which in recent years have proved to be a real gold mine for the town.
The Val d'Arbia also boasts many areas where the famous white truffle is harvested. The main industry in the area is connected to tobacco manufacturing and producing ceramics for tiles.

HIGHLIGHTS
The Museo della Val d'Arbia (Val d'Arbia Museum) has recently been opened in the centre of Buonconvento. Here, visitors will find works of art by Sano di Pietro and Matteo di Giovanni. Other sites of interest in the town include the Museo di Arte Sacra (the Museum of Sacred Art), Palazzo Ricci, the church of San Pietro e Paolo (Saint Peter and Saint Paul) and the Oratorio di San Sebastiano (the Oratory of Saint Sebastian).
2
TOP ATTRACTIONS IN Buonconvento