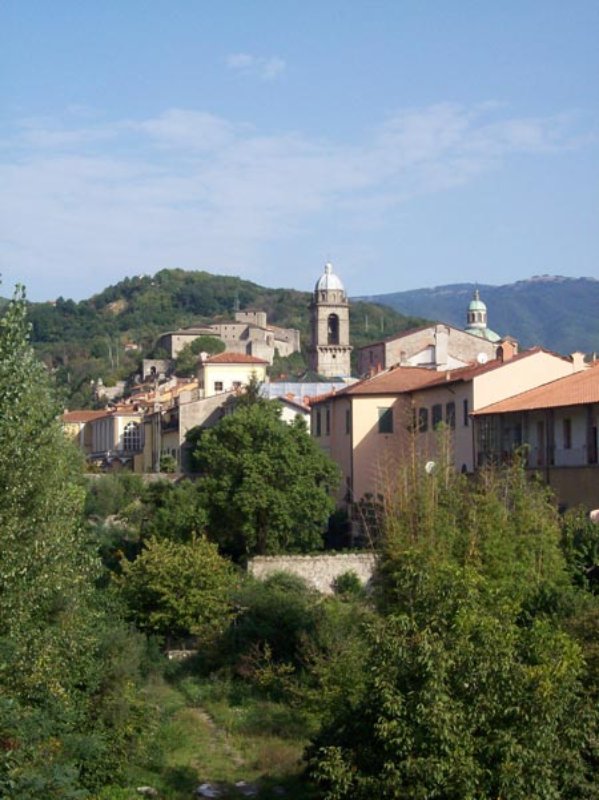 crop_originalArtworks
Church of St. Peter
Important church along the Pilgrim's Way
The Church of San Pietrois one of the most ancient religious buildings in Pontremoli and it was a point of reference for pilgrims travelling along the Via Francigena. The current structure was rebuilt after bombings that occurred during World War II, yet it still bears witness to one of the most important events of the Middle Ages in Lunigiana.
A LOOK AROUND
On its right-hand wall, you'll find a sandstone plaque from the XII century, depicting a circular labyrinth that's similar to the one sculpted on a façade pillar in San Martino's Duomoin Lucca. The labyrinth is surmounted by two characters with horses that most likely represent a traveler and the dangers awaiting him. Thought to represent the life of Christians, it was certainly an allegory linked to pilgrimage.

HISTORY
The Francigena and Lunigiana generated many storieslinked to pilgrims who met a fatal end during their journey. Some were illustrious figures, including saints and martyrs, whose burial in local churches spurred the arrival of other pilgrims from territories both near and far.
A case in point is the story of Saint Terenzio, who was represented in four paintingsexhibited in Fivizzano, in a church dedicated to the saint. This Scottish Christian left his homeland to visit the tombs of Saints Peter and Paul. Near the Lavenza River, he was assassinated by his servants and the church was built where his body was later found.
Pontremoli
Explore this treasure chest nestled in woods
The city's fortune was made by its network of roads: apart from the Via Francigena, it was connected to the road for Genua passing through Zeri; the road for Borgallo which led to Borgotaro and on into the Piacenza area; the road for Cirone which led to Parma by way of Langhirano. ...
Morekeyboard_backspace