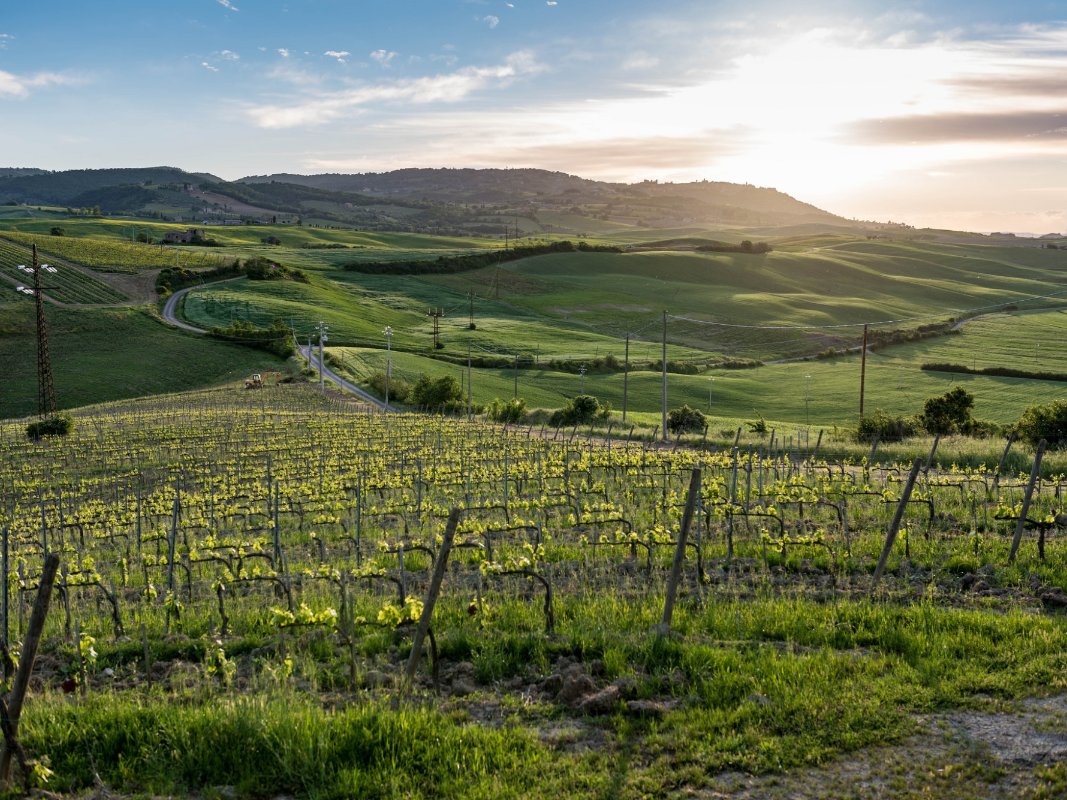 Montalcino
THE HOME OF BRUNELLO: A GEM FULL OF ART AND HISTORY IMMERSED IN THE HILLS OF SIENA
Read the story of Montalcino on

Montalcino
A young lad of the land and stones
Vines round one's neck and an oak belt at the waist ~ by Alessandro Schwed

Read the story
In the picture-perfect hills of the Val d'Orcia sits the beautiful 13th-century town of Montalcino. You can see right away that this medieval city has a military past, with its narrow and steep streets, but once you get to the top… what a view! It's worth it to go see the artistic masterpieces in the Diocesan Civic Museum of Sacred Art, which has one of the best collections of Sienese paintings and wooden sculptures! There are also lots of great churches to visit, including the 13th-century Church of Sant'Agostino, the neoclassical Cathedral, the Sanctuary of the Madonna del Soccorso and Sant'Egidio – the "Sienese people's church." Then, there is the unique and slender Palazzo Comunale from the end of the 13th century. This is next to the strikingly tall bell tower, which looks like a watchtower and is topped by the Campanone, a bell that still marks the rhythm of daily life in Montalcino.
Once you're in Montalcino, it's naturally worth exploring the stunningly beautiful countryside, like Castelnuovo dell'Abate, where you can see the splendid Abbey of Sant'Antimo. It's a monumental 12th-century structure and one of the most glorious examples of Franco-Romanesque architecture in Italy! The land surrounding Montalcino is characterized by thick wooded areas interspersed with vineyards and olive groves on long sloping hills. These beautiful rolling hills are what put the Val d'Orcia in the world's collective imagination. Thanks to these beautiful views, Montalcino was recognized alongside the rest of the valley in 2004 as a UNESCO World Heritage Site.
Montalcino is also famous for making excellent refined wines, starting with the most well-known one, Brunello. Aside from grapes, there are plenty of other great products in the Montalcino countryside, including honey, extra-virgin olive oil, cured meats and cheeses. You can taste these specialties in one of the many little traditional restaurants and wine bars in the area. October is the perfect time to go and discover the authentic local flavor of Montalcino, when it hosts the Sagra del Tordo. This festival lets you dive into the local culture, reliving its ancient traditions!
&
TOP ATTRACTIONS IN Montalcino
people
What's the buzz about?