Abbadia a Isola: a magical town near Monteriggioni
A past treasure along the Via Francigena
Luckily, Tuscany still has hidden corners that haven't been discovered yet. Little picturesque towns off the beaten track for the countless tourists who come to the region every day and places that not even Tuscans know about. Places that seem to hover in another dimension of time and space like Abbadia a Isola, a fraction of Monteriggioni, in the Siena province. The Benedictine monastery, founded at the start of the year 1000 and around which the village was developed, was built on a strip of land that rose up in the Cannetto swamp (at that time, it was a mixture between a lake and a swamp). The village stands on the edge of the Via Francigena, once a busy medieval highway for pilgrims and merchants. This privileged position helped to increase the monastery's power, which boasted strategic importance in the Middle Ages.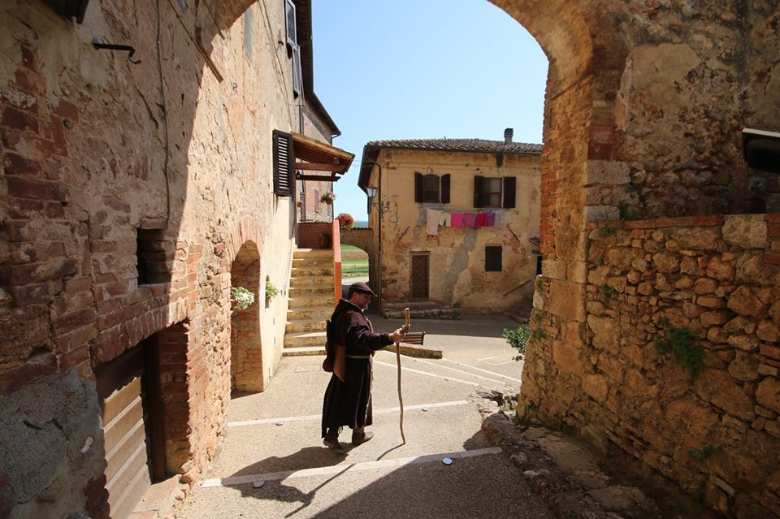 The Black Death brought about the place's demise. Having little space available, the monks threw their dead into a ditch near the monastery's drinking water well, spreading the disease among the entire population. Inside the striking basilica-plan Romanesque church, a fresco can still be seen, in which the village seems to float on the water. This is the same monastery mentioned by Archbishop Sigerico as Borgonuovo, the place's original name. He was the person who "designed" the Via Francigena in 990AD, when he reported the 79 legs he journeyed on his way back from Rome, where he had gone to receive the papal investiture for Canterbury.
The Tuscan section of the Francigena that skirts Monteriggioni is particularly scenic. It's not hard to walk, covering approximately 4 km. Expect wide swathes of golden wheat, woodland and picturesque glimpses of the castle, which is the traveller's destination.
If you're looking for low cost accommodation, you'll find the municipal hostel Contessa Ava in Abbadia a Isola, which is housed in the monks' cells of the old monastery, financed by Regione Toscana. Info: monteriggioniturismo.it
You might also be interested in