In the heart of the Crete Senesi by bike
A ring-route from Asciano to Chiusure crossing the Crete Senesi
An interesting itinerary that crosses the heart of the Crete Senesi. The middle part of this route (4.5 km on the dirt track) is not signposted and so it is essential to carry with you a 1:100.000 map, and to pay close attention to the route description.
From Asciano station take the left exit onto the S.S. 438 "Lauretana" road, climbing uphill and going over the level crossing. After 800 m you will come to a junction where you should continue straight: you will then pass two other junctions and reach the quarry area (2.8 km) and another junction (400 m) where you should continue straight again until the sign for Poggio Pinci (500 m, on the right). Here, take the dirt road on the right.
Crossing the
old farm of Poggio Pinci
continue uphill on the dirt track (900 m) until
Montalceto
, a large farmhouse (agriturismo), with beautiful views and famous for its thermal springs. Continue towards some farm houses and shortly them the road bends sharply to the right, following a scenic ridge which overlooks the
Crete Senesi
on the right and
Gallico castle
on the left.
Exactly 1.1km after
Montalceto
the road forks: turn left along the road which goes downhill at first, followed by a short but steep climb up to a T-junction. Here, turn right and after 1.3km, at another T-junction, turn left onto a beautiful ridge. Heading uphill you will come to an isolated farmhouse, and from here the road goes briefly downhill, reaching an asphalt road at a bend. Here turn right and continue until you come to another T- junction (200m) where you should turn left towards
Chiusure
(5,5 km), a lovely town overlooking stunning countryside. To get back to
Asciano
you should head towards
Monte Oliveto Maggiore
(2 km) and then, after a few hills up and down, you'll find yourself back at your starting point (9 km).
You might also be interested in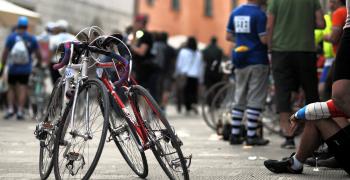 directions_bike
Learn more
Cycling
Cycling is the best way to delve deep into the soul of a territory. It allows you to reach the most beautiful places by taking the less-travelled
continue...