Discover the Blue Flag beaches
Dreamlike shores and crystal clear waters
They have crystal-clear waters, well-maintained shores and offer the best in comfort and services, with environmental sustainability efforts to boot: these are the Tuscan beach towns that earned the Blue Flag (Bandiera Blu) designation, an international recognition awarded not only for the sea's water quality but for other environmental factors that help create a perfect vacation, such as the services offered to visitors, green and pedestrian areas and cycling tracks.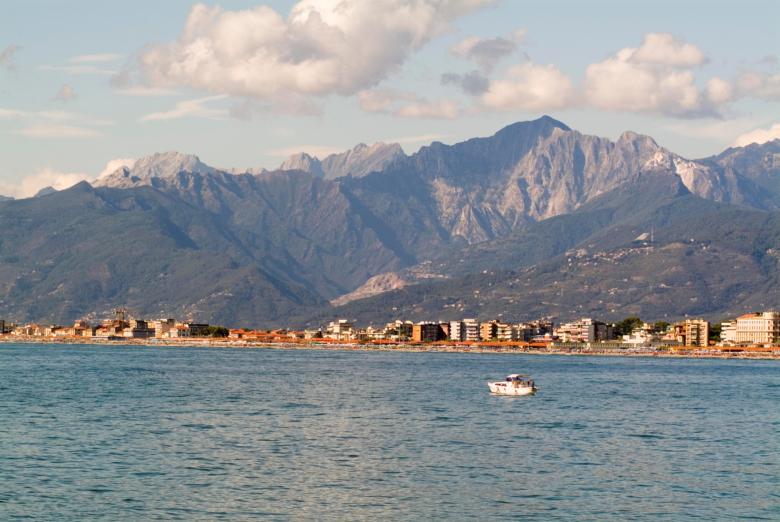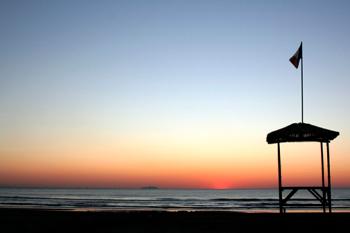 Versilia is the perfect destination for those who not only seek bright blue seas, but entertainment and art. The Blue Flag flies above the beaches of Forte dei Marmi, a favorite VIP destination; Viareggio, the city known for Carnival; Torre del Lago Puccini, Camaiore and Pietrasanta, land of artists and sculptors and known as the "little Athens" of Versilia.
The coast of the Apuan Riviera also earned the recognition for the well-equipped beaches of Marina di Carrara, where you can enjoy sports such as sailing and windsurfing, as well as those of Massa and Ronchi with their magnificent Liberty villas.

The Pisan Coast is fit for those who love relaxing and quieter beaches, far from the chaos and crowds. You'll find sandy shores, transparent waters and expansive Mediterranean pine groves in Marina di Pisa, Tirrenia and Calambrone.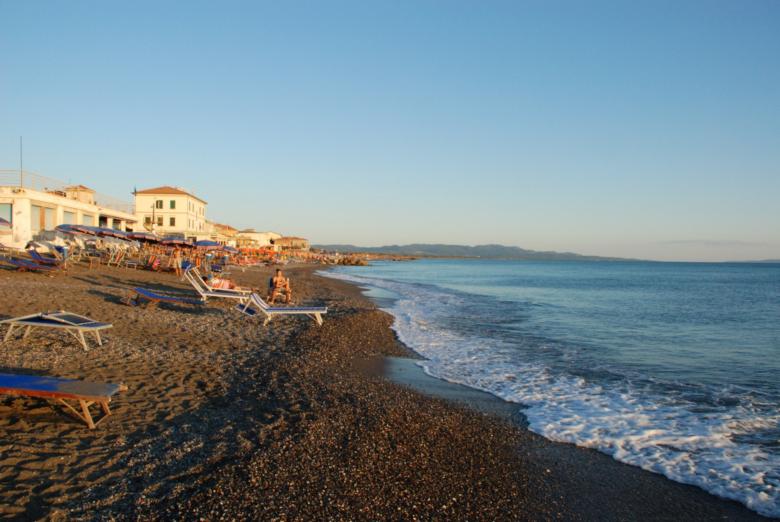 Along the Etruscan Coast there are tons of paradise-like places that earned the Blue Flag, from Rosignano Marittimo to Vada, but also Castiglioncello, Cecina, Marina di Bibbona, Castagneto Carducci, Quercianella, San Vicenzo, the Natural Park of Sterpaia in Piombino, with its sandy dunes surrounded by a thriving pine grove.

The Maremma as well offers extraordinary towns for an unforgettable summer. The coasts of Follonica and Marina e Principina di Grosseto, not far at all from the Regional Park of the Maremma, the wild green heart of Grosseto, are considered among the best beaches for families with children. Another town not to be missed is Castiglione della Pescaia, with its historic center dominating the coast, a true gem facing the sea.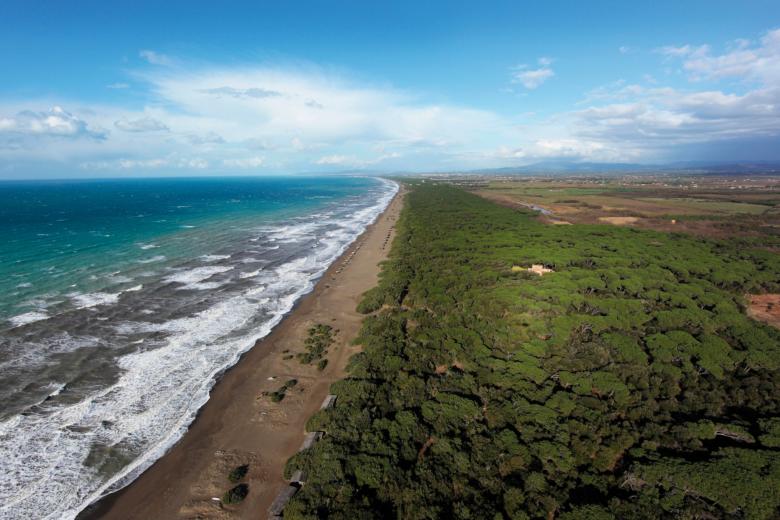 There are also numerous treasures to be discovered on Monte Argentario, an almost-island, linked to Tuscany by just a small strip of land. Here you'll find magnificent reefs and hidden bays, but also beach complexes for those seeking services and extra comforts: in particular, head to the beaches of Porto Santo Stefano, Feniglia and Porto Ercole.
A Blue Flag also went to the Spiaggia della Fenicia in Marciana Marina within the magnificent setting of Elba Island.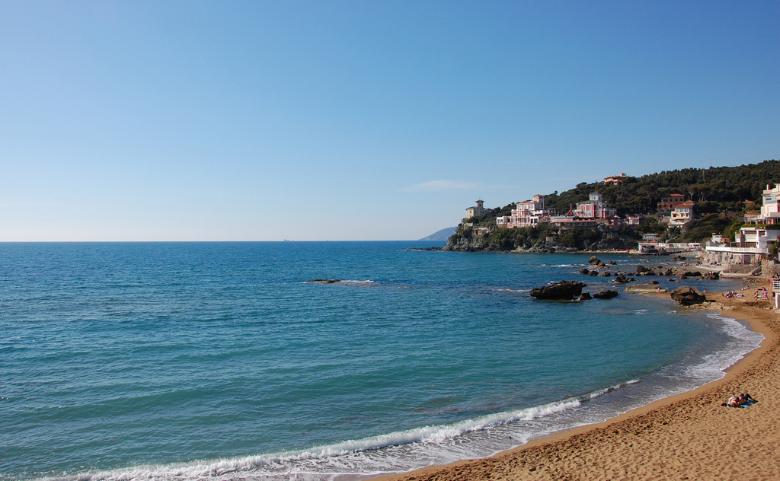 From Marina di Massa to Monte Argentario, find out here the full list of beaches where you can see a Blue Flag weaving:
MASSA - CARRARA
1- Carrara - Marina di Carrara Centro/Ovest
2- Massa - Ronchi Levante, Ronchi Ponente, Sinistra Brugiano/ Marina Centro/ Destra Frigido/ Sinistra Frigido, Campeggi/ Ricortola/ Marina Ponente/ Destra Brugiano
LUCCA
3- Forte dei Marmi - Litorale Centro/ Capannina
4- Pietrasanta - Tonfano
5- Camaiore - Lido Arlecchino
6- Viareggio - Marina di Viareggio (Levante/ Ponente), Torre del Lago Puccini
PISA
7- Pisa - Calambrone/ Tirrenia, Marina di Pisa
LIVORNO
8- Livorno - Cala del Miramare, Rogiolo, Del Sale/ Roma, Tre Ponti, Rex, Cala Quercianella
9- Rosignano Marittimo - Castiglioncello, Vada
10- Cecina - Le Gorette, Marina di Cecina
11- Bibbona - Marina di Bibbona Centro/ Sud
12- Castagneto Carducci - Marina di Castagneto Carducci
13- San Vincenzo - Rimigliano, Principessa, Spiaggia della Conchiglia
14- Piombino - Parco Naturale della Sterpaia
15- Marciana Marina - La Fenicia
GROSSETO
16- Follonica - Spiaggia Sud, Spiaggia Nord
17- Castiglione della Pescaia - Rocchette/ Roccamare-Casa Mora/Riva del Sole/ Capezzolo/Ponente, Spiaggia Pian D'alma / Casetta Civinini-Piastrone/Punta Ala, Levante/Tombolo
18- Grosseto - Marina di Grosseto, Principina a Mare
19- Monte Argentario - Porto Santo Stefano La Caletta, Porto Santo Stefano Il Moletto, La Soda, Porto Santo Stefano Il Pozzarello, Cala Piccola, Porto Ercole Le Viste, La Feniglia
You might also be interested in