Walking along the Via Francigena route in the center of Tuscany, between lush woods, ploughed fields and rolling hills
Path to paradise between San Miniato and Gambassi Terme
Having arrived in Pieve di Coiano, I observed the Parish Church of Santi Pietro e Paolo standing mute and rich in a thousand-year-old history along the via Francigena, which I read about in "Travelling for Travel's Sake" on Tuscany, Beautiful Everywhere.
I thought about the importance that this Romanesque church had in the past, how it has witnessed the millions of pilgrims and merchants that followed one after the other over the centuries on this ancient walk.
This route once marked the border of the properties belonging to the Medici family and those of their eternal rivals: Pisa and Siena. In 1503, the Swiss Guards that passed through here, leaving from Canton d'Uri, on their way to Rome to serve as the personal guards of Pope Julius II.
Take note of the sounds of nature and of stunning landscapes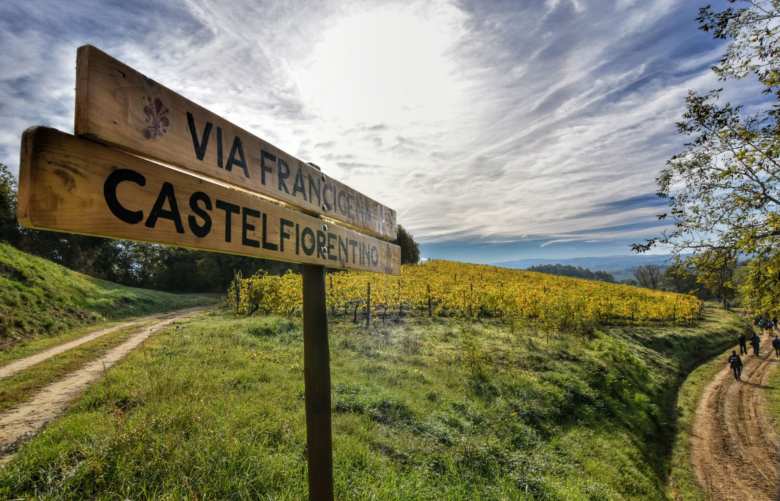 I walked along the dirt path beside the church, where olive trees once stood. I then ran into some vineyards on one side and an ancient farmhouse with chickens pecking freely in the yard on the other.
All of a sudden, an immediate sense of peace and tranquillity urges me to take note of the sounds of nature: the larks' song, the furtive rustling of small animals hiding in the bushes, the buzz of some beetles dancing in the air. I trekked confidently along a rolling hill, but my eyes got lost among the surrounding valleys, populated with lush woods and ploughed fields with bizarre forms.
Occasionally, a cyclist on a mountain bike passed me by, greeting me with a nod as they mopped their sweat-covered brows or took a drink from their water bottle. I thought, "I wonder where they filled it up. Perhaps at one of the Etruscan-era springs I read are in this area", but then I remembered that there were water fountains for pilgrims along the route.
From the dark wood to Paradise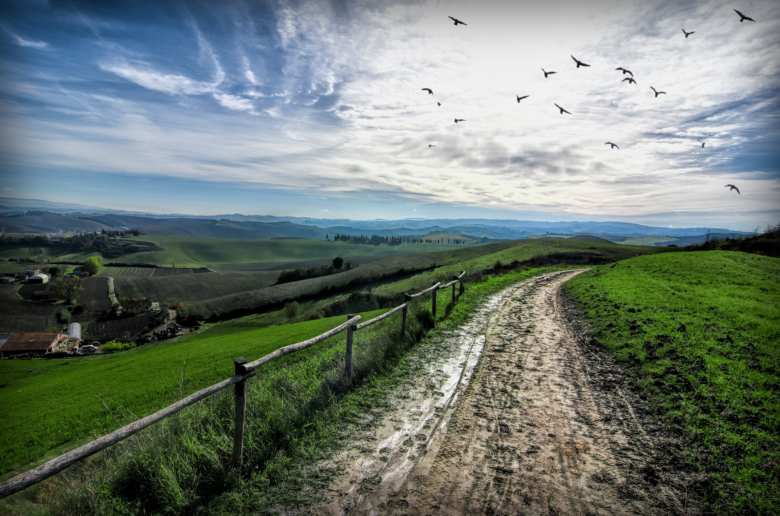 I reached a wooded area, where the path continued on but carved in the tuff like a canyon. Walking into the forest, I smelt the aroma of earth. I don't know why, but in that moment, I remembered the canticle in the Divine Comedy that mentions the Dark Wood. The path began to rise upward again until the end of the brush. I had arrived in Paradise.
Before me was a clearing in the rolling Tuscan hills, which until the 1960s was populated by peasants and farmers. The sun was beating down on my body, bestowing a positive energy that flowed through my veins, stripping me of all stress. I felt reborn, I felt a feeling of joy that I knew I had to share with someone.
Today, the Genius Loci has remained, which welcomes all those who love connecting with nature, offering the opportunity to take unforgettable photographs of the surrounding landscape: towns framed by rows of austere cypresses, valleys in all shades of green interrupted only by badlands and small pools of water, and Chianti DOCG vineyards.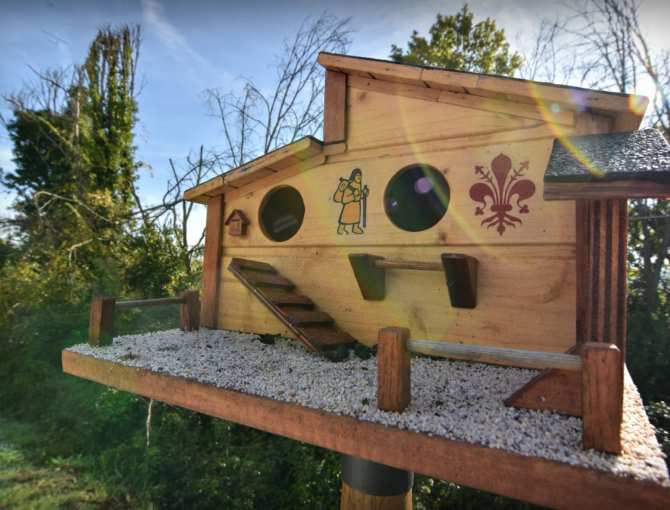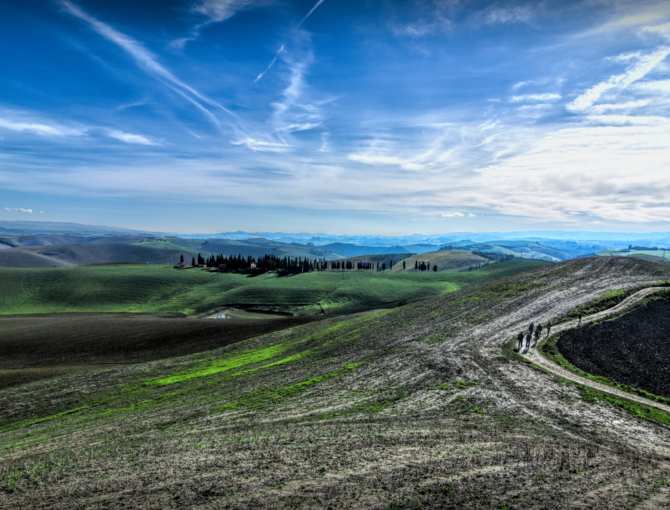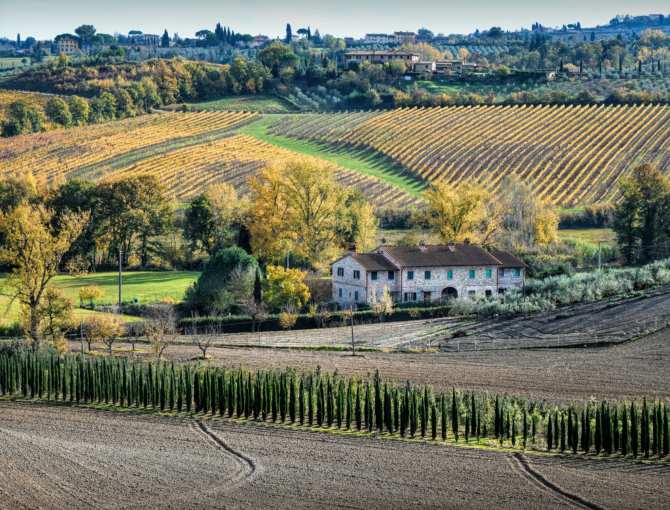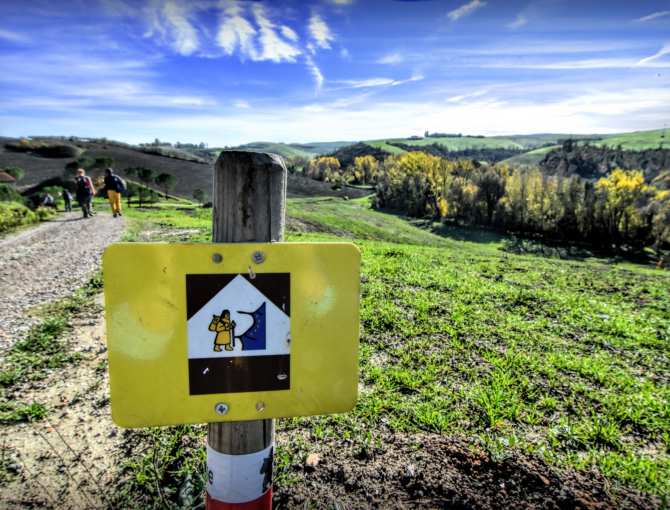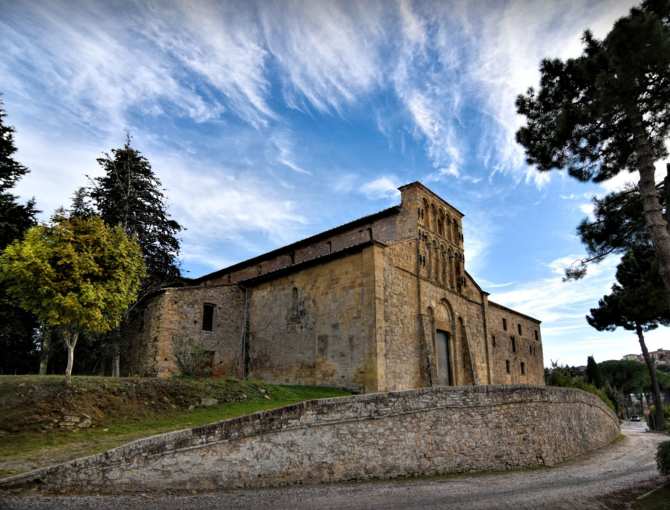 I continued my walk, enchanted by so much beauty, until I met a lady who was holding her grandson's hand as she came out of her house that sat along the path. We smiled at each other. She spoke first.
"Hello, and where do you come from?" the lady asked me, a little surprised and badly concealing her strong Tuscan accent.

"Hello! I left from Passo della Cisa, in the Lunigiana, where the Tuscan stretch of the via Francigena begins," I answered, smiling at the child, who was shyly hiding behind his grandmother's skirt.

"Wow, that's quite a distance! You're tired, I imagine…. have you eaten?" she asks with that worried air that Italian grandmothers have when they come across someone who hasn't eaten. "Meal time was a while ago," she says as she taps her finger on the small face of her watch.

"No, I haven't had lunch yet," and I feel my stomach growl at the thought of a warm meal.

"Come then, come to my house. I have polenta with wild boar. Would you like some?"

"Thank you mam," I smile. "It must be delicious and that's awfully kind of you," I appreciate her hospitality but I wanted to get to Santa Maria in Chianni for lunch and enjoy the open air. "But don't worry, I have two enormous sandwiches in my backpack."

"Ok then, go on," she replies, smiling. "Make sure you eat! Don't forget! Have a great day!"

"Goodbye mam! Ciao buddy!" I smiled again at the child, who waved his small hand at me as he watched my walk away.
I was finally able to exchange a few words with someone as if I would never meet them again. I continue my walk with my heart filled with happiness, accompanied by a long row of cypresses that flank the path.
You might also be interested in