The best trails from the Apuan Alps to the Casentino valley
Walking in the mountains
Nature reserves offer a great variety of flora and fauna, important bio-diverse ecosystems and the preservation of natural genetic resources. On the other hand, botanical gardens, including arboretums and flower beds, reproduce different environments. All this can be found throughout the Tuscan Apennines, starting at the Parco Nazionale dell'Appennino Tosco-Emiliano, a National Park and the mountains near Pistoia all the way to the Parco Nazionale delle Foreste Casentinesi, The Casentino Forest National Park.
Mountain range - diverse landscapes and people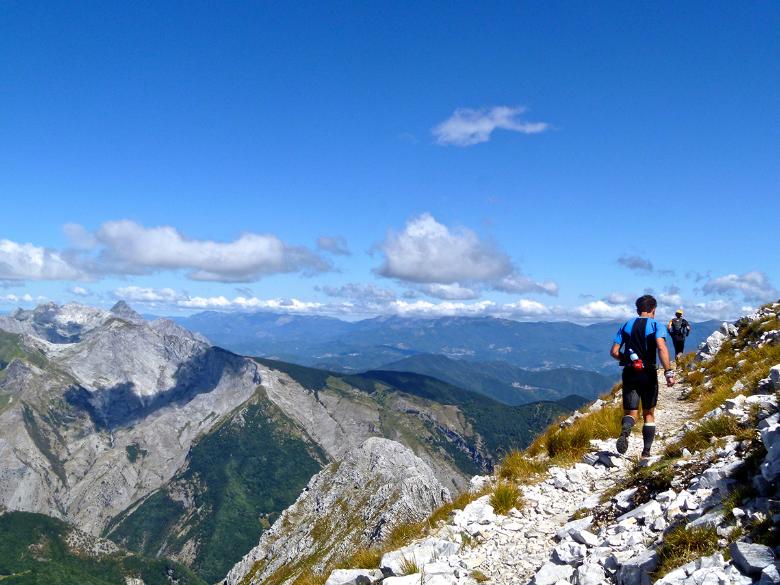 The Alpi Apuane, characterized by their aggressive rock faces that are typical of mountains which are made of hard, compact stone, such as marble, are fascinating not only for their challenging hikes but for the karst phenomena which created beautiful caves like the Antro del Corchia. The Tuscan Apennines gently alternate between mountain tops and valleys where amazing landscapes may be seen and experienced in every season, especially near these specific areas in the region: from the Valle del Magra in Lunigiana to the Serchio in Garfagnana, from the Val di Sieve in Mugello to the Valle dell'Arno in Casentino and finally up to the Valtiberina, where the Tiber River flows. It's a land to be discovered in every season: autumn brings mist and vibrant colours, winters are frosty and harsh, spring is full of blossoming flora and summer sunsets create unforgettably breath-taking landscapes.
Apennine mountain culture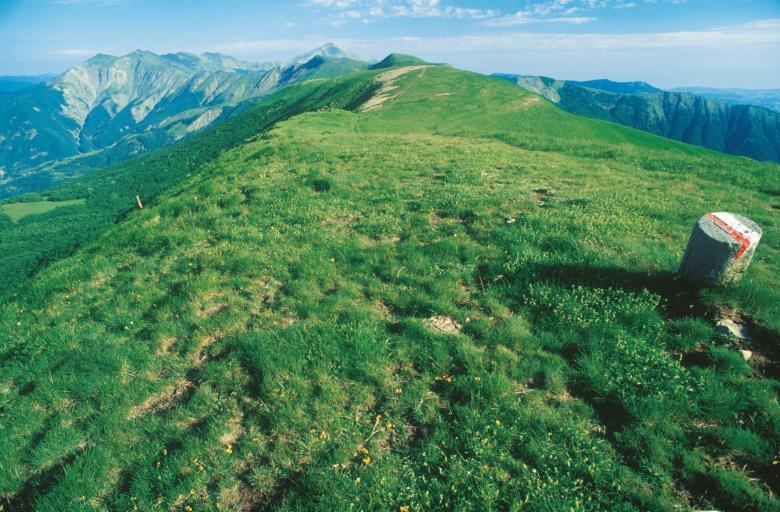 This trail is 375 kilometres long and was opened by Reinhold Messner and is part of the Italian Path and the European Path E1. In some parts, it's possible to do the trail by bicycle or horse but most of the trail is adapted to be walked on foot. Along the trail there's many examples of small communities and their culinary and wine traditions, like chestnuts and testo, the latter being a cast iron pan used to cook on an open fire, typical of northern Tuscan cuisine. The certifications DOP and IGP are evidence of the extraordinary richness of high quality agricultural and food products and with which many products, like honey, chestnut flour and spelt are countersigned.
In the Parco Nazionale dell'Appennino Tosco-Emiliano one can find chestnut trees, old charcoal piles, lakes recalling ancient legends, parish churches and waterfalls. Small villages in the Mountains near Pistoia like Abetone, San Marcello and Cutigliano offer the chance to do sports, have fun, discover local culture and relax while being immersed in nature, not far from cultural cities like Florence, Pistoia, Prato, and Lucca.
The ruins of ancient walls and fortresses, Roman paths and ethnographic museums of Peasant Culture all recount the history of the High Mugello area. Retreats and refuges are immersed in the silence of ancient woods in the Parco Nazionale delle Foreste Casentinesi, from which high quality wood was taken to build monuments such as Florence's Duomo and the ships of Pisa's navy.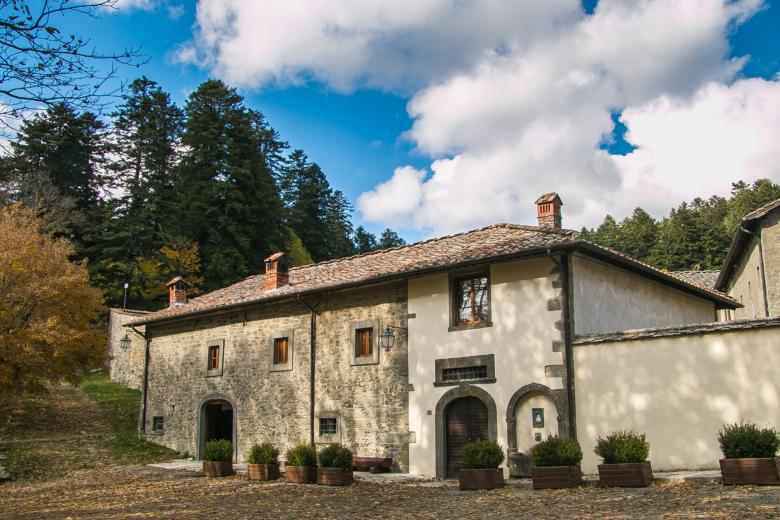 In Casentino, there are places that represent the origins and essence of Christian spirituality and the existence of St. Francis. The Eremo di Camaldoli and the Santuario della Verna are ideal stops to try meditating and convening with nature.
The valley's landscape has been modelled by man throughout the years, and has often been painted by masters like Piero della Francesca, whose works can be seen in San Sepolcro, Monterchi and Arezzo. This area gives us the chance to explore a hidden side of Tuscany, which gave inspiration to great artists like Michelangelo, Guido d'Arezzo and other talented artisans who made world-famous local products like the cloth of Casentino and jewels from the Gold District of Arezzo.
You might also be interested in
nature_people
Learn more
Outdoors
Tuscany is not only the region of art towns and hamlets: there's another face of Tuscany that is genuine and wild, waiting for you to discover ...
Continue...