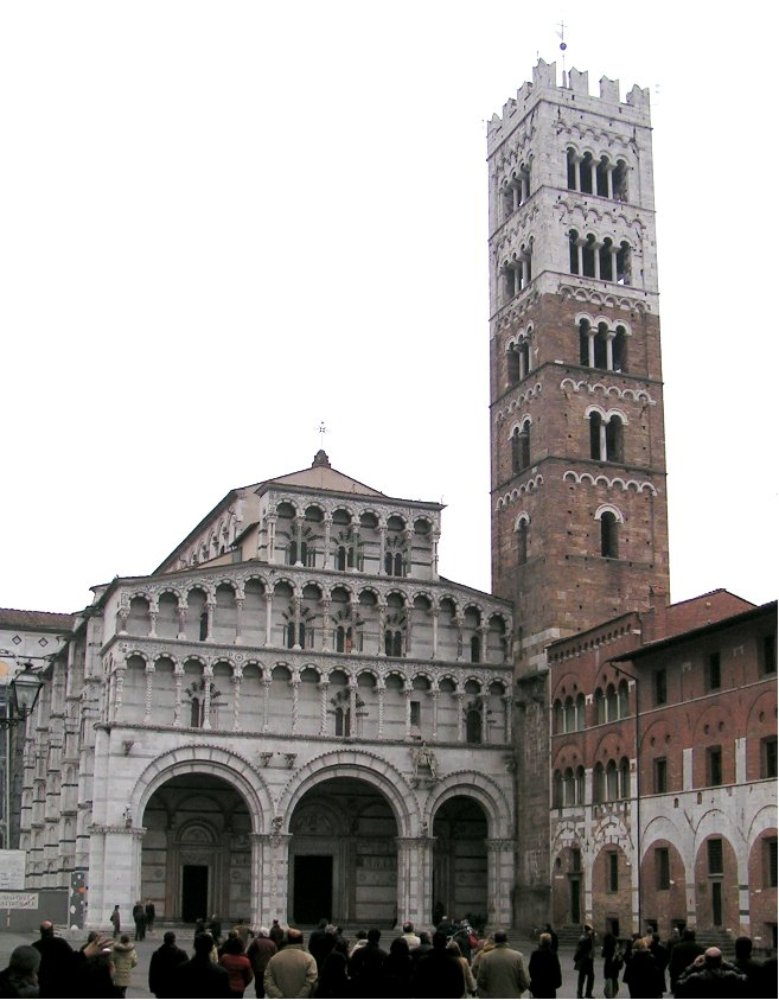 Romanesque Pisa
Itineraries to learn more about this beautiful style
The
Romanesque architectural style
heavily influenced construction in
Tuscany and in the Pisa
area in particular. The new building style was used primarily for churches during the golden period of the great republics and can be recognized in the blind arches and two-tone white and green marble. It was an innovative new language that developed thanks to commercial
Florentines
traveling the trade routes and was heavily influenced by
Byzantine characteristics
. A notable example of the Romanesque in Pisa can be found in the Piazza dei Miracoli (now a UNESCO World Heritage Site) with the
Duomo, Baptistery and the Leaning Tower.
The style moved from Pisa towards Lucca where we can find examples of it in the church of San Michele in Foro and the façade of the Duomo, San Martino. The principle cathedrals in towns like Prato, Volterra and Massa Marittima were also constructed in the Romanesque style.
Examples of the style are also seen in numerous small parish churches in the surrounding
Pisan countryside
. These "pieve" are of such historical, architectural and artistic significance that a European project called Interr-Cost was created to safeguard them and highlight their importance. Romanesque itineraries in Corsica, Sardinia and Tuscany highlight the common characteristics of the popular Medieval style in combination with political, business and cultural relations between the three very different areas.
There are two
itineraries in Tuscany.
The first begins at the foot of Monte Pisano, departing from the Pieve di Pugnano , in the commune ofi San Giuliano, going towards San Marco a Rigoli, Santa Maria a Mirteto, Pieve dei Santi Ermolao e Giovanni di Calci, Pieve di Santa Giulia in Caprona, Convento di Sant'Agostino in Nicosia, Chiesa di San Martino al Bagno di Uliveto, Pieve di Santa Maria a Vicopisano and ends at the church of Sant'Jacopo in Lupeta in Vicopisano. The second runs between
Valdera and the Valdicecina, from Palaia to the Piazza dei Priori in Volterra
, an incredibly suggestive place where popular film
New Moon
was recently shot. The route will be accompanied by products, special events, trilingual tour guides, virtual reconstructions of the monuments, special routes for the seeing impaired and a GPS map system of the churches. It is a wonderful way to get to know a more hidden aspect of Tuscany.
Details of the itineraries:

1st itinerary - Monte Pisano

1. Pieve di Pugnano - San Giuliano Terme
2. San Marco a Rigoli - San Giuliano Terme
3. Santa Maria a Mirteto - San Giuliano Terme
4. Pieve dei SS.Ermolao e Giovanni a Calci - Calci
5. Pieve di Santa Giulia a Caprona -Vicopisano
6. Convento di Sant'Agostino a Nicosia - Calci
7. Chiesa di San Martino al bagno a Uliveto - Vicopisano
8. Pieve di Santa Maria a Vicopisano -Vicopisano
9. Chiesa di Sant'Jacopo in Lupeta -Vicopisano
2nd itinerary- Valdera-Val di Cecina

1. Pieve di San Martino a Palaia - Palaia
2. Pieve di San Verano a Peccioli - Peccioli
3. Badia di Morrona - Terricciola
4. Chiesa di Montecatini Valdicecina - Montecatini Val di Cecina
5. Badia dei SS. Salvatore e Giusto a Volterra - Volterra
6. Cattedrale di Volterra - Volterra
7. Battistero di Volterra - Volterra
For more information: maritimeit-fr.net
You might also be interested in