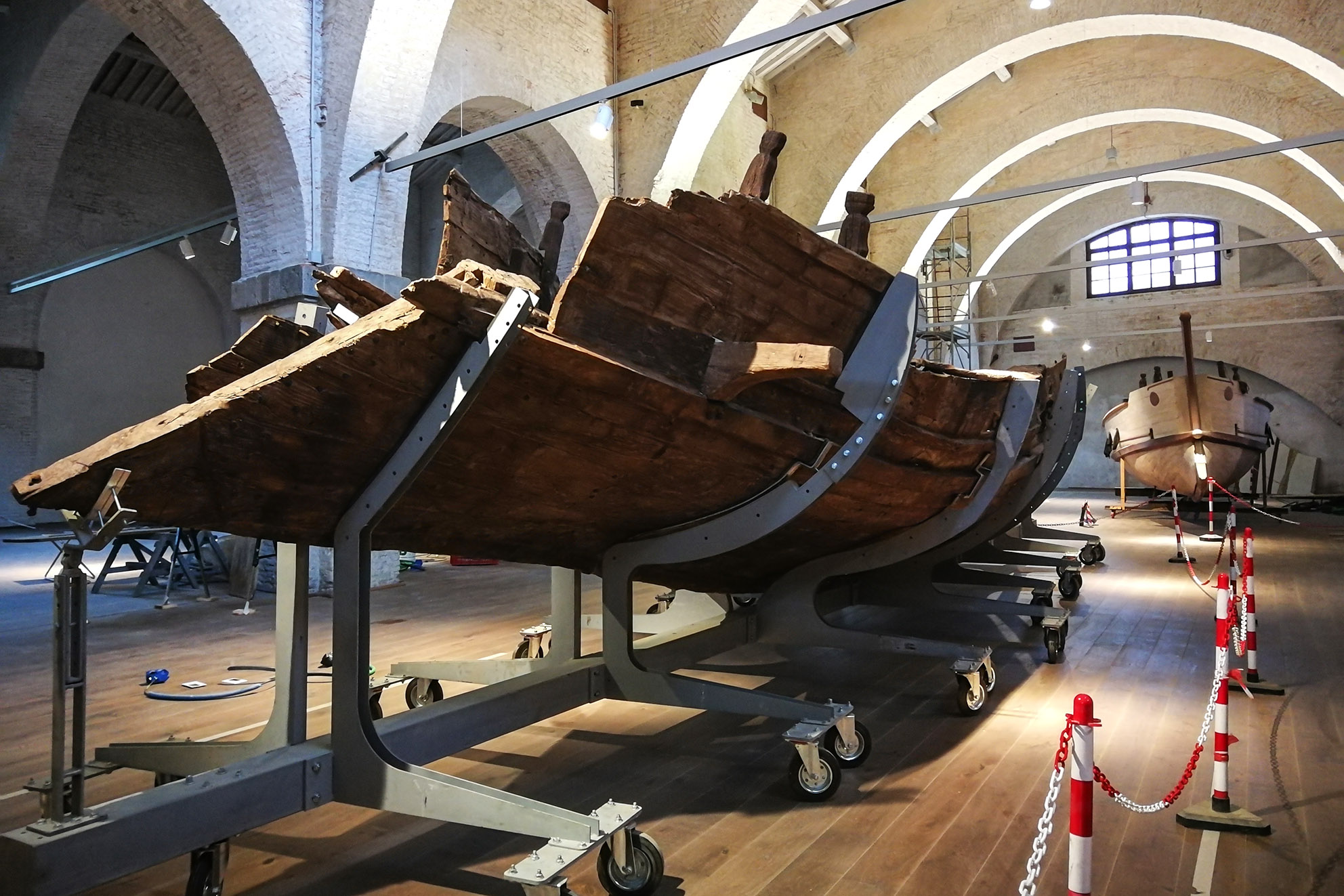 account_balanceMuseums
Historical Ships Museum in Pisa
After 20 years of research and restoration in Tuscany, the "Pompeii on the sea" is back
Following 20 years of research and restoration, the Historical Ships Museum in Pisa is displaying seven Roman-era ships dating from the 3rd century BCE to the 7th century CE and around 8,000 artefacts.
In 1998, the remains of the first ship came to light near the train station in San Rossore. After this, a large excavation and restoration site was set up thanks to the important and constant work of MiBAC and a varied group of archeologists and restorers.
The excavations and restoration of the ships in Pisa is one of the most interesting and important archeological and research sites in recent years. The particular condition of the artefacts' conservation – enclosed in layers of clay and sand – required considerable economic, organization and technological efforts, making use of laboratories, storehouses, avante-garde technology and logistics needed to recover the more than 30 ships and related materials. The worksite thus became a centre for laboratories, storehouses and tools that all benefitted from a collaboration between dozens of universities and Italian and foreign research institutes.
The Arsenali Medicei in Pisa conserves the Roman-era ships and related artefacts found during excavations and restored.
The museum begins with an overview of the city of Pisa, focused on archeology and legend, from the Etruscan and Roman era to the arrival of the Lombards. The exhibition reconstructions the rapport the city had with water: floods, the organization of the territory in terms of canals and centuriation, the port in Pisa, quarries and ceramics workshops, fishing and agriculture, as well as lumber and how this intense production impacted the territory, leading to its hydro-geological instability even in Antiquity. There is also a section about life on board, which certainly wasn't comfortable; many objects describe the sailors' lives, including clothing, baggage, illumination, how they cooked and ate, cults and superstitions and games for passing the time during their long journeys.
Pisa
Travel to the city of the leaning tower, a UNESCO heritage site
Pisa and its uniquely beautiful Piazza dei Miracoli, a UNESCO World Heritage site since 1987, have always been a fundamental stop on any holiday in Tuscany. Millions of people come here from every corner of the world every year to try, with the help of perspective, to keep the leaning tower standing. ...
Morekeyboard_backspace