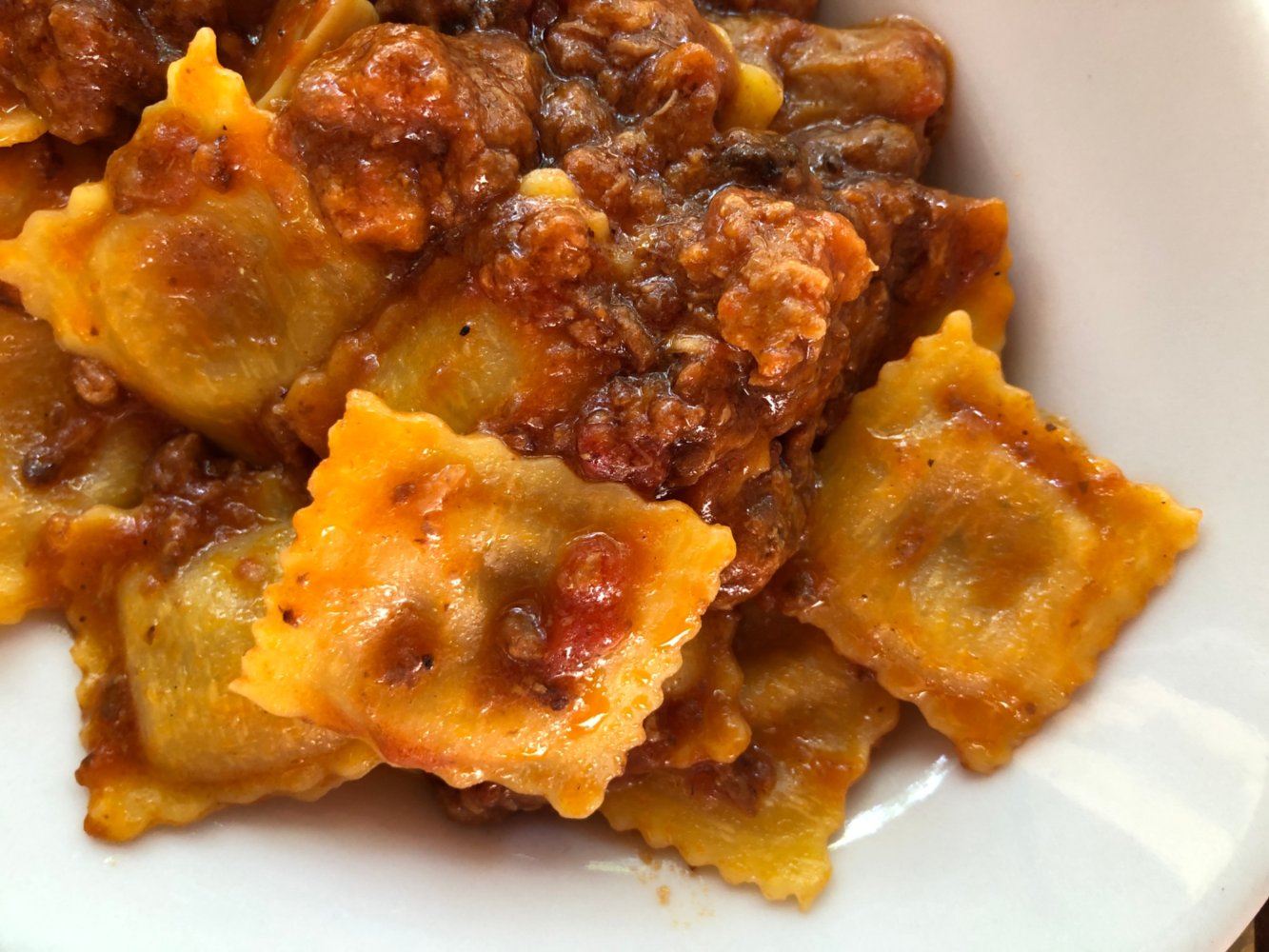 Photo ©Valentina Dainelli
Bring Mugello to the table, from appetizers to desserts
5 traditional recipes from Mugello
The centuries old gastronomic and hospitality tradition in Mugello dates back to the Middle Ages, when many travelers crossed these lands, finding refreshment while journeying through the Apennines. After 1300, Mugello experienced a period of rapid development as a rural area of the Florentine Republic. The memorialist Morelli (1371-1444), a native of these lands, gives this description of the beauties and products of Mugello in his 14th-century Chronicle:
On the plains of the Mugello are to be seen the best and most fruitful of orchards of the County, where the harvest is made twice or thrice a year, and always in abundance!

And I learned that on the rich lands of these hillsides there is wheat, fodder, fruit, wine and oil in abundance, and also great quantities of wood and chestnuts and livestock enough to supply a third of Florence.

I learned that great quantities of cheese and lambswool and chickens come from the Mugello and that there are other fowl and game in great abundance.
Of these traditions, the genuine and authentic flavors of home cooking made of local seasonal ingredients have remained, of which we want to share 5 recipes to try in your kitchens for a family lunch.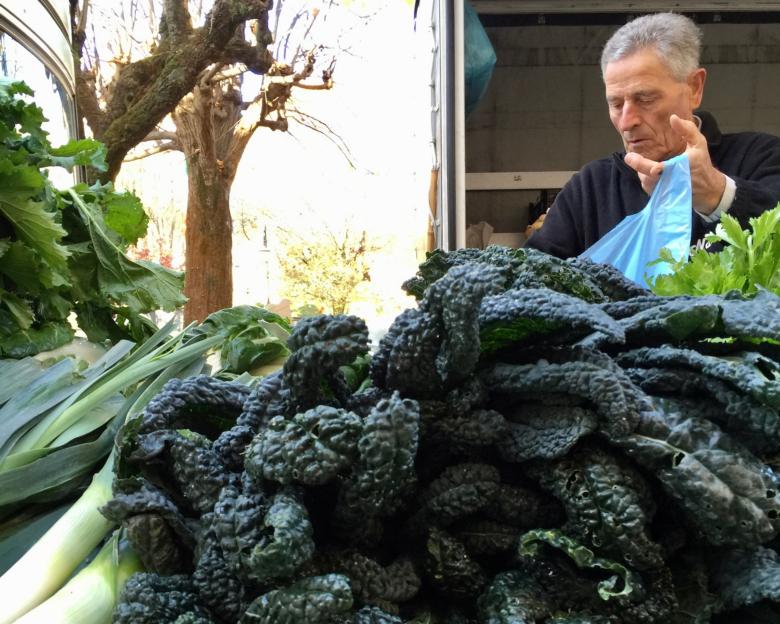 A very simple recipe, perfect as a starter for your Sunday lunch. The main ingredient is black cabbage, a typical product of winter vegetable gardens in Tuscany.
Rinse the black cabbage leaves and boil them in plenty of water, draining when ready. Roast two slices of Tuscan bread, rub with a little garlic, and wet the slice with a little water from the cabbage. Place the cooked shredded black cabbage on the bread, season with extra-virgin olive oil, salt, and pepper to taste.
This is a typical first course that comes from farmers' recipe book. It's a very tasty soup made with beans, stone ground yellow flour, black cabbage and leek:
For this recipe, you need:
1 slice of bacon, 2 leeks, 1 clove of garlic, 300 g borlotti beans, 500 g cornflour, 1 head of black cabbage, vegetable broth, salt, pepper, and oil.
Boil the black cabbage in salted water and cook the borlotti beans in a small amount of water
In a deep and fairly large pan, sauté the pancetta with the chopped leeks, garlic, salt and pepper. Gradually add water and vegetable broth and then the already boiled beans, with coarsely chopped black cabbage leaves.
Now add the cornmeal and stir it slowly until it reaches the right consistency
After about half an hour of cooking, serve in a bowl while hot
If you have some leftovers, it can be cut into slices and fried in a pan or roasted on the grill.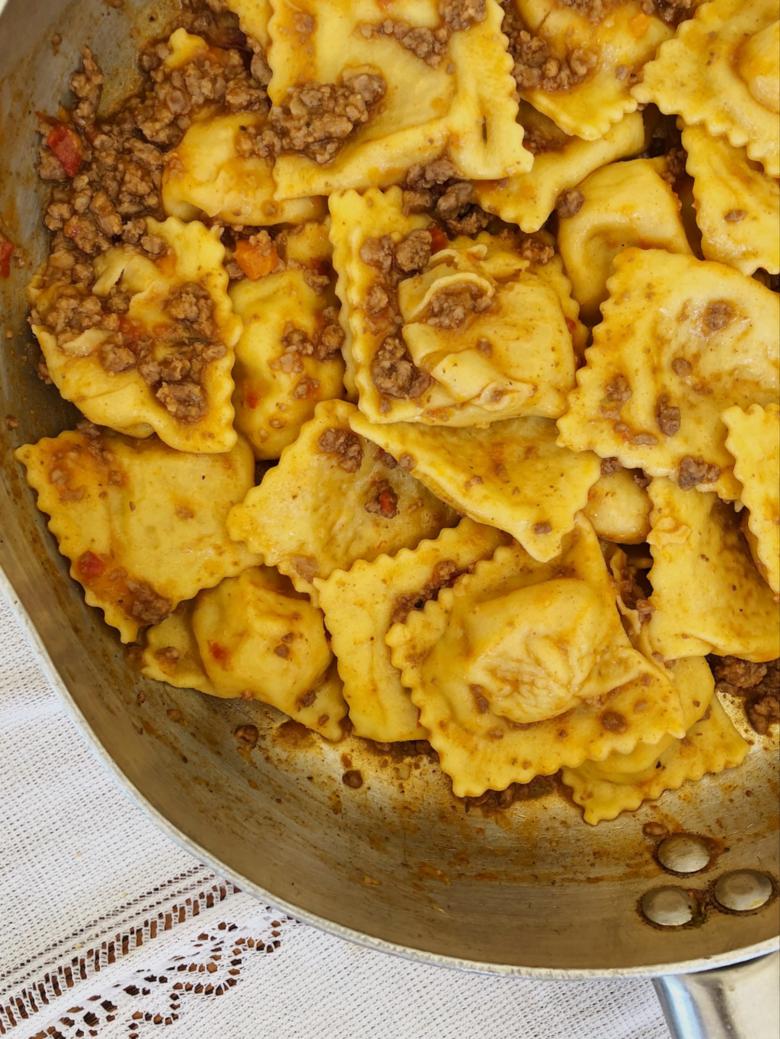 You'll find a recipe for potato tortelli in every recipe book in Mugello, each family has its own: there are those who put a little tomato in the dough, some make it with meat sauce, others just put potatoes. And even the size is not always the same: there are those who make them very large with lots of filling, and those who prefer bitesize pieces. There are many variations of this typical dish that has become the symbol of Mugello.
Tortelli di patate from Mugello are generally served with ragù made with wild boar, duck, or mushrooms, but they also go well with truffles.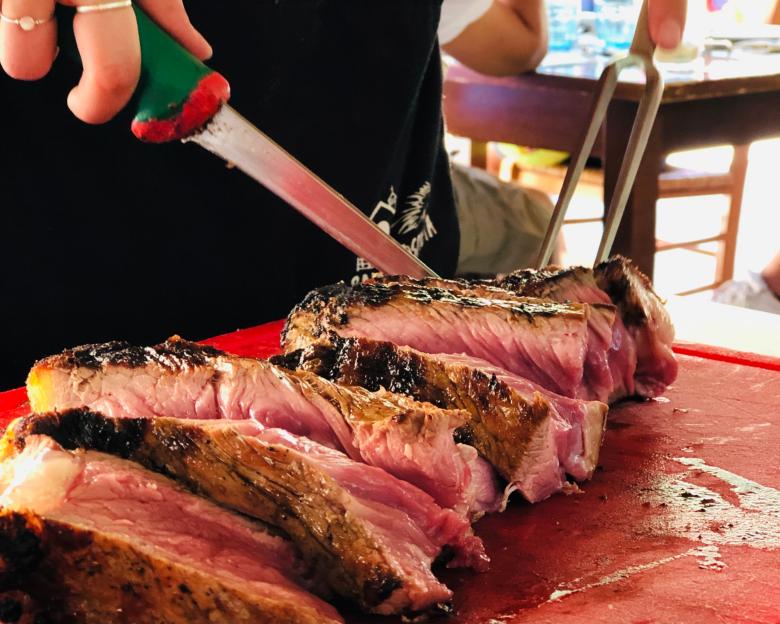 Mugello used to be the farm of the Medici family and it's still renowned for the authenticity of its products, where there are many farms engaged in meat production. The meat of Mugello is renowned given the breeds that adapt very well to the enviornment such as the Limousine, Charolaise, Chianina, Calvana and Romagnola. There are two different types of breeding farms, organic, which abides by strict regulations, and the conventional one. In any case, all animals are fed plants and vegetables exclusively and are raised in suitable conditions in full respect of animal welfare. Pure-bred calves are slaughtered before they are 24 months of age.
One of the most popular meat dishes is most definitely bistecca alla Fiorentina (Florentine steak), that must be strictly eaten rare.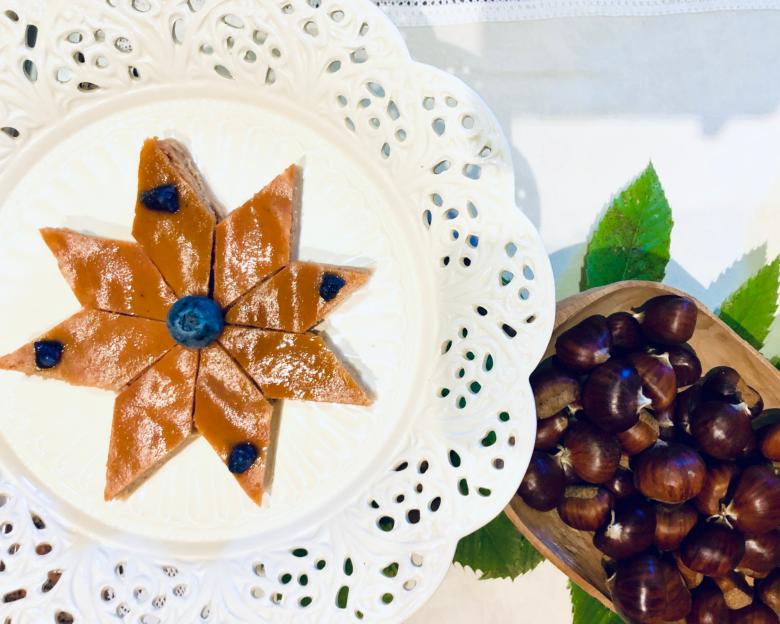 On special occasions, you can't miss out on chestnut cake, torta di marroni, a traditional recipe typical of Marradi, but not only. It's a somewhat laborious recipe but the result is amazing.
For the chestnut cake mixutre you need: 1 kg of chestnut puree, 1 liter of milk, 4 eggs, 400g of sugar, 1 sachet of vanilla, half a glass of rum, 2 tablespoons of alchermes, a pinch of salt, grated rind of a lemon.
For the puff pastry: 200g of flour, 1 knob of butter, milk and water as required.
Cut a slit in the chestnut skins, especially if fresh, and blanch them over a high flame for 2 or 3 minutes using a typical perforated pan. Peel the chestnuts and boil in salted water for 1 hour. Drain them and pass them through a very fine sieve.
Mix the chestnut puree with the sugar, vanilla, lemon peel, rum and alchermes. Beat the eggs and add them to the dough, together with the milk until the mixture is smooth. Leave to rest for about two hours.
In the meantime prepare the puff pastry for the crust using the white flour, the butter, and milk, and water as required. Roll out the pastry and place in a pie tin that's not higher than 4cm.
After the two hours, add the chestnut filling and bake at low heat (120° C) for roughly 3 hours, making sure the filling doesn't boil. Test the cooking time by using a tooth pick: when the filling doesn't stick, the pie is ready.
You might also be interested in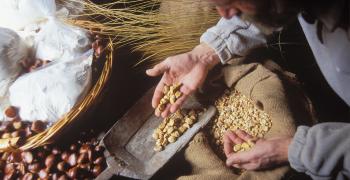 Learn more
Food and Wine
Olive oil, wine, truffle and other culinary delights make up the excellence of Tuscan gastronomy. ...
Continue...