Tuscany is a land of baked treats made in a variety of original ways
Traditional cakes and cookies from Tuscany
Who would ever have thought that one of Tuscany's most famous cakes would be named after the northern Italian city of Mantua? We don't know the actual origins of torta mantovana, although the most popular theory is that Isabella d'Este left the cake's recipe when she travelled from Mantua to Rome in 1514, stopping at the Medici court in Florence on her way or that two nuns from Mantua were Antonio Mattei's guests in Prato as they went to Rome for the Jubilee in 1875; Mattei was the city's best baker and they gave him the recipe.
You might also be interested in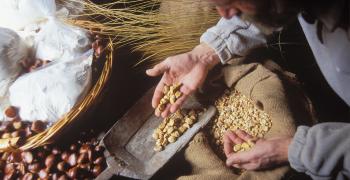 Learn more
Food and Wine
Olive oil, wine, truffle and other culinary delights make up the excellence of Tuscan gastronomy.
continue...