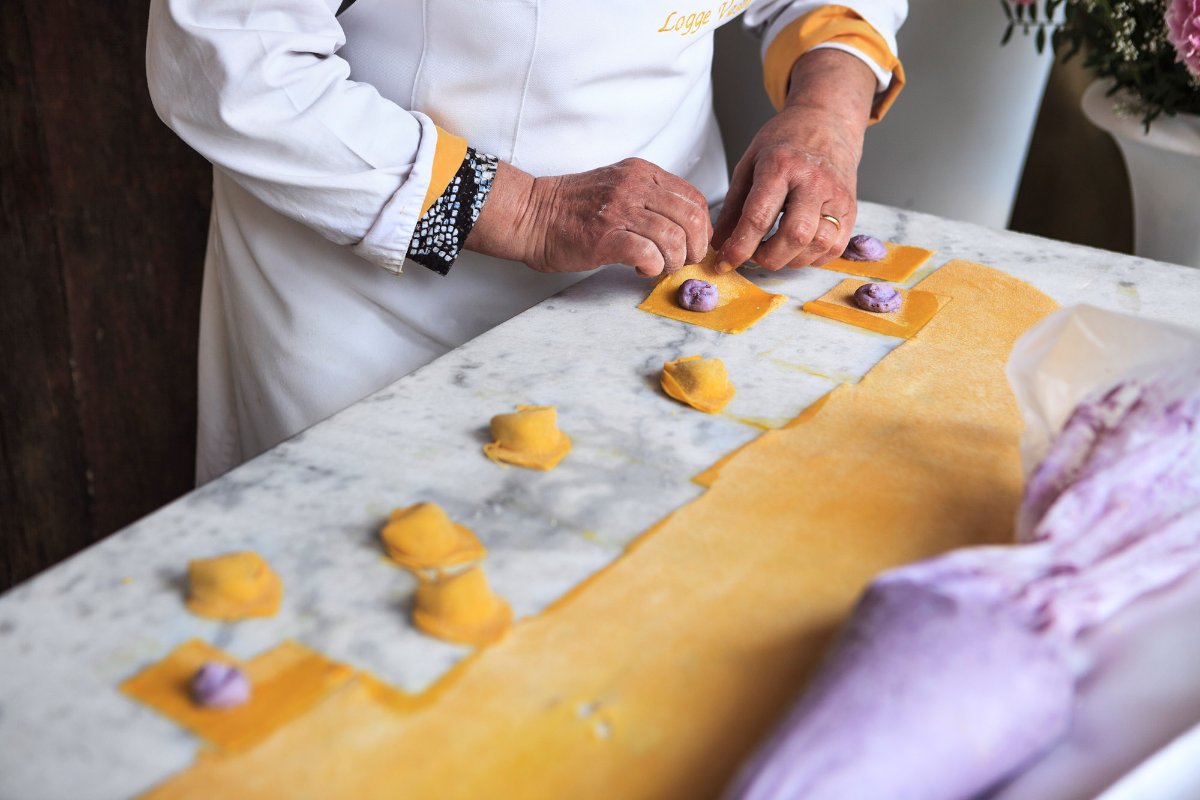 ??????
Mugello potato tortelli
The
potato tortello
is the most traditional of the dishes from the Mugello area which is full of country fairs featuring this speciality in Spring and Summer. This recipe is taken from a publication of the local tourist authority guaranteeing that the ingredients and the method used are those of the people who make the tortelli for the famous fair at Luco del Mugello.
INGREDIENTS FOR 6
For the filling:
2 kg of white potatoes
1 bunch of parsley
4 - 5 cloves of garlic
½ glass of tomato purée
2 handfuls of grated parmigiano
1 pinch of nutmeg
extra-virgin olive oil
salt and pepper
For the pasta:

1 kg plain flour
6 eggs
4 - 5 tblsps extra virgin olive oil
a pinch of salt
Mix the pasta ingredients together, knead well until smooth and even, and allow to rest for 30 minutes or so. Peel and boil the potatoes. In the meantime chop the parsley and garlic and sauté together with the tomato purée, parmigiano, nutmeg and salt and pepper. Drain and mash the potatoes and fold into the sauté mix and allow to cool well. Roll out the pasta into long, very thin strips and lay a teaspoon of filling every 4-5cms for half of the strip leaving enough margin at both sides. Fold over the empty half of the strip to cover the fillings and seal the pasta between fillings and at the sides. Carefully cut the pasta with a cutting wheel or a sharp knife. Mugello potato tortelli are excellent with
mushroom sauce,
or a meat sauce made with rabbit or duck.
Source:
www.firenzeturismo.it
You might also be interested in
Mugello
The Mugello area, which has lived for centuries in Florence's shadow, is found in the watershed of the Apennines Mountains. ...
Scopri Mugellokeyboard_backspace