First courses
Potato tortelli from the Mugello area
Potato tortelli are soft, square, yellow ravioli filled with mashed potato, cheese, garlic and parsley. Families prepare always tortelli in special occasions and top them with strong meat sauces or simply with butter and sage.
For the filling:
2 kg of white potatoes
1 bunch of parsley
4 - 5 cloves of garlic
½ glass of tomato purée
2 handfuls of grated parmigiano
1 pinch of nutmeg
extra-virgin olive oil
salt and pepper
For the pasta:
1 kg plain flour
6 eggs
4 - 5 tblsps extra virgin olive oil
a pinch of salt
Mix the pasta ingredients together, knead well until smooth and allow to rest for 30 minutes or so.
Peel and boil the potatoes.
In the meantime chop the parsley and garlic and sauté together with the tomato purée, parmigiano, nutmeg and salt and pepper.
Drain and mash the potatoes, fold into the sauté mix and allow to cool well.
Roll out the pasta into long, very thin strips and lay a teaspoon of filling every 4-5cms for half of the strip leaving enough margin at both sides. Fold over the empty half of the strip to cover the fillings and seal the pasta between fillings and at the sides. Carefully cut the pasta with a cutting wheel or a sharp knife.
Mugello potato tortelli are excellent with mushroom sauce, or a meat sauce made with rabbit or duck.
Source: www.firenzeturismo.it
You might also be interested in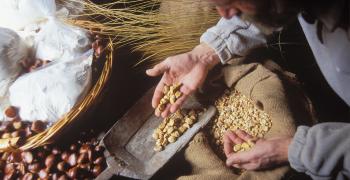 Learn more
Food and Wine
Olive oil, wine, truffle and other culinary delights make up the excellence of Tuscan gastronomy.
continue...