Curative waters, castles and craft pasta in Casciana Terme Lari
Off the beaten track in the Pisa province
In the heart of the Pisan hills, Casciana Terme and Lari are two towns that merged into one municipality, Casciana Terme Lari, in 2014. Each is distinct, however, in terms of geography, sights to see and experiences to try. While Casciana Terme is best described as a "resort town" for its spas and thermal baths, Lari is better known for its historic castle and foodie culture worth exploring. Here are a few ideas to try out in each area.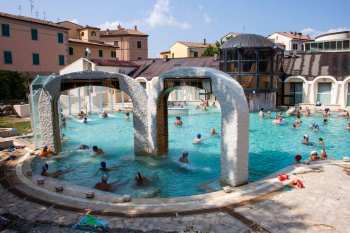 Pamper yourself in Casciana Terme at the small town's spa complex, where history runs deep. Its waters are known officially as "Acqua Mathelda"—long used to combat cardiovascular and respiratory problems, rheumatism, arthritic issues and other ailments—and run at a constant temperature of 35.7 degrees Celsius. A charming legend is associated with these healing waters: noblewoman Matilda of Tuscany was said to have had a crippled and pained pet blackbird that could only find relief during its afternoon flights outside the home, returning in the evenings with increased energy and "chirpy" positivity. Supposedly the countess caught a glimpse of the blackbird on one of its outings, witnessing it dipping into a pool of warm water, and thereby learning of the pool's restorative properties. Matilda later took to these curative waters herself to relieve aches and pains, and their popularity spread. (Beloved local lore aside, Matilda did in fact help the industry grow, setting up much of the spa infrastructure).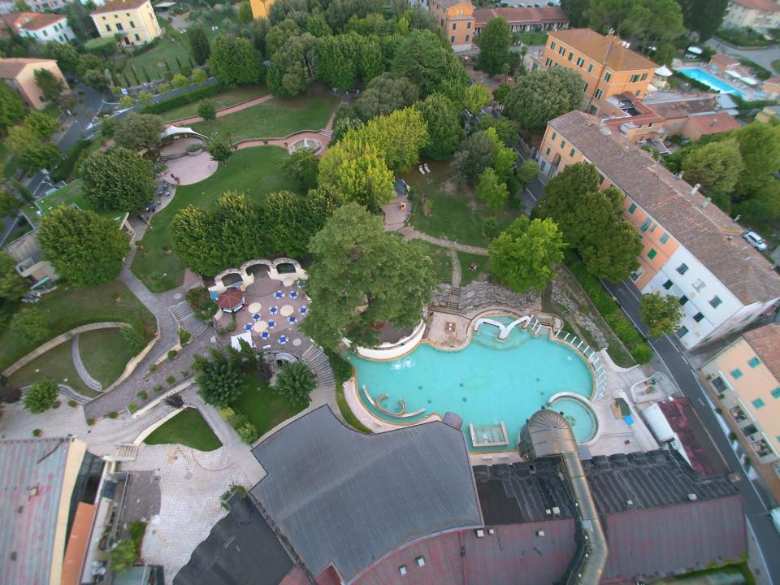 If you don't have much in common with 11th- and 12th-century countesses and need to find ways to justify a day of lounging, take note of the complex's architectural appeal. It was designed by Giuseppe Poggi, an architect most famous for his expansion of Florence during its brief six-year tenure as the capital of Italy (1865-1871).

After your self-care session (mud masks, anti-aging treatments, saunas, a variety of massages and countless other treatments are available), enjoy a coffee or wine break in the elegant setting of the spa complex's cafe. Originally constructed in 1823, it was moved and upgraded in 1870 at the height of Italian unification. Inside you'll find frescoes blurring the lines between Neoclassical and Liberty styles—not to mention an extensive wine list and seasonal local products.
If you're instead looking for a change of scenery in the afternoon, consider a jaunt to one of the area wineries for a tasting—Casciana Terme is part of the Pisan hills Chianti production zone, with top-quality Sangiovese and Cabernet Sauvignon and dessert wines like Vin Santo produced in the area.
Learning and tasting in Lari 
A trip to tiny Lari, which has its roots in Etruscan times, would be incomplete without a stop at the Castello di Lari set smack-dab in the center, its construction dates to the year 1000 but its "golden years" came in the centuries after 1400, when it was the headquarters of the Florentine Vicariate—this meant that nearly a third of what is today the province of Pisa was governed from this very castle.
Your taste buds will love Lari, too. The town is home to one of Tuscany's most famous pasta producers, Martelli, a centuries-strong, family-run factory known for their high-quality spaghetti and spaghettini, classic penne, and Tuscan maccheroni, all instantly recognizable on shop shelves by their iconic yellow Martelli bags.

May also brings one of the region's most beloved sagre, or traditional food festivals—the Sagra delle Ciliegie (Cherry Festival), running since 1957 and typically held over two weekends in late May or early June. Besides cherry-based nibbles, treats, dishes and drinks, count on finding live music and local revelry.
You might also be interested in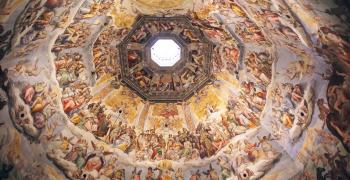 Learn more
Art and Culture
Tuscany is the cradle of the Renaissance and known all over the world for its immense artistic and cultural heritage.
continue...