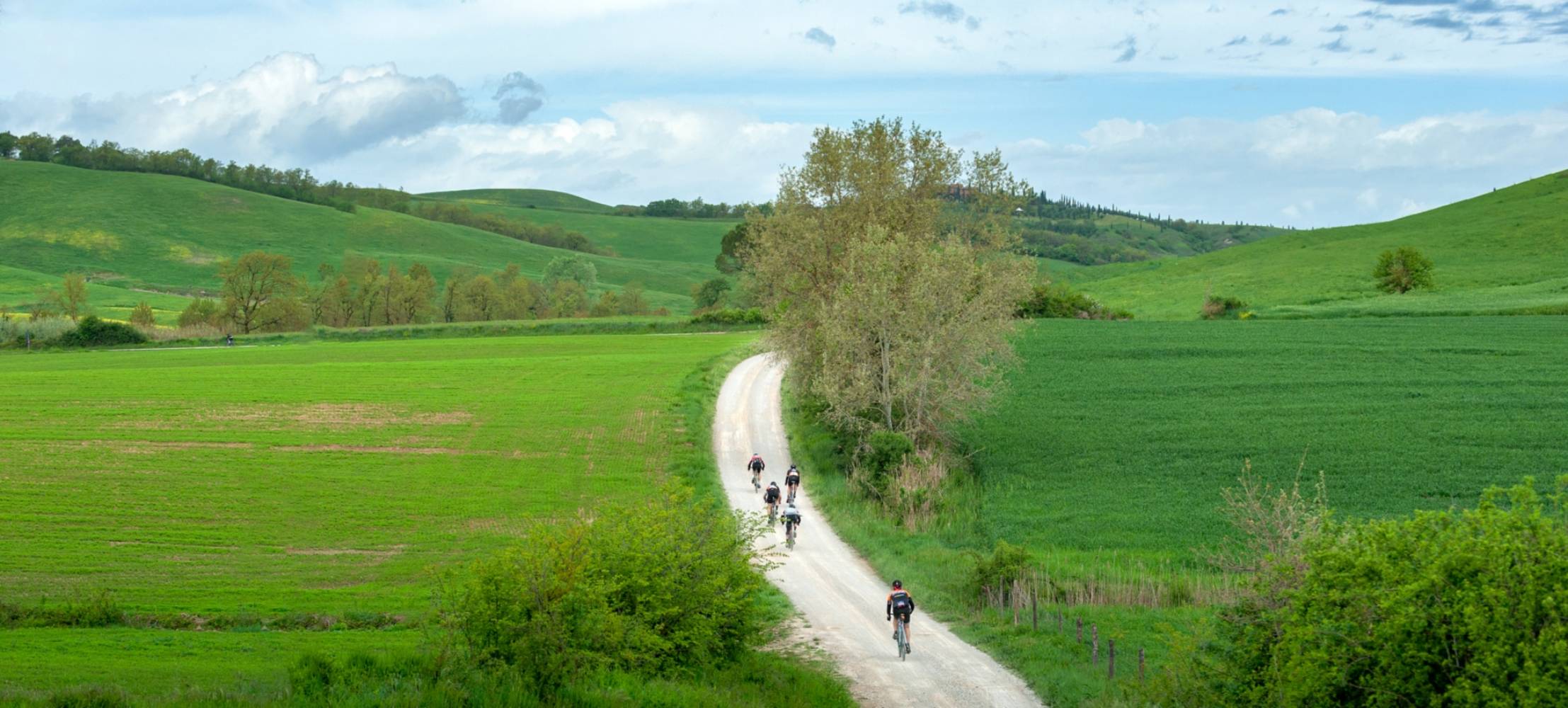 Photo ©Ramiro Castro Xiques
Three cycling events in Tuscany to be discovered
Gravel Bike Events in Tuscany
Let's begin at the beginning. Or rather, let's begin with this word, Gravel, which now refers to a distinct category of bicycles and its own sport to go along with it. The bikes have been produced for a few years now, so it's no surprise that they've spawned their own events: not necessarily races or conventions, just innovative ways to cycle.
The spirit of gravel bikes is all contained within its name. It looks to all intents and purposes like a racing bike, but can e fitted with fatter tyres to take on the white roads and dirt tracks, and deal with them as easily as if they were asphalt. The frame, apart from having bigger tubes in order to accommodate the semi-slick tyres, is usually more relaxed in its geometry than that of its racing counterparts. There are, however, many variations on a theme. Some gravel bikes can take even larger tyres, like the 29-inchers from a mountain bike; the frame, meanwhile, which might be made from steel, might be made from titanium, could be fitted with mudguards or panniers. The gravel bike, we might say, is the missing link that unites racing bikes, touring bikes and mountain bikes.
The gravel bike grew out of cyclocross bikes, a similar but different shape and discipline, with different kinds of races. Apart from having a different frame and different tyres, gravel bikes don't take part in closed circuits (like in cyclocross); rather, they race on medium-to-long courses with stretches of dirt track. We're going to have a look at some of these events, and how they've evolved and proliferated in Tuscany. Have a look on the internet: there are so many groups dedicated to gravel biking, some more official than others, but all with a unifying thread. Fun and adventure comes before competition; enjoying the area and the food and respecting the environment is more important than winning medals.
I've selected three events from a choice of many. They respect the criteria of being all about fun and a glorious chance to discover Tuscany while doing sport.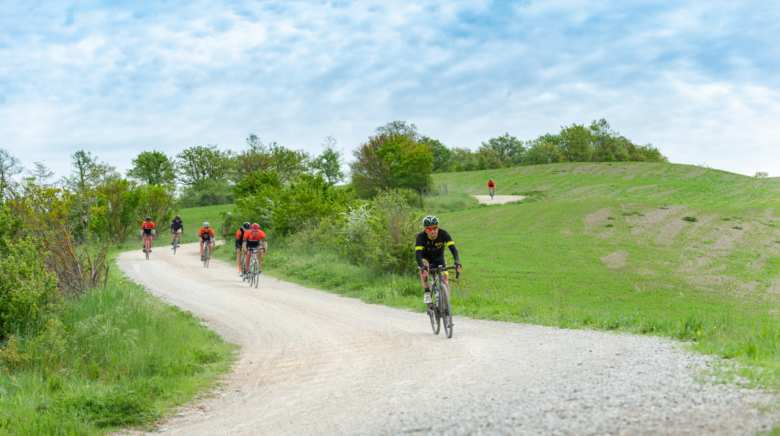 Anyone who has already landed on planet Bicycle will know that Eroica is a vintage cycling event that takes place in October in Gaiole in Chianti, and has done so for more than twenty years. This is not simply a vintage bicycle convention for a few devotees: around 7,000 bicycles are brought along every year, and with the now-famous motto - "the beauty of weariness and the taste of a challenge" - they confront dirt tracks of varying lengths and difficulties.
But for a few years now there has been more than one Eroica, in different corners of the globe. One of these additions is NOVA Eroica, which is solely dedicated to gravel bikes. The chosen venue is Buonconvento, in the province of Siena, which turns itself into a festival town for the event, with local gastronomy, a marching band and the same ethos as the Gaiole Eroica: the pure cycling spirit from the days of Coppi and Bartali, the real essence of coming together to share the joys and agonies of the two wheels.
Most of the routes, of course, are gravel and dirt, with a few timed stretches. They wind through the most beautiful Sienese hills, past arable and vineyard. It's a one-of-a-kind experience, as it is actually a real race, in which various professionals participate every year. This is why the Eroica organises courses of varying difficulties. The spirit, however, is based not in classes and groupings, but, as its creator said, in "the taste of a challenge".
More information available on the Nova Eroica webite.
As is so often the case, this group was born when a group of friends bonded around the same passion. Throw in some dirt tracks in the province of Pisa - the Valdera, to be exact - some strong organisational skills, good food, and the rest takes care of itself. The unspoiled, fairly unknown backdrop for this event is full of dirt tracks and green hills. Starting from the village of Forcoli, the organisers draw up various gravel routes, including one for cyclists who have never taken their bikes on dirt and gravel before. Stopping points worthy of note include the Teatro del Silenzio in Lajatico, which is famous among other things for being the birthplace of Andrea Bocelli. Once you've completed your route of choice and are back at the starting blocks, Forcoli welcomes you with a true food festival, to round off the day in the best of ways.
In October, therefore, dirt tracks are king in this part of Tuscany, which will gobsmack you with its beauty and the quality of its white roads. In order to sign up, you'll need to be a member of a sports association or club, and it is advised that you use a gravel bike or a 29" mountain bike. In contrast with other kinds of conventions, this event does not take place over a route marked out with signposts; rather, it uses a GPX tracker, which, once downloaded onto the bike's GPS, allow the rider to follow the course with complete autonomy. They can go their own way, as it were.
More information available on the Ganza Gravel website.
This is the first and the oldest of the region's real "trails", by which we mean a route many hundreds of kilometres long, tackled autonomously, without any support from the organisers. Something designed for aficionados and adventure-seekers.
It's a young geology graduate and mountain bike-lover who works behind the scenes to design every last detail of this course, which bisects Tuscany from north to south. He decided to make, from his passion for mountain biking and his fascination with GPS tracking, an all-new event for the region and for those who love bikepacking - cycling with bags that allow you to undergo fast journeys with little luggage. Normal bicycles can be fitted with panniers, but here no panniers are required, no added fittings or clips in front or back. This means that the bike weighs less and can be ridden in comfort for longer distances.
So you just bring along a suitable bike and anything you need for a night in the open, a GPS equipped with the organisation's tracking system, and away you go. Naturally, this event is only recommended to the sportiest or the most dedicated riders - it's 500km long, although this year e-bikes are being admitted too. The route is demanding, aimed only at people who love a challenge. But along with the aches and tiredness, you get the best landscapes and hilltowns that the region has to offer; you hit the coast and you also go through the Florentine and Sienese hills, only to descend back towards the sea, where you finish in the astonishing lagoon of Orbetello.
More information available on the Tuscany Trail website.
You might also be interested in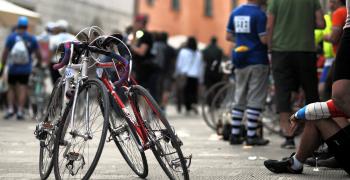 directions_bike
Learn more
Cycling
Cycling is the best way to delve deep into the soul of a territory. It allows you to reach the most beautiful places by taking the less-travelled
continue...