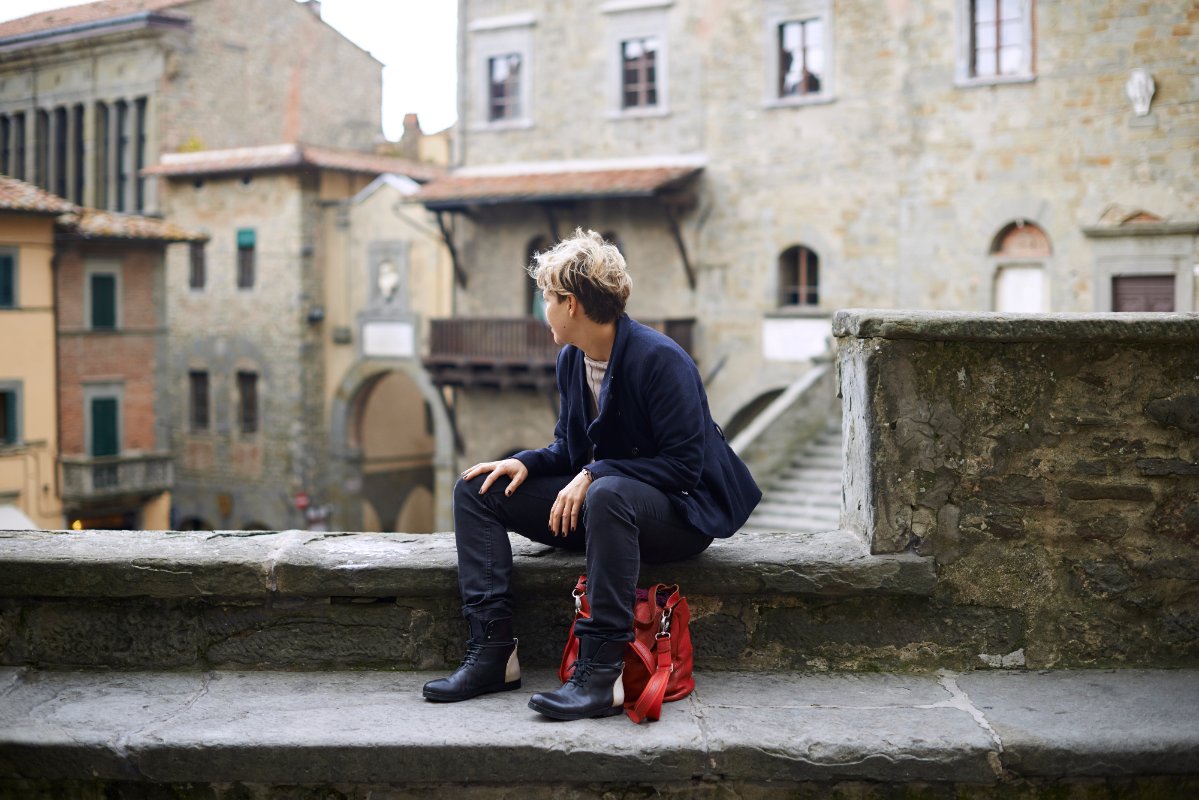 Caravaggio in the news: bones found, a new painting discovered, and more?
It's the 400th anniversary of Caravaggio's death, which is why this year saw
major exhibits dedicated to Caravaggio in Rome and Florence
, and why the exhibit Caravaggio in Florence is topping the list of most-seen shows in Tuscany this summer. But this does not explain why
Caravaggio seems to be frequently in the news lately
, for discoveries unrelated (or are they?) to this anniversary, such as finding new paintings or identifying his bones. In the midst of Caravaggio-mania, is the extra media attention helping studies and the diffusion of their results, or... is it all a conspiracy!?
New Caravaggio painting found in Rome?
The Vatican's newspaper "Osservatore Romano" announced last week that a "new" Caravaggio has "possibly" been found in Rome; this news has been re-launched by
Huff Post
so it's generating a lot of buzz. I checked the Italian sources to make sure I have all the details right. A painting depicting a Martyrdom of Saint Lawrence (we know it's him because he's lying down on a grill and there's a hot fire below him) that is property of the Jesuit community "Compagnia di Gesù" has been put forth as being by Caravaggio just this week. on the weekend during which the Borghese and other Caravaggio locations were open late for the festitivies that commemorate the artist. I guess they hung onto it until the moment that the revelation would make the biggest splash. Some experts are apparently convinced, though we have yet to see any names. The painting will undergo full study. It's hard to tell from the awful photo published in the paper (reproduced again here), but it looks to me to be rather too luminous and the facial expression insufficiently tormented to be a real Caravaggio. Time, and scientific studies, will perhaps tell, but attributing a Caravaggio is one of the most difficult things to do in the field of attribution (next to identifying a real Giorgione), and there is little consensus amongst the experts. In fact, the Caravaggist and Jesuit artist
Giovanni Baglione has already been proposed as the author
of the canvas.
Sources: La Repubblica di Roma 17/07/2010; TgCOM.
Caravaggio's bones discovered in Porto d'Ercole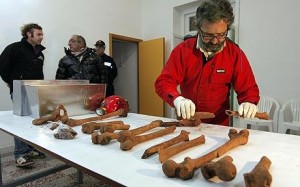 If you want to see Caravaggio's mortal remains, you can do so in Porto d'Ercole in Tuscany
, where they sit in a glass case in Forte Stella along with a photography exhibit and panels explaining the authentication and discovery of the bones earlier this summer. They're 85% sure that the bones are his thanks to the high level of lead in his blood (painters lick their brushes, and paint back then had lead in it). After carbon dating, they've also compared the DNA to that of males in the town of Caravaggio with the last name Merisi (there are 20 potential relatives there, but no direct descendants). Around the bones, researchers are getting excited and digging up all sorts of dirt. He died on July 18 1610, according to the death certificate, but there's some
debate on the authenticity of that death date
. He was weakened by fever, but was it from an intestinal infection (yuck!) or syphillis (he was a bit of a Latin Lover)? or malarial fever? or a plot by the knights of Malta? (All these options have been proposed.) Until August 18th the mini exibit entitled "
Michelangelo Merisi da Caravaggio, chiuder la vita
" inside the church of Sant'Erasmo tells the reconstructed story of the artist's last days. On the run from Naples where he was accused of murder, he had a few canvases with him when he died, including the St. John the Baptist from the Borghese Gallery that is on loan for this exhibition (placed in a special climate-controlled box - that sea air can be brutal). The rather sensational news of the find is getting everyone except art historians excited:
"Quite honestly, I don't see why anyone would be remotely interested in finding Caravaggio's bones," Keith Christiansen, curator of Italian and French paintings at the Metropolitan Museum of Art in New York, wrote in an e-mail message [to the NYT]. "I thought relic worship went out with the Middle Ages."
Sources: NYTimes, ArtsBlog.it, and many, many others!
Did Caravaggio "cheat"?
An
article in the Times
brings up the age-old discussion of the camera obscura which Caravaggio might have used, according to Hockney and others, to project images onto the canvas. Some people say this is "cheating" because it's painting with mechanical assistance. Why this explains the "stylistic oddities" including the dramatic tenebrism of Caravaggio's work remains unclear to me! However there is one interesting piece of evidence that connects Caravaggio to this device:
"The use of the camera obscura by artists was advocated by the Italian writer Giambattista della Porta in a best-selling book entitled Natural Magick (1584). Della Porta was in communication with Caravaggio's patron Cardinal del Monte."
Caravaggio lost and found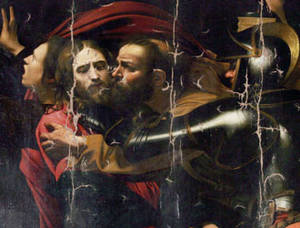 A painting attributed to Caravaggio was
stolen from the museum in Odessa, Ukraine
, in 2008, and found again by police in Berlin this past June. The
Kiss of Judas
is a close copy of another work in Dublin (National Gallery) so it's attribution was only confirmed in 1950 and it's not very well known. It dates to around 1602, if it's really by Caravaggio. On July 30 2008, thieves entered through a window in the museum, cut the canvas from the frame, and exited via the roof. Last March, someone slipped the museum director a piece of paper with a website address on it; he went online and found "his" painting up for sale for a mere 1.5 million euros (it's worth more like a few hundred million). 3 Ukrainians and one Russian were arrested in the attempted transfer of the painting in Berlin last June, while 20 arrests were made in the Ukraine, closing down a specialist art theft ring.
Source: la stampa 29/06/2010
You might also be interested in