A virtual tour in Tuscany
5 fantastic places to visit through Federico Debetto's 360° photographs
In a moment like this, photographs can help us imagine beautiful cities of art, small jewels on the seaside or inland. Thanks to Federico Debetto's images, we can fly over the Tuscan cities like a swallow, gazing at Certaldo, Florence, Livorno, San Gimignano and Portoferraio from the sky.
This small historic town is one of the most charming in Tuscany. Certaldo has always been one of the favorite destinations of the Val D'Elsa. Perched on a hill, it was formed where there was no room for an agora (an open space like a piazza, used in ancient times as a meeting place), so the current Via Boccaccio overlooked by the Palazzo Pretorio, has always been the centre of all the local activities.
Florence is the cradle of Renaissance and a true artistic treasure trove. The Cathedral, topped by Brunelleschi's dome and overlooking the Baptistery, Santa Croce, Palazzo Vecchio, Palazzo Pitti and the famous Ponte Vecchio are just a few. Walking in the alleys of the Oltrarno or getting lost in the narrow streets of San Niccolò, we experience the enchantment in another era. The Uffizi, the Bargello, the Accademia, the Medici Chapels and the Museo dell'Opera del Duomo, are some of the main museums, all of inestimable value.
Mascagni Terrace is a beautiful square by the sea. Though romantic, Livorno is also functions as one of the main ports of Europe. After admiring the Art Nouveau villas in the city, a fascinating route takes you to New Venice, along the canals to be navigated by boat. And then there is the art of the Giovanni Fattori Civic Museum, where you can admire works by Tuscan painters of the nineteenth and early twentieth centuries.
This historic village is a perfect medieval postcard. A UNESCO Heritage Site, San Gimignano is also known as the "Manhattan of the Middle Ages" given the amount of towers that dominated the small town. Originally there were 65, of which 14 remain. The Cathedral is a true anthology of frescoes of the Florentine school, while the Palazzo Comunale houses the Majesty of Lippo Memmi.
Portoferraio is the main town and also the main port of Elba Island, at the foot of a promontory that borders the bay. The origins of Portoferraio are older than the Romans and its present appearance derives from the Medici period, of which the fortifications remain. In 1814, Portoferraio was the place of Napoleon's exile, of which we can visit the Villa dei Mulini, one of the two emperor's residences on the island.
The tour is over - for now - but it's just a taste of what you can see when you'll be visiting Tuscany in person. We hope to welcome you soon.
You might also be interested in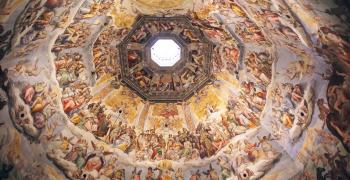 Learn more
Art and Culture
Tuscany is the cradle of the Renaissance and known all over the world for its immense artistic and cultural heritage.
continue...