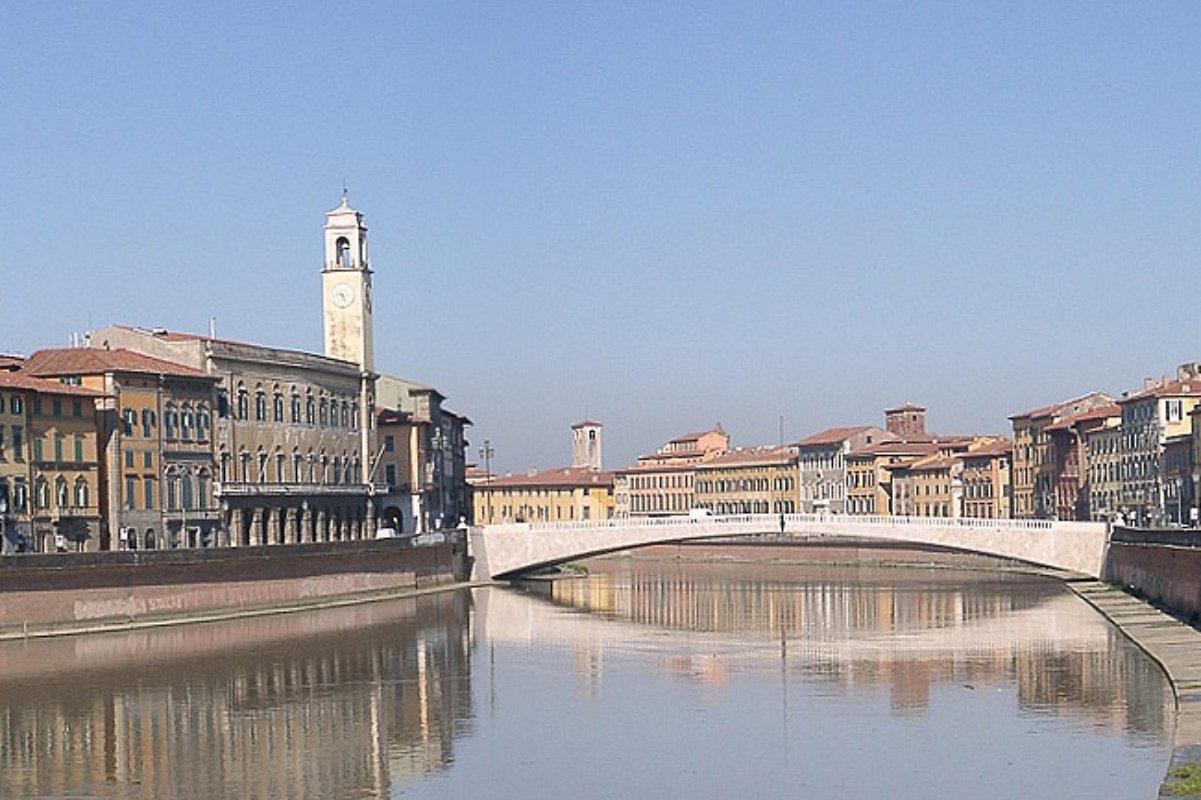 Hamlets, districts and squares
Lungarno Mediceo in Pisa
Between Ponte di Mezzo and Ponte della Fortezza
The Ponte di Mezzo bridge was nicknamed "Ponte Conte Ugolino", a reference to the popular referendum that was posed to locals in 1946 to choose the project most in-line with the local mentality. Work was begun by Ferrobeton Spa.

The "Gioco del Ponte" has ancient roots. The annual June festival takes place on this bridge and consists of pushing a cart along a track where it comes into contact with representatives from Pisa's various neighborhoods. Before the competition begins, an amazing historic parade consisting of 710 people in 16th century Spanish costumes is held along the Lungarno.

The Palazzo Lanfranchi faces the Lungarno Mediceo. The palazzo is now the home of the State Archives which houses a notable amount of documentation on the medieval history of the city and surrounding area from the 8th century on. The State Archives were founded in 1860 by the Provisory Tuscan Government.

The exterior of the palazzo is typical of a 19th century construction. It was restored upon the request of Alessandro Gherardesca and is famous for having hosted Lord Byron from 1821 to 1822 before leaving for Greece where he died.

Going towards the Ponte della Fortezza, we come to the Palazzo dei Medici, which can be recognized by its typical 13th century style. The façade is covered in a stone composite on the ground floor and by the ancient pillars and decorative arches on the two top floors.

The palazzo was the residence of the Appiano family, lords of Pisa from 1392 to 1398. In 1446 it became the property of the Medici and the celebrated Lorenzo stayed there while holidaying on the Tuscan coast in order to regain his fragile health. Today it is the seat of the prefect.

Neighboring Palazzo Medici is the former church and convent of San Matteo (St. Matthew), which opens onto the small piazza named for it. The convent was founded in 1027 and enlarged in the 12th century. The façade dates back to 1610. The interior is decorated with rich Baroque frescoes depicted subjects like "The Life of St. Matthew" by Sebastiano Conca, Francesco Trevisani and Jacopo Zoboli.

The National Museum of St. Matthew is highly interesting as it is the most important painting and sculpture museum in Pisa. It faces the Arno with an elegant Pisan Romanesque style and a classical façade.

Pisa
Experience the city of miracles, packed with maritime history and traditions
Pisa and its Piazza dei Miracoli have always been a fundamental stop on any trip to Tuscany. Despite the overwhelming presence of tourists from all over the world, who sometimes seem to have arrived here for the sole purpose of pretending to hold up the Leaning Tower – this sacred place still emits a timeless, evocative and powerful beauty. ...
Morekeyboard_backspace
You might also be interested in