5 artisan workshops in Florence's Oltrarno
From contemporary jewelry to traditional marbled paper, Florence's Oltrarno is home to many eclectic artisans
The Oltrarno is a neighbourhood in Florence located south of the River Arno, covering the area from Santo Spirito to San Frediano. Famous all over the world for its artisan workshops, the Oltrarno is the ideal place for a unique visit to the cradle of the Renaissance. This is where you can discover one of Florence's most prized traditions, watching master craftsmen (and women!) as they work on their pieces in their open shops, and perhaps pick out a one-of-a-kind and truly-Florentine gift for yourself or a loved one.
Alessandro Dari, Goldsmith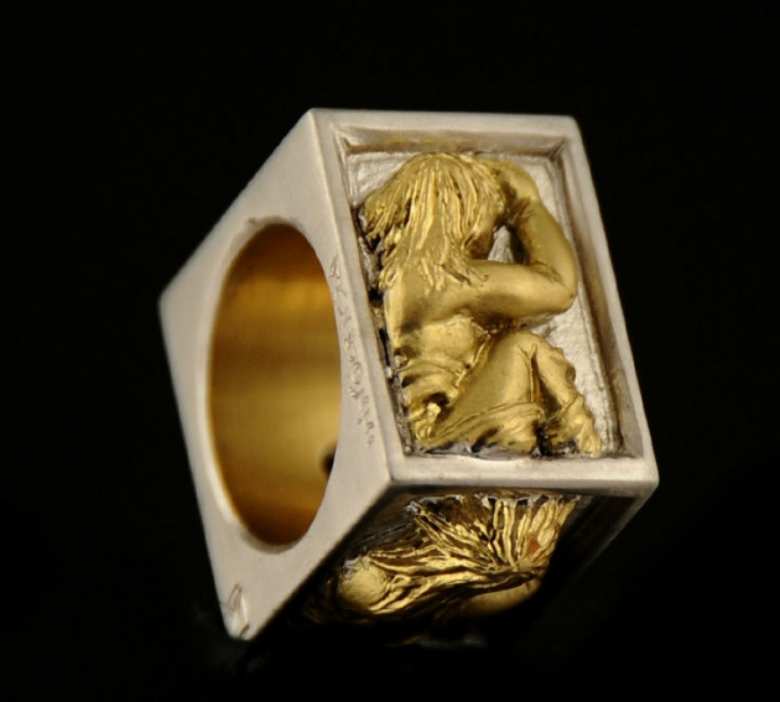 Alessandro Dari is a Florentine master of the art of gold-smithing as well as being a sculptor and a pharmacist! In his shop-museum, in the Nasi-Quaratesi palace, you can admire his collections of gold-smithing and appreciate the uniqueness of the jewels. His work is based on an on-going spiritual quest of his personal experience that nourishes and stimulates the creation of his works. Since the Eighties, Dari has produced 900 pieces divided into collections that are inspired by Gothic, Castles, Music, Alchemy and Sacred Art. He was the first to combine anatomy and architecture in the world of contemporary jewellery. His works are on display at the Silver Museum in Florence. In 2003, he won the Perseo award for Best Artist of the town and, in 2006, he was mentioned as artist chosen by the Vatican; the Italian Ministry of Cultural Heritage awarded his lab in 2001 as a 'Museum Workshop' (Via San Niccolo 115/R).

Info: alessandrodari.com

Omero Benvenuti, paper and bookbinding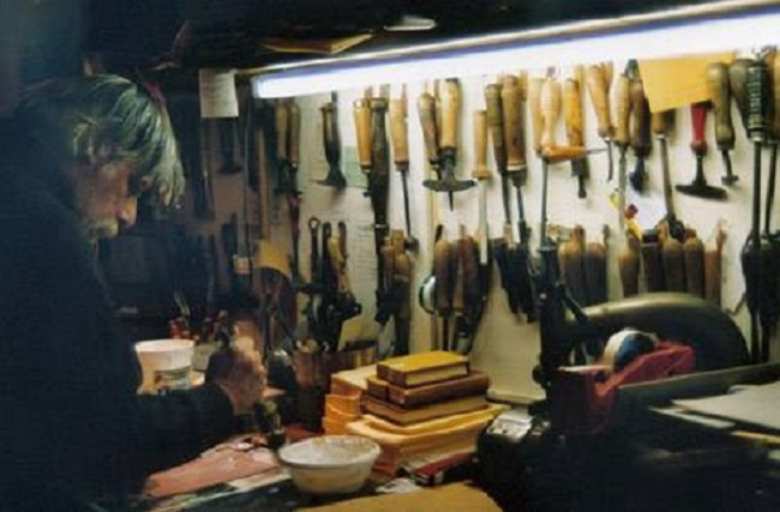 The picturesque shop of Omero, a bookbinder since 1967, is right in the artisan heart of Florence, just a few steps from Piazza Santo Spirito and the Boboli Gardens. Here, Omero continues to keep alive one of the oldest and most characteristic artistic traditions of Florence: bookbinding. Omero works exclusively by hand, with the passion and creativity that has distinguished Florentine artisans for centuries: natural products, such as quality leather, colours, glues and tools from the early twentieth century are his companions in the creation of unique items, including high-quality stationery. He's also a master when it comes to typical Florentine marbled paper, always inventing new combinations of colors for innovative or traditional patterns. (Via Romana 58/R)

Info: firenze-oltrarno.net
Moleria Locchi, crystal and glassware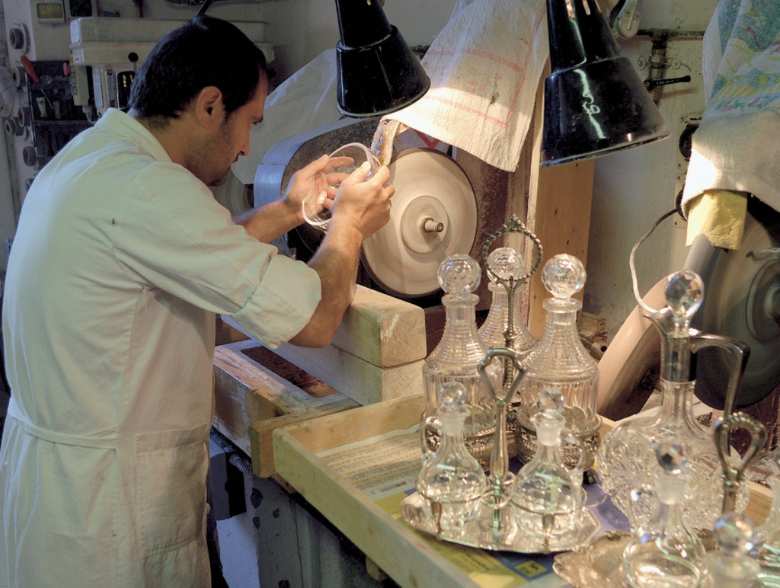 Locchi's laboratory is situated in the Oltrarno neighborhood. Here, the work is still done using old grinding wheels and traditional techniques, which are refined all the time through research. Since the end of the nineteenth century, the grinding masters of Locchi's laboratory have restored, ground and engraved crystal objects, bringing back to their original condition goblets, cups, cruets, salt shakers and precious chandeliers in Murano glass. An art that bestowed upon them international fame, also as leading consultants in the field of restoration. The laboratory in located in an old palace, a place where antique dealers, collectors, enthusiasts, designers, lords and ladies all gather together, queuing up to leave their precious objects. In addition to the unique collection of gift items - small perfume bottles, whisky bottles, candlesticks, decorated jugs and the famous Medici vase – you can purchase custom-made objects. (Via Burchiello 10)

Info: locchi.com
F.lli Ugolini, bronze items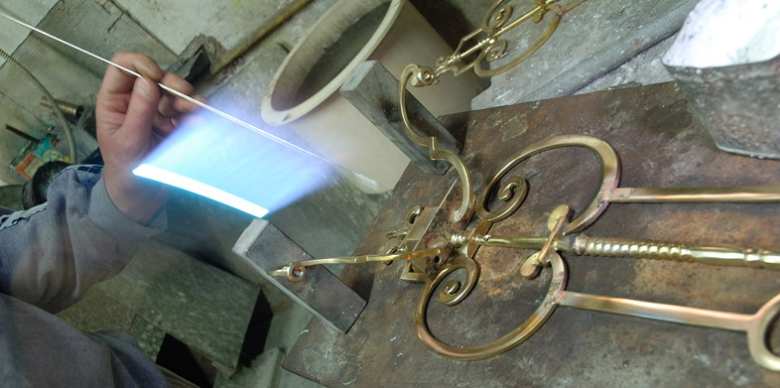 The Ugolini brothers' firm has been carrying out its activities for more than two centuries. Founded in the San Frediano neighborhood by Raphael Ugolini, at first with his son Guido and then with the grandchildren, the company has gradually established itself in Italy and abroad for the production of articles for lights and decorative objects in bronze and brass. Melting, turning, carving and buffing are done strictly by hand to obtain a truly handcrafted object, then as now. The company's assets are its workers' passion, the laboratory equipment, in-depth knowledge of historical styles, originality of products, attention to detail and its inimitable creativity. (Via del Drago d'Oro 25/R)
Info: destinationflorence
Jamie Lazzara, Lute Maker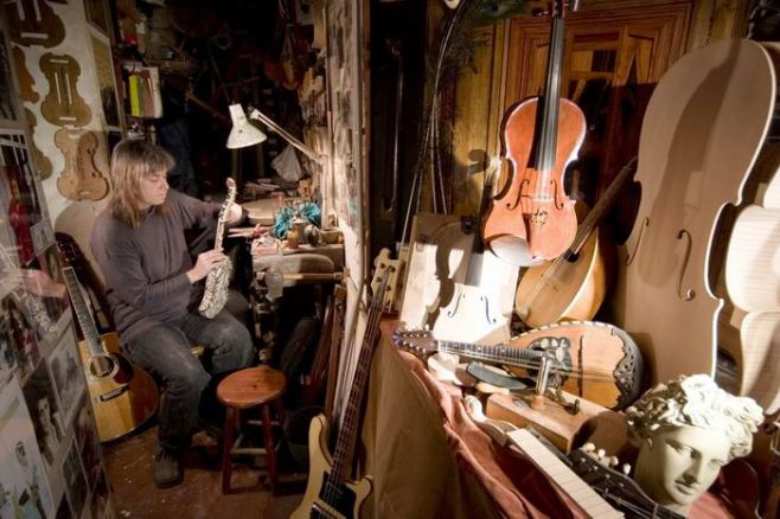 Jamie was born in 1959 in Illinois, United States. In 1979, she moved to Florence, where she attended the Art International University, graduating in restoration. She then moved to Cremona to study at the prestigious School of Violin Making. Back to Florence, in 1987 she opened her own workshop, where she creates and restores musical instruments. In 1993, the great soloist Itzhak Perlman, ordered a "Lazzara" violin, made by copying each single detail from an original Stradivarius, which he played at a concert for the inauguration day of President Obama (January 20, 2009). Director Ridley Scott, known for his maniacal attention to detail, shot a scene here from his "Hannibal" movie . On March 25, 2010, Jamie was presented with a prestigious award from the Società di San Giovanni Battista, sponsored by UNESCO, which recognizes the excellence of her works that have been commissioned by the greatest artists from around the world. (Via dei Leoni 4/R)

Info: masteriviolinmaker.info
Original article by Fondazione Firenze Artigianato Artistico
You might also be interested in

pan_tool
Learn more
Craft
Tuscany is one of the Italian regions better known for its excellent craftsmanship.
continue...