Exploring the artisan secrets in the quiet neighborhood of Oltrarno in Florence
Handicraft in Florence: ancient techniques for a modern world
My recent trip to Tuscany began in the quiet artisan-rich neighborhood of Oltrarno, across the river Arno from the historic center of Florence.
Over two days I met passionate people keeping some of Italy's most ancient artisan techniques alive. A refrain I heard over and over again was that, unfortunately, nowadays many workshops closed down and that some of them were replaced by parking garages.
From handcraft shoes to painting traditions
Calogero Mannina founded what is one of the oldest handcrafted shoemaker workshops, Calzolaio, in Florence. His tiny studio is stacked with rolls of fine leather and there were two young apprentices tapping and glueing away while Calogero tells us how his business has changed over the years. Transforming from making shoes for local Florentines to now serving clients from all corners of the globe, most notably Japan.
It was with great pride that Calogero led us around the corner to meet his once apprentice, Shoki Matsuoka, who now has her own studio, La Calzolaia, where she creates shoes with the same fine handcrafting skills learned from the master.
We also found Maurizio Balloni in his workshop painting a family crest for a villa in the Tuscan countryside. Maurizio uses painting techniques that date back to the Renaissance. His studio is filled with colorful examples of his work from embellished painted lamp bases to red lacquered Chinoiserie decorative boxes and fabric panels that look like frescoed walls. There are fewer clients from Tuscany and Florence than there used to be but his craft is increasingly sought after in far flung places like Saudi Arabia and Russia.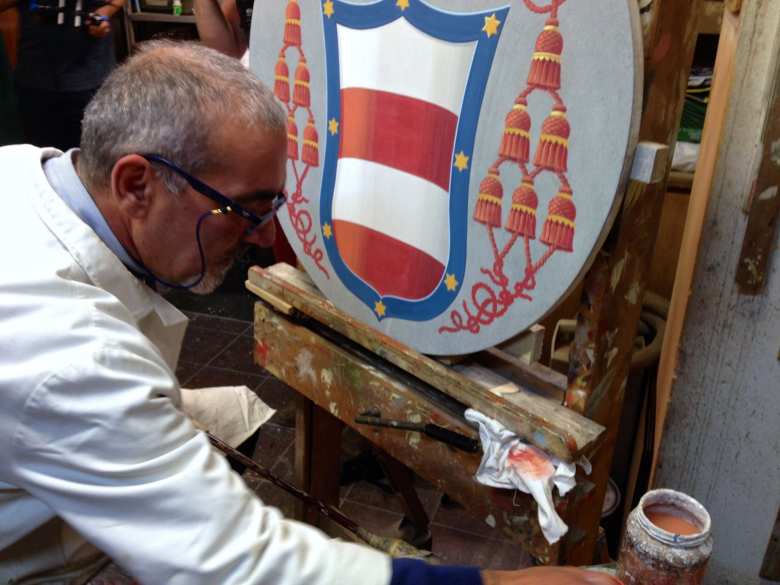 Fondazione Firenze Artigianato Artistico
The Fondazione Firenze Artigianato Artistico occupies a space that was once a late 18th century Carmelite convent complete with a peaceful courtyard dotted with tall cypress trees.
This initiative provides space for individual artisan workshops where artists from around the world and Florence create exquisite handcrafted objects. We visited workshops for glass engraving, mosaics, iron work and wood work. The structure is naturally conducive to collaboration. Like the intricate mosaic tabletop designed to be placed onto a piece of furniture that was made across the courtyard by the ironworker.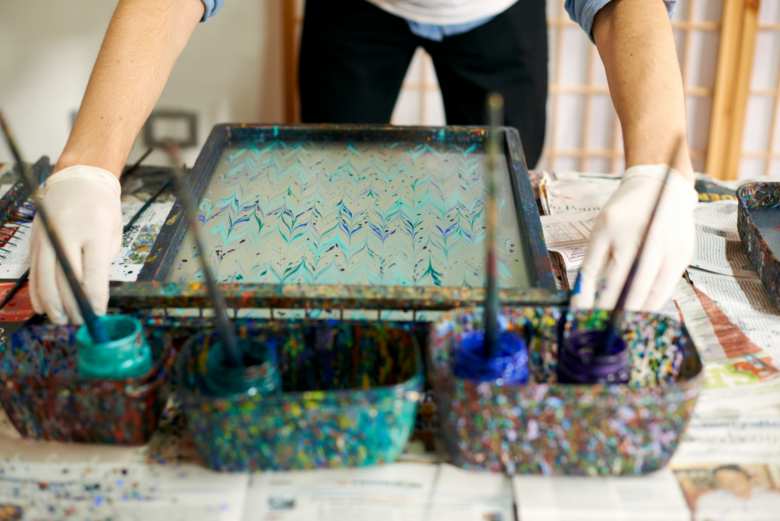 We went upstairs to the bright airy studio of Diane Bouvier and I had the chance to learn the art of paper marbling. I chose dark inky blues and bright turquoise oil paints that I splattered into a prepared tray filled with gelatin and then scraped with a variety of tools to create a precise pattern.
The tricky part was gently placing the paper on the top of the design and pulling it off without disturbing my work. Under the careful eye of Diane I would say it wasn't a bad first try.
You might also be interested in

pan_tool
Learn more
Craft
Tuscany is one of the Italian regions better known for its excellent craftsmanship.
continue...