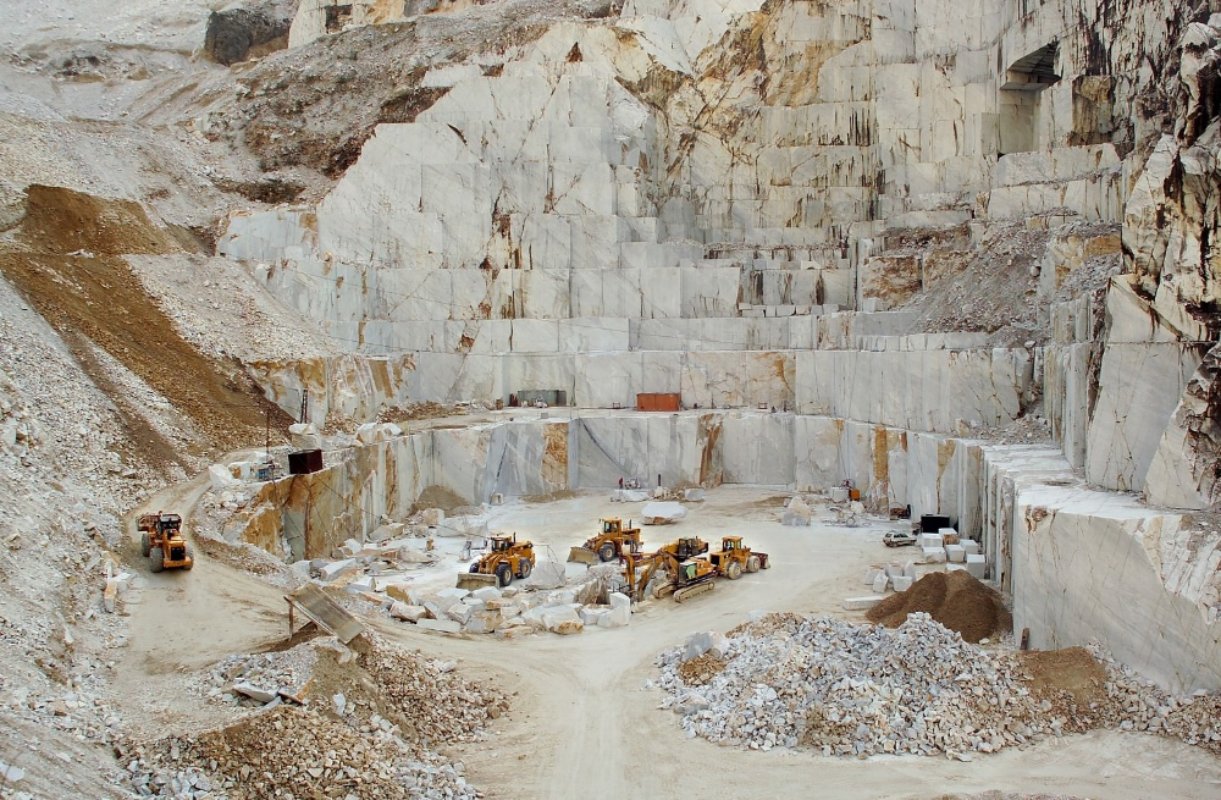 Land of white gold: from Carrara to the Apuan Alps
From the mountains and down to the sea, scenes of amazing colours and tastes
Carrara and marble have a centuries' old connection, as the city itself has always been active in the quarrying and the working of this snow-white stone.
Several itineraries, departing from the one towards the spectacular white marble caves, offer unique and suggestive panoramic views that have fascinated men and artists from the whole world throughout the centuries. Amongst others, Michelangelo came here to choose the blocks for his famous masterpieces, and also Canova and Henry Moore. 
ITINERARIES
In the heart of the marble mountain
One may follow the spectacular galleries bored into the marble of the mountains for the old Marble Railway, built between 1871 and 1890, going through the basins of the caves of Torano, Fantiscritti and Colonnata. Immersed in a "moonscape", going through the caves gives a powerful sensation of the importance of marble.
It is possible to visit the open air caves and those underground, with guided tours in off-road vehicles which enhance the adventure and the strong emotions of this environment, and to visit the prestigious sculpture ateliers  where capable hands mould the most famous marble in the world. 
Food and Wine, strictly "white"
Colonnata is an ancient village of miners and an active production centre, since Roman times. Its name is associated with the famous "Lardo di Colonnata", a slightly pinkish white lard, prepared only with local wild herbs and seasoned in white marble basins.
At the foot of the Alpi Apuane, a few kilometres from the sea and the nearby towns of Carrara and Massa, the road of wine can be followed: the Strada del Vino dei Colli di Candia e di Lunigiana is where the famous white wine Candia dei Colli Apuani DOC is produced, along with red wines, too. It is a land of ancient traditions, such as the statues-stele in the museum of Pontremoli.  In fact these have their roots in the Bronze Age and represent the most ancient and mysterious cultural heritage of our country.
The cuisine of the coast of Massa-Carrara offers delicious dishes, both fish and meat, and is characterized by a wide use of local herbs in the soups, omelettes, cakes, salads and polenta. Baccalà marinato (dried salted cod), fish soup, stuffed mussels, and baked anchovies with potatoes, feature among the tasty fish dishes. 
Pietrasanta and the art of sculpture
In the old laboratories of the small town of Pietrasanta, the hometown of sculpture and the Apuane marble, Michelangelo is in the air. Also known as the "small Athens" for its creative vein, in Pietrasanta the old and new meld together. The Parco Internazionale di Scultura Contemporanea (The International Park of Contemporary Sculpture) is an open air museum itinerary along the roads, and through the squares and gardens of the city, to, reach the nearby villages and contains works such as the "Guerriero" by Fernando Botero, "Memorie di Pietrasanta" by Pietro Cascella and "Inferno e Paradiso" by Igor Mitoraj. Mitoraj loved this place so much that he wanted to be buried in Pietrasanta.
You might also be interested in