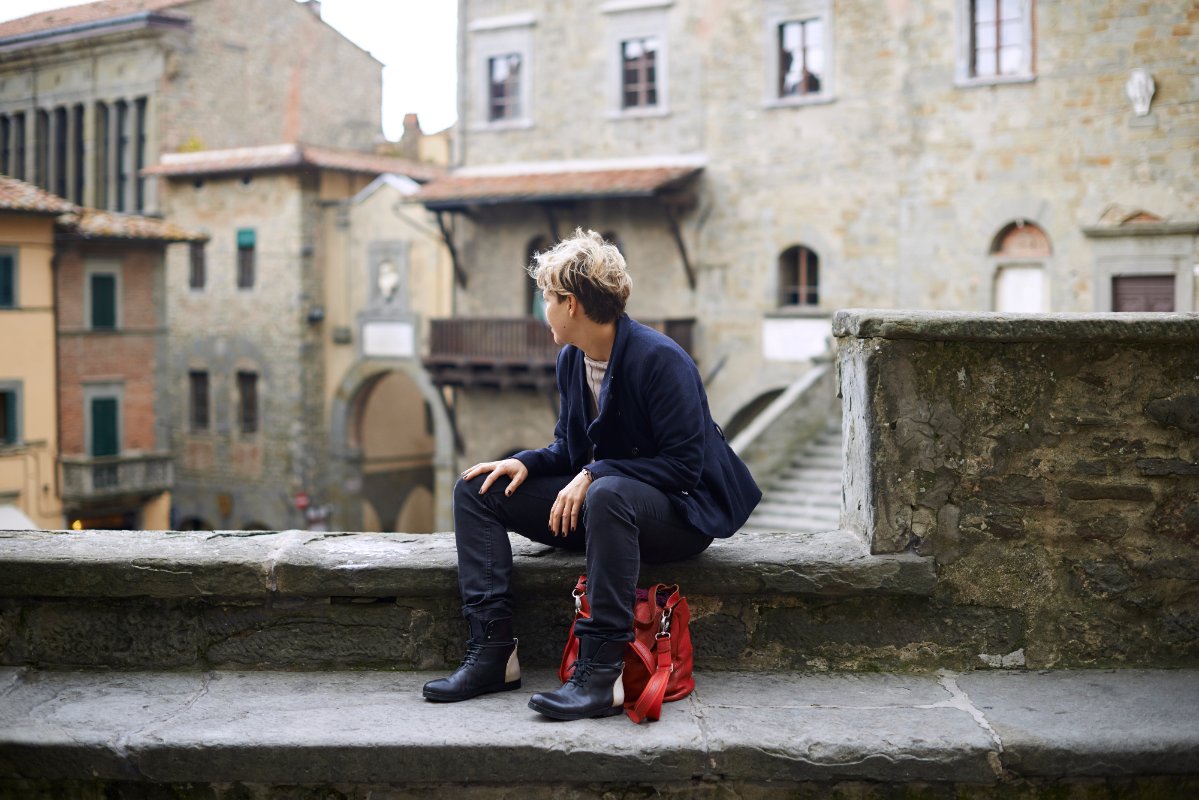 Lucio Pozzi action painting in Florence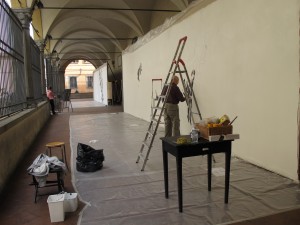 Monday morning when I took the bus through Piazza San Marco I noticed something strange going on under the Loggia of the Accademia di Belle Arti. Large white canvases were being mounted on the inside walls. And I wondered what was up. As the days progress, those white canvases are being covered with black paint by the conceptual artist Lucio Pozzi... In this fecund space, over the next three weeks, we'll be witnessing an interesting example of his concentrated art production. Under the Loggia of the Accademia, Pozzi will spend three weeks painting a canvas that is 3x20 meters large. The project is called "I like painting and painting likes me", a reference to Joseph Beuys's performance of 1974 about America liking him. Pozzi will observe a strict work schedule: weekdays from 9 to 6:30pm, saturdays from 9 to 1pm. He will be taking after lunch naps in public asks that people don't talk to him while he works (he needs to be concentrated), but he has set aside a half hour at the end of the day - from 5:30pm - to take questions and converse. Painting a canvas of this size in just three weeks is a huge challenge - he's using just two small brushes and black acrylic paint. Watching him work today I see that the term "action painting" is hardly applicable. He works slowly, precisely, and steps back often to see the effect of his composition. While stylistically it has something to do with graffiti art, the process and results are very different (the graffiti-ist uses fast spray cans and works in constant fear of police, thus quickly).
You can watch a live stream of his work during... working hours ;-)
Watch live streaming video from ilikepainting at livestream.com
Lucio Pozzi (born in Milan in 1935 and settled in the States in the 60s - he teaches at SVA) has been confusing gallerists since the late 70s with his insistence on painting in a range of styles from photographically accurate figurative work and landscapes to almost graffiti-like large "carpet" paintings like the one we're seeing go up in Florence. His work is in the collections of some of the world's major museums including at the MOMA in New York, MCA Chicago, the AGO in Toronto, and the Pecci in nearby Prato. [gallery link="file"] Promoted by Frittelli Arte Contemporanea (via Val di Marina 15 Firenze) at which some of Pozzi's works are displayed.
You might also be interested in