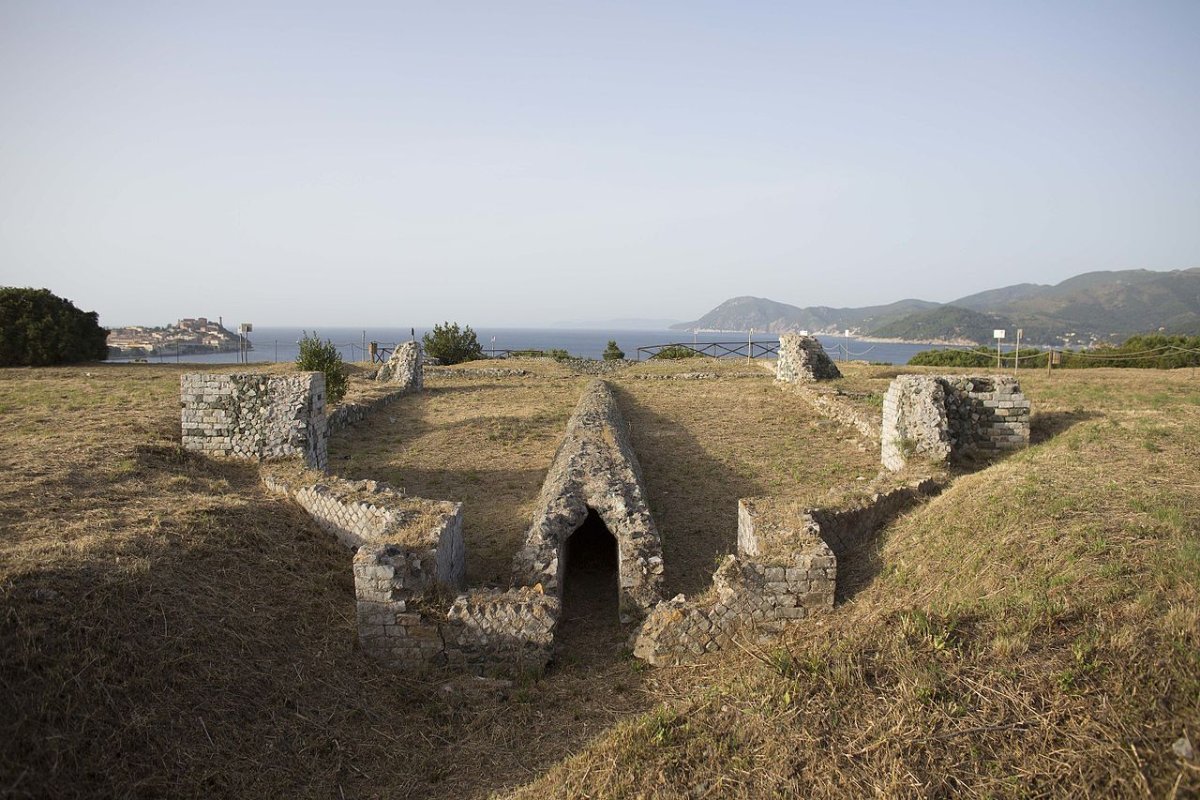 The magnificent villas of the patricians
The Romans and the art of living
The noble Roman patricians enjoyed discovering delightful places in which to build magnificent villas with sea views. Because of its beauty, three such residences were built on the island of Elba, in ideal positions for admiring the panorama. Two of these villas face the sheltered bay of Portoferraio: the Villa della Linguella, at the end of the Darsena, had its own private aqueduct and was decorated with beautiful mosaic floors. The villa was enlarged several times between the 1st century B.C. and the 3rd century A.D. And, today, a large part is occupied by 16th century military structures. The Villa delle Grotte (fig. 9), 1st century B.C., is very large and complex, with gardens descending on various levels down to the sea, where the villa had its own private landing stage. Here it is possible to admire opus reticulatum walls and sections of mosaic. The swimming pool, with its water heating structures, is still visible. A votive altar, dedicated to Hercules, preserved at the archeological museum in Portoferraio (fig. 7) probably came from here.
The Villa di Cavo, from the 1st-2nd century A.D., was built on the eastern side of the island on sloping terraces and had mosaic flooring. Part of the villa is contained within more recent constructions but it is still possible to see the old water pipeline connected to a nearby hill. In addition to iron, the Romans also exploited the quarries offering valuable granite which was used to build the Pantheon and the Colosseum. Around the quarries and near the landing stages, the remains of artifacts such as the columns at Seccheto (fig. 8) and a small ship at Cavoli (fig. 6), possibly from the Christian era, still testify to these activities.
You might also be interested in
Tuscan Archipelago
Crystalline waters, Mediterranean shrubbery, pine groves overlooking steep cliffs, hidden coves and sprawling soft sandy beaches: the Tuscan Archipelago is an mesmerizing set of Tuscan islands with wild nature and magical sea beds worth ...
Scopri Tuscan Archipelagokeyboard_backspace