A journey through the most delicious and original dishes of the Tuscan islands
The flavours of the Tuscan Archipelago
Capraia, Gorgona, Elba, Pianosa, Montecristo, Giglio and Giannutri are the seven islands of the Tuscan Archipelago, the largest marine park in Europe. A beautiful seaside destination with wild coasts, picturesque bays, marinas and wonderful seabeds, but also mountains, incredible flora and fauna, walking trails and villages populated by people of the sea and land. Over the centuries, the inhabitants of these islands have developed a simple and frugal cuisine, that's no less tasty and varied, but influenced by those who passed through here long ago for commercial or military purposes.
It should be noted that only two of the islands are home to any real community. They are the largest two: Elba and Giglio. The others have been and still are sparsely inhabited and some of them have hosted, and a couple still host, prisons.
Therefore, a journey through the most important dishes of the archipelago's cuisine ends up being limited to Capraia, for its uniqueness and its traditions, and to the above-mentioned islands. Together however, they offer a variety and wealth of extraordinary dishes, especially when you consider the size of the territories and the number of inhabitants.
You might also be interested in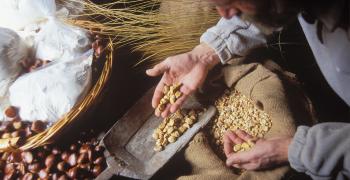 Learn more
Food and Wine
Olive oil, wine, truffle and other culinary delights make up the excellence of Tuscan gastronomy.
continue...