Places of worship
Basilica di Santa Croce
The Pantheon of Italian glories
Called the 'Pantheon of Italian glories', Santa Croce hosts the graves of myriad famous people such as Ghiberti, Machiavelli, Michelangelo, Galileo, Alfieri, Foscolo and Rossini. Construction of the Basilica of Santa Croce started in 1294 based on a design by Arnolfo di Cambio. It is the largest Franciscan church in the world. The Basilica was built at the expense of the population of the Florentine Republic, on the foundations of a pre-existing structure. During the seven centuries that followed its foundation, it was repeatedly redesigned and redrawn, acquiring new symbolic connotations. It served many functions: it was a Franciscan church with a religious building used for civil functions and it hosted large families and the guilds of Medici Florence. Its complex was also was used as a workshop, art studio and theological center, in addition to being the 'Pantheon of Italian glories'.

Santa Croce has always been a symbol and prestigious venue for the greatest artists, theologians, clergymen, literary scholars, humanists and politicians and a point of reference for the powerful families that determined the identity of late Medieval and Renaissance Florence. Celebrated religious figures often found refuge in the church such as St. Bonaventure, St. Anthony of Padua, St. Bernardino of Siena, Saint Louis d'Anjou, bishop of Toulouse. It was also a place to accommodate popes such as Eugene IV, Sixtus IV, Leo X and Clement XIV.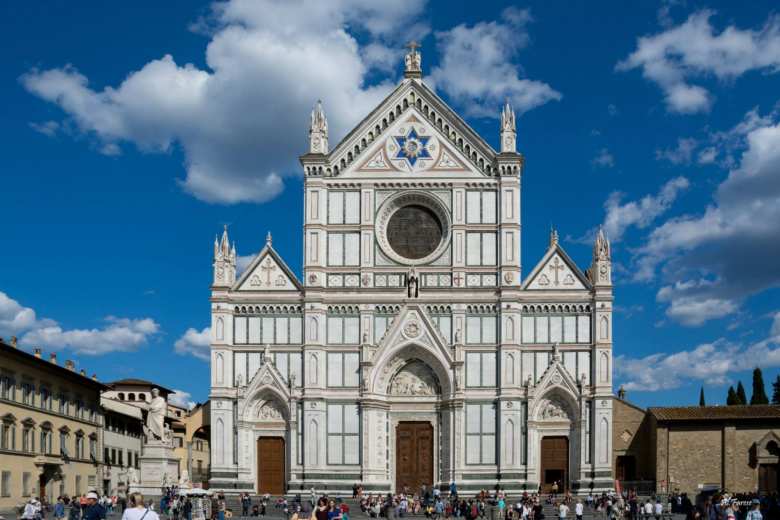 With its impressive Gothic architecture, its beautiful frescoes, altarpieces, precious stained glass windows and numerous sculptures, this Basilica is one of the most important expressions of the history of Florence from the thirteenth century onwards. Inside, it contains works by Cimabue, Giotto, Maso di Banco, Giovanni da Milano, Brunelleschi, Michelozzo, Donatello, Domenico Veneziano, Della Robbia, Benedetto da Maiano, Giuliano da San Gallo, Bronzino, Vasari, Canova and others. The presence of works by Giotto and his whole school, provide a wonderfully complete view of the fourteenth century.
Info: santacroceopera.it
Florence
A stunning city where you will lose yourself in the art, history, fashion and traditions of Tuscany
No one plans a visit to Tuscany without planning a visit to Florence: the city of the lily is a treasure trove of artistic treasures and the centre of a fervent vitality. Aside from its exceptional heritage of art, bearing witness to its centuries of civilisation, Florence can be enjoyed in so many ways: promenading along the enchanting riverbanks at sunset, entering the bohemian alleys of ...
Morekeyboard_backspace