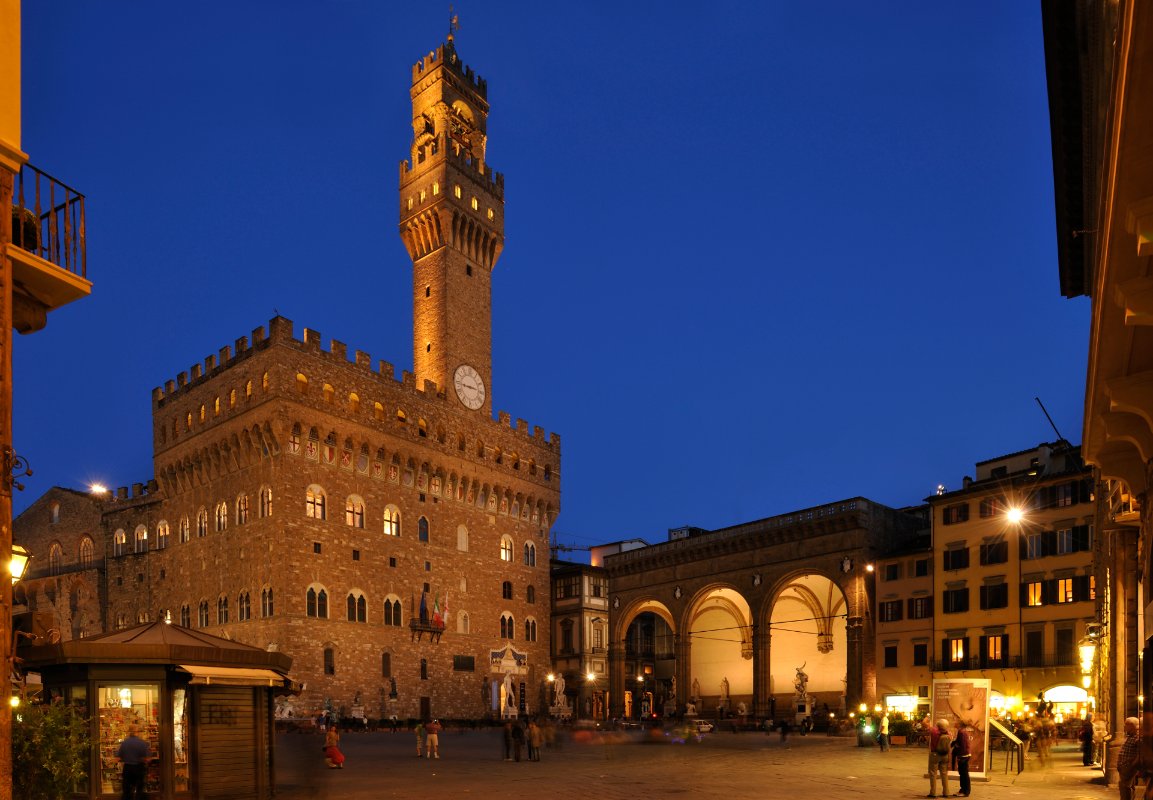 Hamlets, districts and squares
Piazza della Signoria
One of the most fascinating squares in the world.
Piazza della Signoria, the political heart of the city from the Middle Ages to today, is a singular example of urban planning that began to take shape in 1268, when the Guelphs resumed control over the city and decided to demolish the headquarters of their rival party, the Ghibellines. Piazza della Signoria has been the center of Florentine political life since the Middle Ages.
The square is surrounded by some of the most famous buildings in the city. With its famous group of sculptures, the Loggia has the air of an outdoor art gallery. Visitors will especially delight in viewing the 'Perseus', Cellini's masterpiece, and 'the Rape of the Sabine women' by Giambologna.

A copy of Michelangelo's 'David'stands guard in front of Palazzo Vecchio. The palace, once known as the 'Palazzo della Signoria', is the traditional seat of the Florentine government and its characteristic tower is a symbol of Florence. The building, designed by Arnolfo di Cambio, was built in 1299. Its interior hosts rich decorations by Vasari. An elevated corridor called the Vasari Corridor connects the palace to the Palazzo Pitti. This was to be an escape route for the lords of Florence—the Medici. It was used often so that the noble family could reach their homes without having to mix among the people. Important works of art are now on display in the corridor.

To the south of the Palazzo Vecchio, you'll find the Uffizi Gallery. It was designed and built by Vasari in the second half of the sixteenth century at the request of Cosimo I de' Medici. Some of its most famous pieces are in rooms 7-25: they include 'The Birth of Venus' by Botticelli, 'The Venus of Urbino' by Titian, 'The Doni Tondo' by Michelangelo and portraits of the dukes of Urbino by Raphael.
Florence
An astonishing city of art, fashion and tradition
If you are visiting Tuscany you cannot miss Florence. The Renaissance city is a treasure trove of art with an astonishing contemporary vibe. Beyond the extraordinary artistic heritage, a testimony to its centuries of civilization, the best way to enjoy Florence is to stroll along the riverside avenues at sunset, or to get lost among the city's myriad alleyways of the bohemian Oltrarno or the ...
Morekeyboard_backspace
You might also be interested in