Hamlets, districts and squares
Piazza della Santissima Annunziata
A treasure trove of important Renaissance jewels in the heart of Florence
Piazza della Santissima Annunziata is located in Florence's historic centre, a short walk away from the cathedral, and is a Renaissance jewel onto which face several spectacular historic buildings. Starting off is the Church of the Santissima Annunziata, named after the painting it's home to, which displays the Annunciation and was once an object of worship for many pilgrims.
On the side of the piazza sits the Spedale degli Innocenti, one of Brunelleschi's early Renaissance works and Europe's first orphanage, built in 1419. The harmonious arches above the slender columns, adorned with glazed terracotta tiles with cherubs modeled in the Della Robbia workshop, create an elegant portico. On the opposite side is the Confraternity of the Servants of Maria, created in 1525 by Antonio Sangallo the Elder and Baccio d'Agnolo, with an imitation of Brunelleschi's loggia. Here you can also admire the equestrian statue of Grand Duke Ferdinando I, the work of Giambologna. Underlining the perfect symmetry of the piazza, at the centre, two Baroque bronze fountains stand out, the work of Pietro Tacca.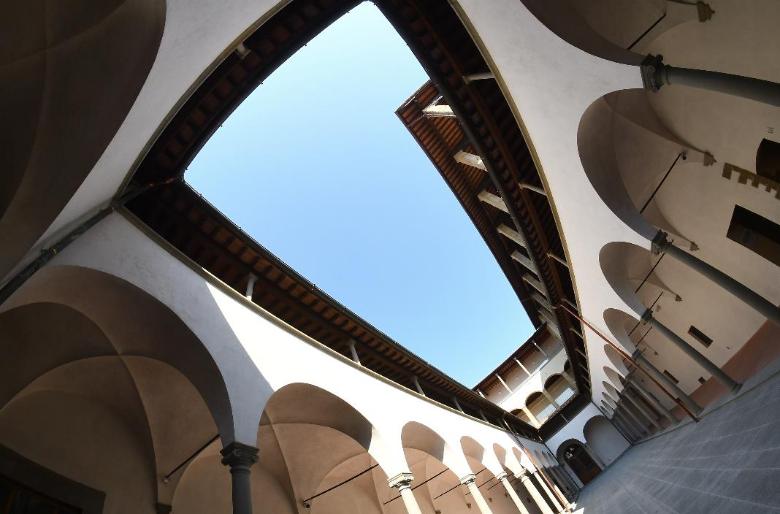 Walking through the piazza you come across other curiosities, such as the iron window under the portico in the left extremity of the Spedale degli Innocenti. Here is what remains of the ancient "wheel", where at one-time, needy mothers and those in difficulty abandoned their new-born babies. Mothers would often tie a coloured bow, a medallion, a piece of fabric or buttons around the little ones' necks, which the nuns looked after with care. These "anonymous symbols" could in fact be used to identify the child if the mother ever decided to take them back. Today many of these objects are on display in the Museo degli Innocenti.
Moving to the centre of the piazza you find the equestrian monument of Ferdinando I de' Medici. On the back of the pedestal, Ferdinando requested that a depiction of his own "endeavour" be included: a queen bee surrounded by a myriad of worker bees, as if to signify him representing the centre of the Grand Duchy, while the working population build and labour around him. The bees are placed in a staggered and semi-circular formation, making it extremely difficult to count them without getting confused. This led to the legend that says the bees can be never be counted, though in fact there are nighty one.
Florence
An astonishing city of art, fashion and tradition
If you are visiting Tuscany you cannot miss Florence. The Renaissance city is a treasure trove of art with an astonishing contemporary vibe. Beyond the extraordinary artistic heritage, a testimony to its centuries of civilization, the best way to enjoy Florence is to stroll along the riverside avenues at sunset, or to get lost among the city's myriad alleyways of the bohemian Oltrarno or the ...
Morekeyboard_backspace
You might also be interested in