Hamlets, districts and squares
Piazza del Duomo in Florence
An itinerary through the treasures of the cradle of the Renaissance
Florence's piazza del Duomo is the heart of the city, where in just one glimpse you can instantly admire the main monuments of the historic centre, listed as a UNESCO World Heritage Site. Overlooking the square is the Basilica of Santa Maria del Fiore, originally begun by Arnolfo di Cambio in 1296, and crowned in 1436 by Filippo Brunelleschi's masterpiece: the Dome. This symbol of Florence is an arduous and majestic structure, from where you can enjoy a fantastic panorama of the city and the cathedral's interior.
Another giant stands out alongside the façade, Giotto's Bell Tower, soaring in its chromatism, while the ancient Baptistery of San Giovanni Battista is located opposite the cathedral, a Romanesque jewel adorned with bronze doors by Ghiberti and Andrea Pisano.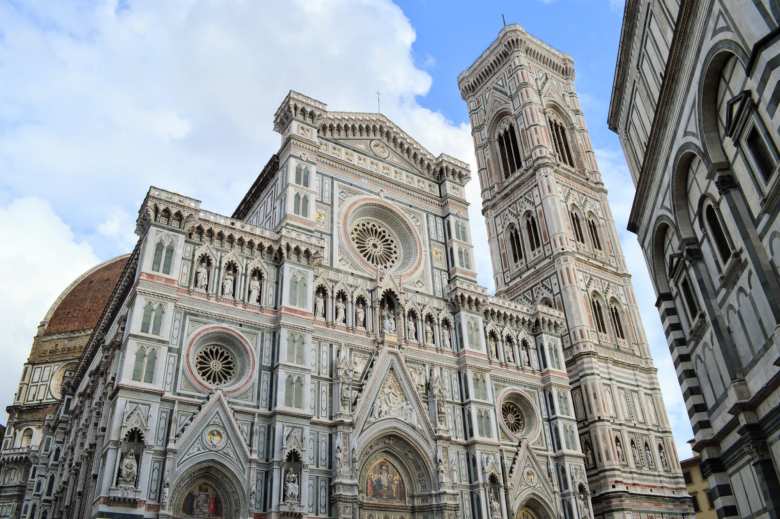 The Basilica of Santa Maria del Fiore, Florence's cathedral, is an Italian Gothic masterpiece, characterised by its coloured marble exterior and the imposing Dome by Filippo Brunelleschi, the creator of this final piece of the cathedral and the extraordinary technique used to build the structure starting in 1436.
Several important works of art are located inside the cathedral, including two detached frescoes displaying the equestrian monuments of the mercenaries John Hawkwood and Niccolò da Tolentino, painted respectively by Paolo Uccello in 1436 and Andrea del Castagno in 1456.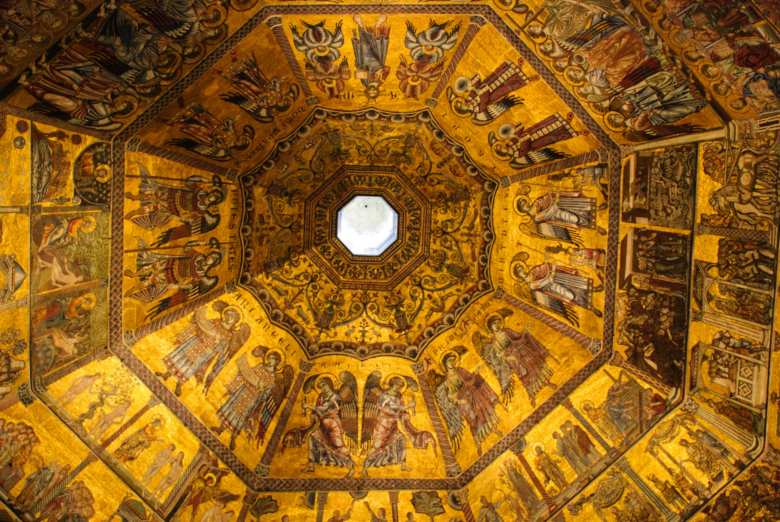 The Baptistery of San Giovanni Battista, with its appearance strongly characterised by a combination of Romanesque and early Christian architecture, is one of Florence's oldest places of worship. In the medieval period, it was believed that it was once a pagan temple consecrated to Mars in Antiquity, which was then transformed into a church. Within, you can admire the dome's splendid mosaic, which portrays Christ and the Last Judgement, made between the 13th and 14th centuries by masters including Coppo di Marcovaldo and Cimabue.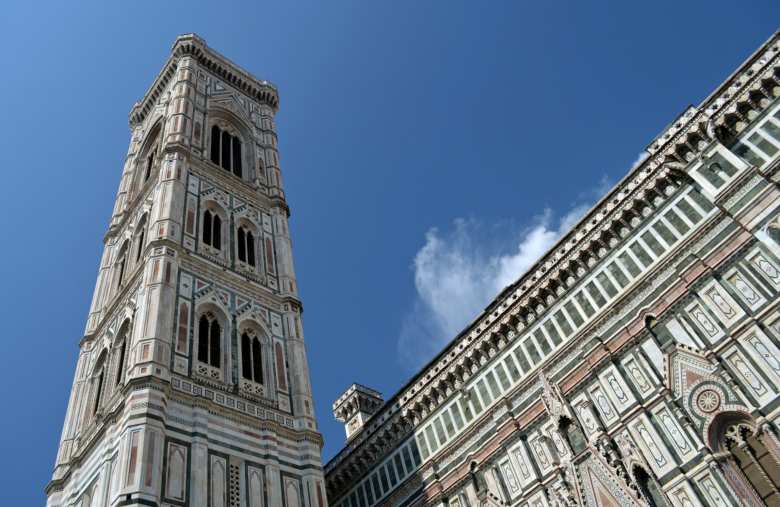 Giotto began construction on Santa Maria del Fiore's bell tower in 1334, but after his death its execution was carried on by Andrea Pisano and completed in 1359 by Francesco Talenti, who created the upper levels' large windows. Its sculptural décor is extremely rich, with 56 reliefs in two overlapping registers and 16 life-size statues, located in the wall recesses, by the Florentine masters of the 14th and 15th centuries, including Andrea Pisano, Donatello and Luca Della Robbia.
Florence
A stunning city where you will lose yourself in the art, history, fashion and traditions of Tuscany
No one plans a visit to Tuscany without planning a visit to Florence: the city of the lily is a treasure trove of artistic treasures and the centre of a fervent vitality. Aside from its exceptional heritage of art, bearing witness to its centuries of civilisation, Florence can be enjoyed in so many ways: promenading along the enchanting riverbanks at sunset, entering the bohemian alleys of ...
Morekeyboard_backspace