Discovering the Val d'Orcia via the Via Cassia
A magical path from Siena to Radicofani
The Via Cassia is a historic road par excellence, and it connects Siena with Rome. History walks this ancient consular route, which has remained a constant throughout the centuries, running through the Tuscany that everyone seeks and dreams of. You can devour the miles on the Via Cassia, but it also encourages a more relaxed ride, allowing your eyes to follow the curvature of the landscape as it passes by.
You might also be interested in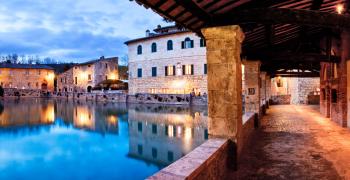 spa
Learn more
Spa and Wellness
If you could close your eyes and push away the overwork, the traffic, the pollution, the stress… it would be a desire for many, especially now that
continue...