location_cityHistorical Buildings
Posta Medicea
A Villa for travellers along the Via Francigena
Located along the ancient path of the Via Francigena, a short way away from Radicofani's historic center, you'll find the Posta Mediea or "Osteria Grossa" designed by Grand Ducal architect Bernardo Buontalenti.
The structure dates to the second half of the 16th century. The previous hunting lodge was rebuilt to create a large hostelry and staging post for hosting travellers coming in and out of Rome.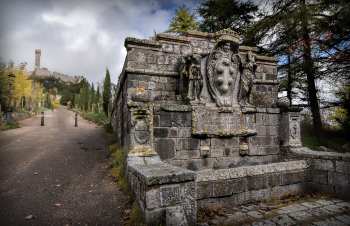 Here, guests would rest and eat, change horses and have them drink from the cool fountain in front of the villa, which still today vaunts the Grand Ducal coat of arms flanked by two statues representing Justice and Abundance. The massive building's façade features a double loggia with six arches, one at street level and the other on the upper floor.
The villa also hosted a number of illustrious guests, including Pope Pius VI and Pius VII, Grand Duke Ferdinand I, Cosimo II, Leopold II, writer Thomas Gray, the Marquis De Sade, Stendhal, François René de Chateaubriand and Charles Dickens, who after staying here in 1863 remaked, "It was a bad morning when we left this place; and we went, for twelve miles, over a country as barren, as stony, and as wild, as Cornwall in England, until we came to Radicofani, where there is a ghostly, goblin inn: once a hunting-seat, belonging to the Dukes of Tuscany. It is full of such rambling corridors, and gaunt rooms, that all the murdering and phantom tales that ever were written might have originated in that one house."
The Posta Medicea of Radicofani is privately owned and is currently not open to the public.
Radicofani
From the top one of the most spectacular fortresses in Tuscany
On a hill at the southern border of the Val d'Orcia sits Radicofani, one of the most spectacular fortresses in Tuscany which has been a hugely important stronghold in Italy for centuries. The Fortress can be seen from dozens of miles away and seems to loom over the village with the grandeur of those who have controlled the border between the Grand Duchy of Tuscany and the Papal State for ...
Morekeyboard_backspace