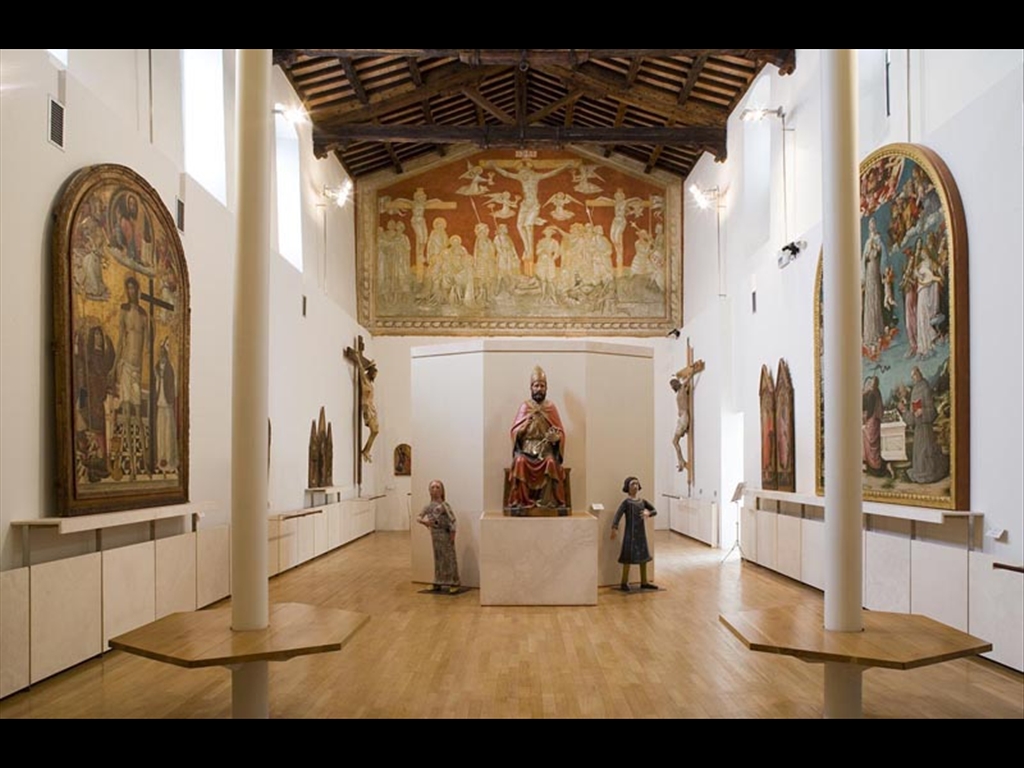 account_balanceMuseums
Civic and Diocesan Museum of Sacred Art in Montalcino
Displaying work by the masters of Siena, such as Simone Martini and Ambrogio Lorenzetti
The Civic and Diocesan Museum of Sacred Art in Montalcino is housed inside the former Convent of Sant'Agostino, dating back to the 15th century, and consists of one of the two cloisters and the chapter room.
The collection, vast and systematic, allows you to discover the local art produced from the Middle Ages to the 20th century, with particular importance placed on the traditions of painting in Siena, represented by masters like Bartolo di Fredi, Simone Martini, Ambrogio Lorenzetti, Giovanni di Paolo and Sano di Pietro, and also by local painter and photographer, Arturo Luciani.
Among the works on display there are several painted wooden sculptures, brought here in the Middle Ages due to a series of liturgical requirements and sculpted by the great artists of the time, from Jacopo della Quercia to Francesco di Valdambrino.
As well as masterpieces, such as the Crucifix by Giambologna, there are also some fascinating remains of medieval ceramics, materials, jewellery and miniatures.
Info: museisenesi.org
Montalcino
The Brunello town: a jewel of art and history in the Val D'Orcia
Montalcino is a gem of history and art, buried deep in the hills of the Val D'Orcia. This medieval city immediately welcomes the visitor into its old medieval layout, scored as it is with straight, steep streets which have breathtaking panoramas waiting at the top. Montalcino is also known as the town that produces Brunello di Montalcino, one of the most famous wines in the world. ...
Morekeyboard_backspace