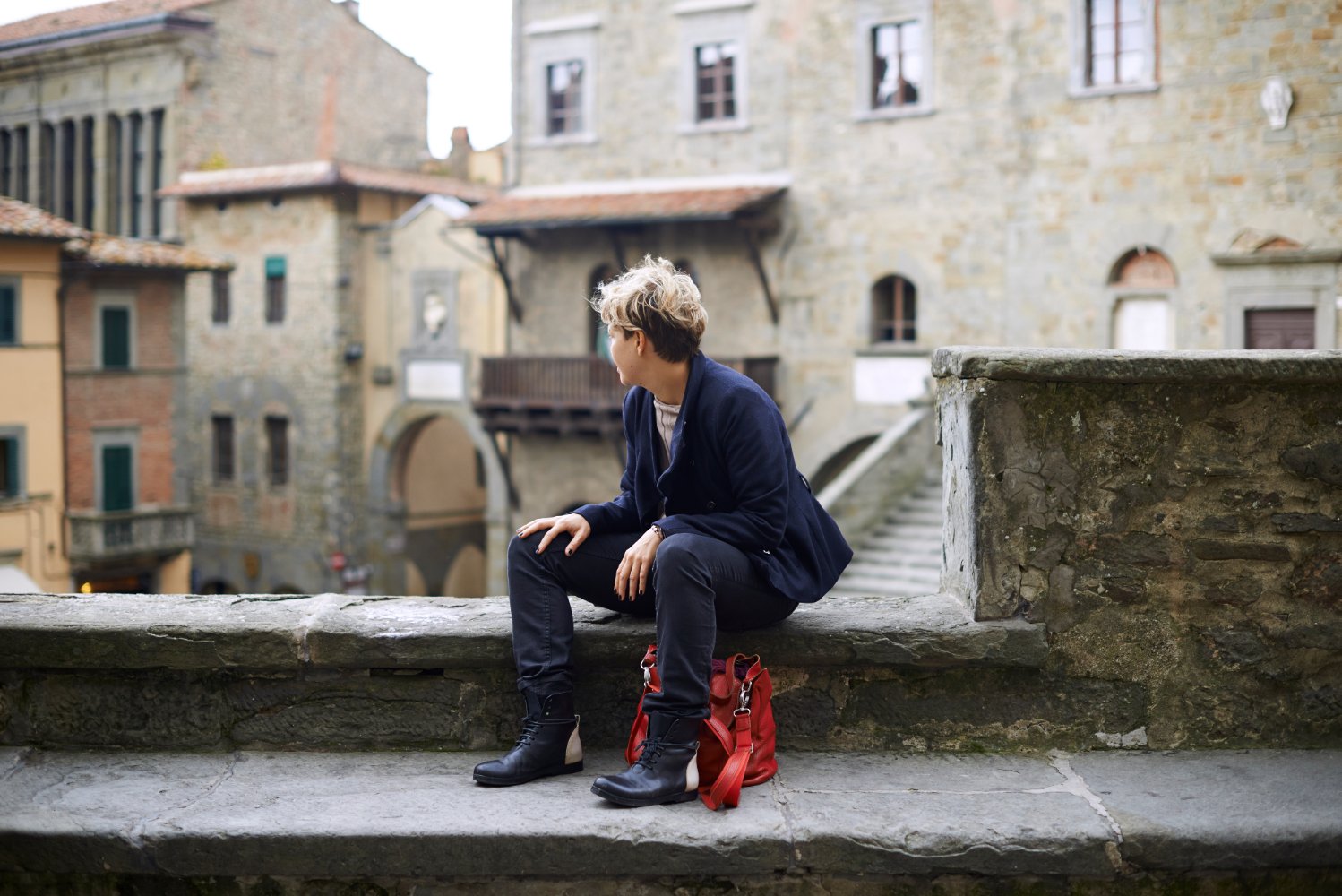 Slow Food
is an international movement founded in 1986. An alternative to fast food, its goal is that to preserve traditional and regional cuisine and encourage farming of plants, seeds and livestock characteristic of the local ecosystems. In Tuscany the Slow Food movement is strong and strives to include many small gastronomical rarities, some of which, listed below have obtained the presidia. Tuscan products promoted by Slow Food
(main source Slow Food Foundation for Bidiversity web site):
The
Zeri
sheep are pastured all year round, for this reason the milk is high in nutrition (especially protein) but is used only to feed lambs. Because of this diet of mother's milk and pasture grass, the lamb's meat is exceptionally tender and wonderfully scented. The most traditional local preparation is agnello al testo (roast leg with potatoes).
Garfagnana Biroldo is an old-fashioned blood sausage made with boiled and boned pig's head, blood and spices and is seasoned with wild fennel seeds, nutmeg, cloves, cinnamon, star anise, sometimes garlic, and salt and pepper. The mixture is cured and boiled for three hours. Garfagnana Biroldo is soft and balanced on the palate. The lean head meat, blood and spices offer delicate, lingering aromas.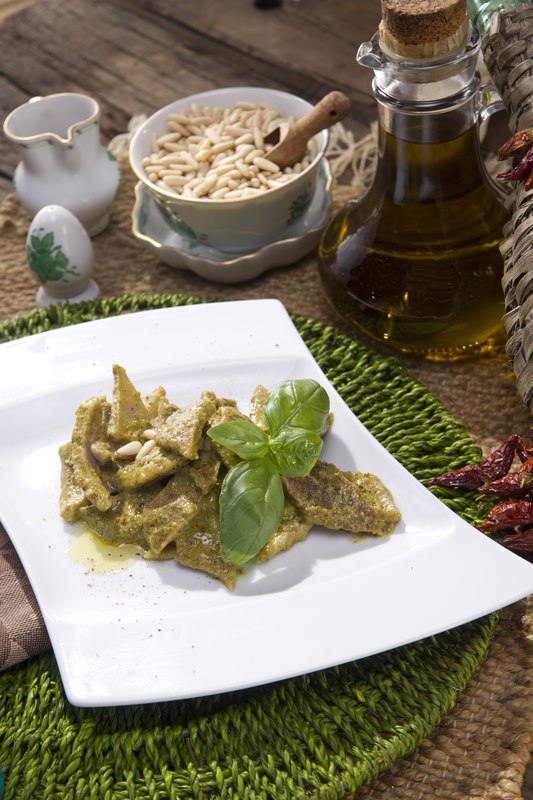 A testarolo is a thin, pancake-like disk, about 40 to 45 centimeters in diameter, made from a smooth batter of flour, warm water and salt. It is cooked on a traditional cast-iron griddle, made of two pieces, called a "testo".
In Orbetello, the art of preserving fish was probably introduced by the Spanish, who were smoking eels and dressing fish with escabece, a vinegar sauce, as early as the 16th century. In Orbetello they still make anguilla scavecciata (eel in vinegar) and anguilla sfumata (smoked eel). Bottarga (from the Arabic botarikh, meaning salted fish roe) has always been produced from the roe of the grey mullet. Tender and amber in colour, it is excellent sliced thin with a splash of extra-virgin olive oil and a squeeze of lemon.
Cited in
Boccaccio's Decameron
, the
Vernina variety
is a symbol of its town of origin. Two varieties exist. The Statina is round in shape and purplish in color with succulent flesh. It is best eaten in the summer months. The bright red and pungent Vernina is harvested from the end of August through the winter months. Both varieties are excellent for soups and for
francesina
, a dish of boiled beef and onion.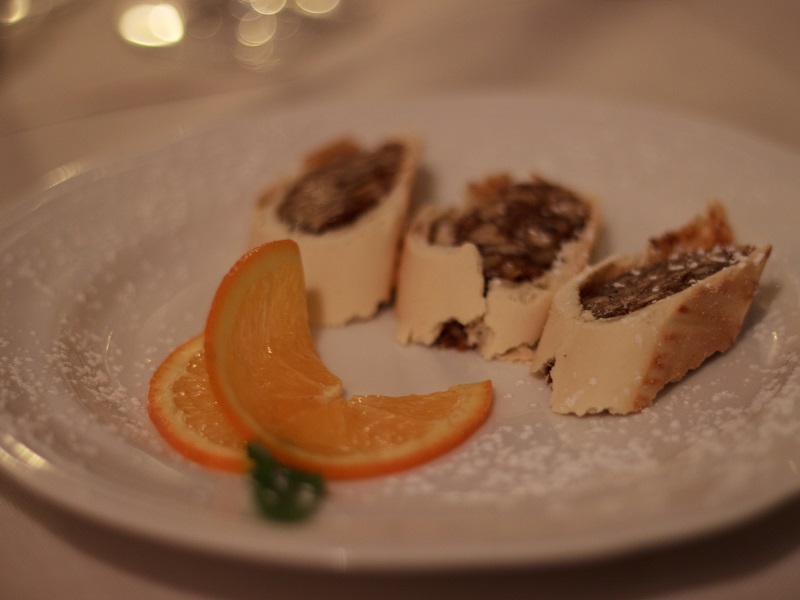 A cigar-shaped biscuit, with a thin layer of unleavened dough wrapped around a filling of chopped walnuts, honey, orange peel and nutmeg, this pastry is one of the most important products from the Jewish tradition in the Municipalities of Pitigliano and Sorano. It represents the blending of Jewish tradition and the cuisine of the Maremma.
This unusual variety of cannellini bean is small and very thin-skinned with a squashed, almost flat shape. Flavourful and easy to digest, the bean is grown in a small valley in the province of Pistoia, on the shores of the Pescia River. Just a few hectares are planted with the beans and they are still picked by hand before being dried in the sun for three to four days. The beans are then preserved for the winter in a special container with whole peppercorns, valerian root or bay leaves.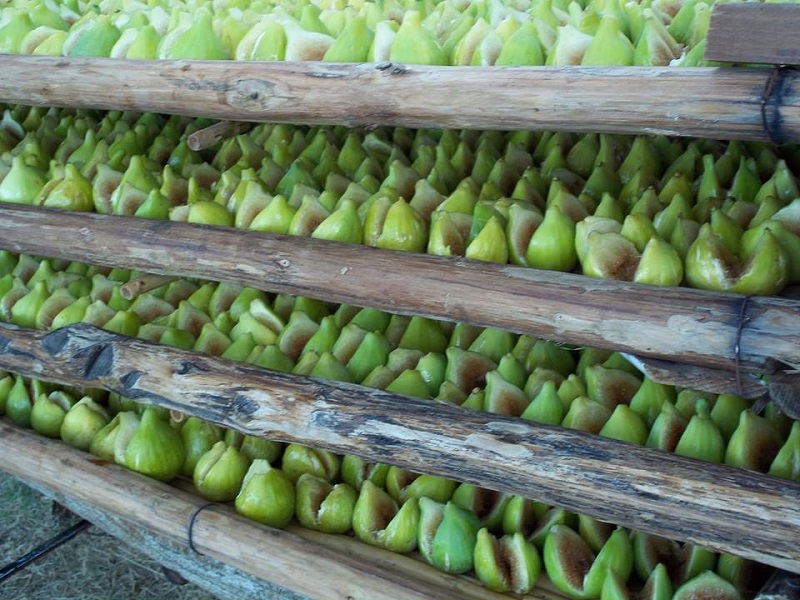 Dottato
figs are the preferred variety for making
Carmignano
dried figs. The figs are split open and laid out on cane mats, called canniccioni, steamed with sulfur and then dried directly in the sun for four or five days. After resting for a month in a cool, dry place (during which time a sugary coating, the gruma, forms on the skin), the figs are layered in figure-eight-shaped picce. Aniseeds are placed between each pair of figs. The figs are eaten either as an accompaniment to Prato mortadella or as a dessert with Vin Santo wine.
The tradition of blood sausage made without pork (save for a little lard) still survives in San Miniato. In this classic version the fresh blood is enriched with lardons, salt, nutmeg, cinnamon, pine nuts and raisins. The sausages are then boiled in large saucepans until they reach the right consistency. Mallegato sausages are very dark, almost black, and somewhat of an acquired taste, aromatic from the spices and sweet from the blood. They can be eaten cold, in thick slices, or floured and pan-fried.
The name Marocca appears to come from the dialect word marocat, which means "unpliable" as in the past this bread was very hard. It is made by mixing chestnut and wheat flour with mashed potatoes. Traditional to the Lunigiana area, the bread was baked all year round thanks to the long life of chestnut flour, the only kind always available in the mountains (wheat was grown only on the valley floor).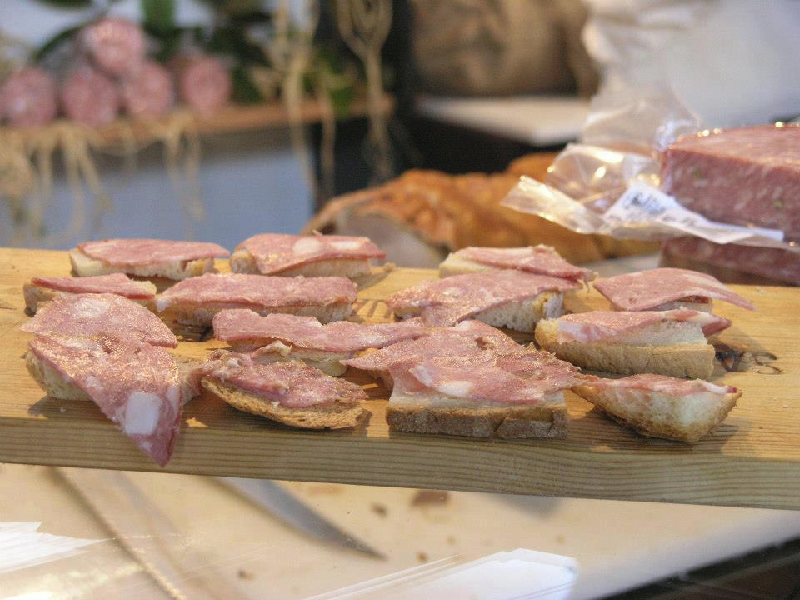 In Tuscany, Mortadella was historically simply a means of using up leftover cured meats and poorer cuts of pork. Flavoured with spices and liqueur and boiled in water, chunks of Mortadella were cured in Prato and parts of the province of Pistoia at the start of the twentieth century. Prato Mortadella has a distinctive dull pinkish colour due to the addition of a few drops of alkermes liqueur to the mixture, which exudes exotic spicy aromas.
In the mountains around Pistoia, some families of shepherds and cheesemakers still make pecorino following centuries-old methods, the Massese sheep are grazed in mountain pastures and only natural rennet and raw milk are used. The breed has black glossy wool, a ram's profile and dark spiraled horns.  The cheesemakers make three types of pecorino: fresco and da serbo (aged from 2-3 months to a year).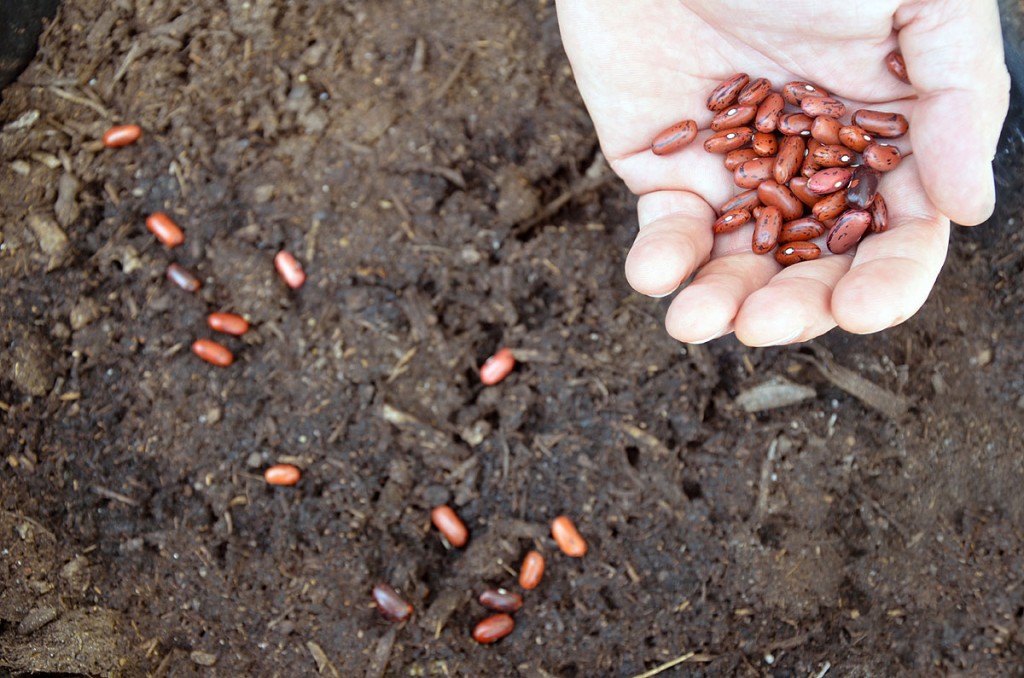 The Red Bean of Lucca is characterized by its red color with streaks of varying intensity, ranging from dark burgundy to black. The intense flavor and the extreme softness of its texture makes it ideal in soups and side dishes.
The name Bazzone refers to the shape of this prosciutto, which is particularly elongated and resembles a protruding chin – bazzo in local dialect. The prosciutto comes from pigs raised semi-wild and fed on farro, apples, pears, chestnuts, acorns and scotta (leftovers from local cheese production). The resulting rosy-colored cured ham is unctuously delicate, offering a musky scent of acorns and chestnuts. Bazzone prosciutto pairs very well with Garfagnana potato bread.
Wrongly believed to be of lesser quality than tuna, the
 Tuscan Sea Palamita
 is a delicacy best enjoyed conserved in oil with bay leaves, pepper and chili. Palmita is a member of the tuna and mackerel family fished throughout the Tuscan islands. It is a long fish (sometimes up to 80 cm), with a wide mouth and sharp teeth and is electric blue in colour with black stripes.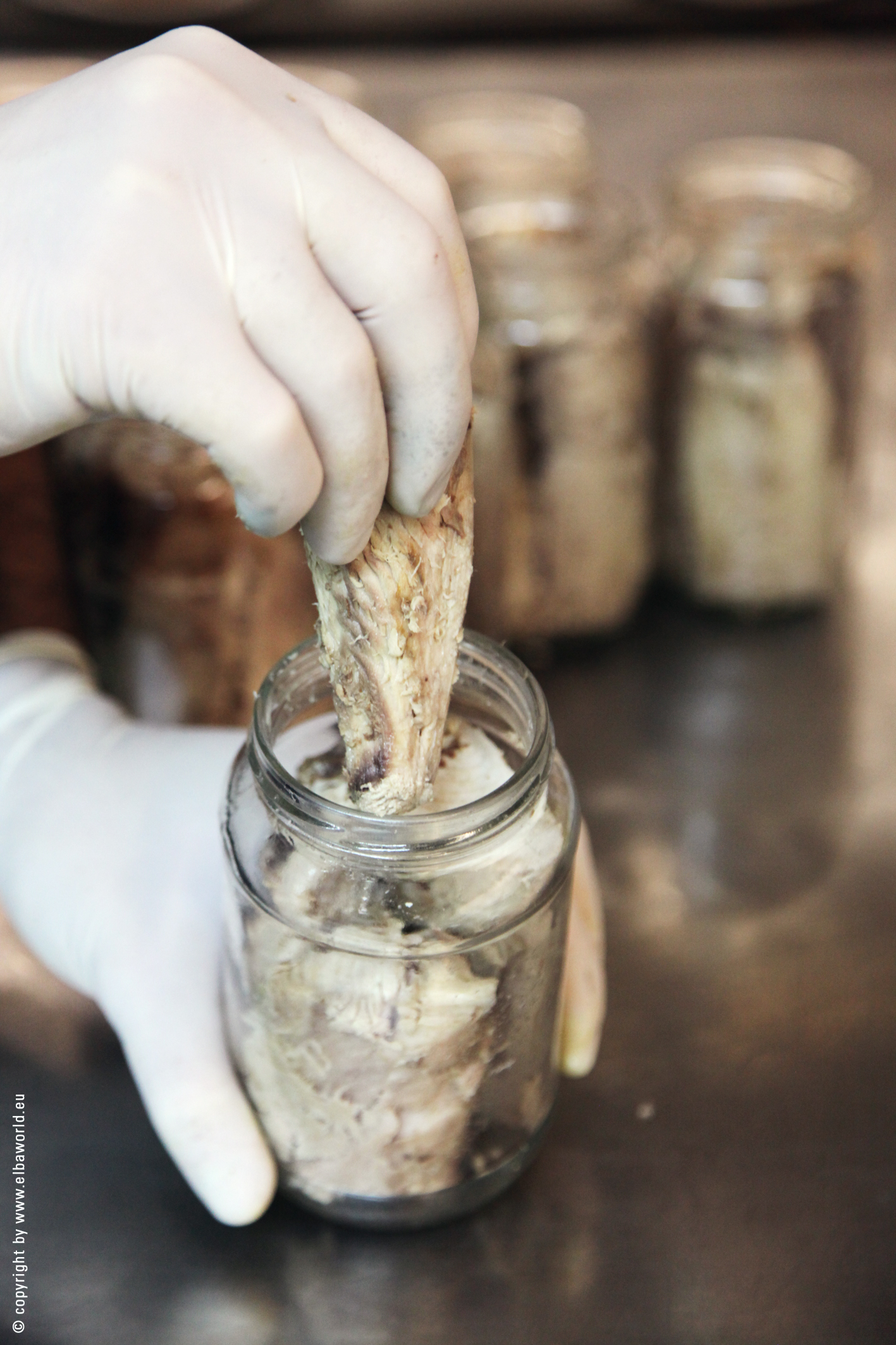 The Presidium has revived the ancient Casentino tradition of making prosciutto from the meat of Casentino gray pigs raised in semi-wild conditions. According to a strict production protocol these pigs are farmed following traditional methods, left to roam outdoors so their diet comes mostly from grazing in the undergrowth below oaks and chestnuts and supplemented by natural plant-based feed. Casentino prosciutto has a round, slightly elongated and flattened shape and ages for at least 18 months. Inside the ham is bright red with a good proportion of bright white fat. Its scent is heavy and pungent, while the flavour is delicate with a slightly smoky finish.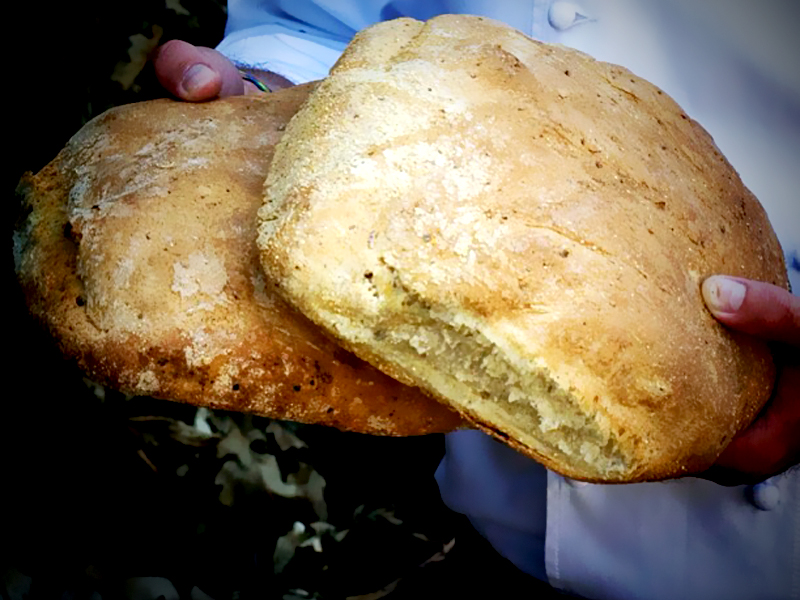 In Garfagnana and part of Serchio Valley, the tradition of making this potato bread, also called garfagnino, lives on. The bread is a combination of 85% wheat flour and 15% mashed potatoes, which make it softer and give it a fuller flavour. The huge 1-2 kilogram loaves are sliced and served with the salty cured meats of the Garfagnana, a traditional Tuscan pairing.
The most salient feature of this
pancetta
- known locally as Tarese - is its enormous size. An entire Tarese measures 50 by 80 centimeters. It is made with both the back and stomach of the pig and is seasoned with red garlic and a mix of pepper, orange peel and spices. After about ten days packed in salt, it is cleaned and weighted down to dry for a day. The process of salting and spicing is repeated, and then it is covered in pepper and left to age for two or three months.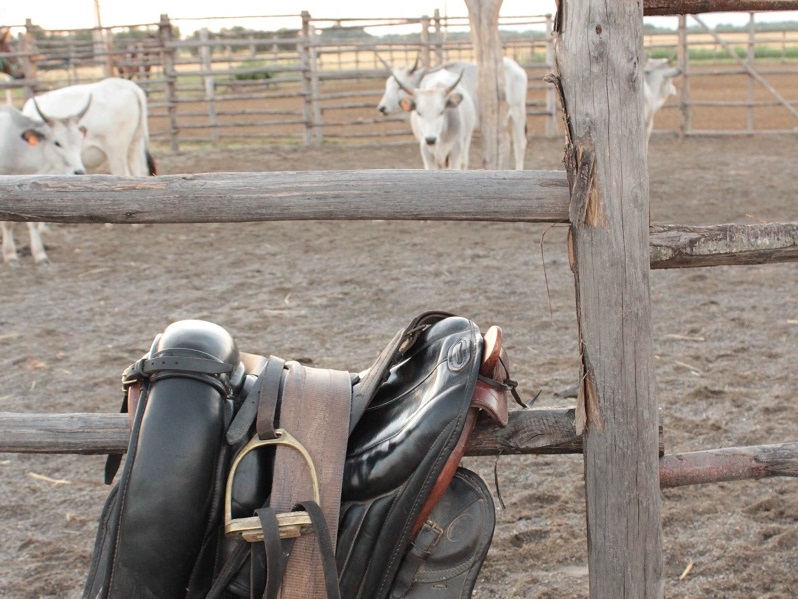 This native breed has large lyre-shaped horns and a pale coat with hints of gray. Hardy and extraordinarily robust, it is not suited to life in the stable. This explains the survival of the figure of the buttero, a horse-riding cowboy who herds the free-ranging cattle. Being raised in this natural state is beneficial to both the well being of the animals and the flavour and wholesomeness of their meat. The classic local recipe is a stew made with tougher cuts of meat. We created a map to help you find these delicious and rare products!  
You might also be interested in