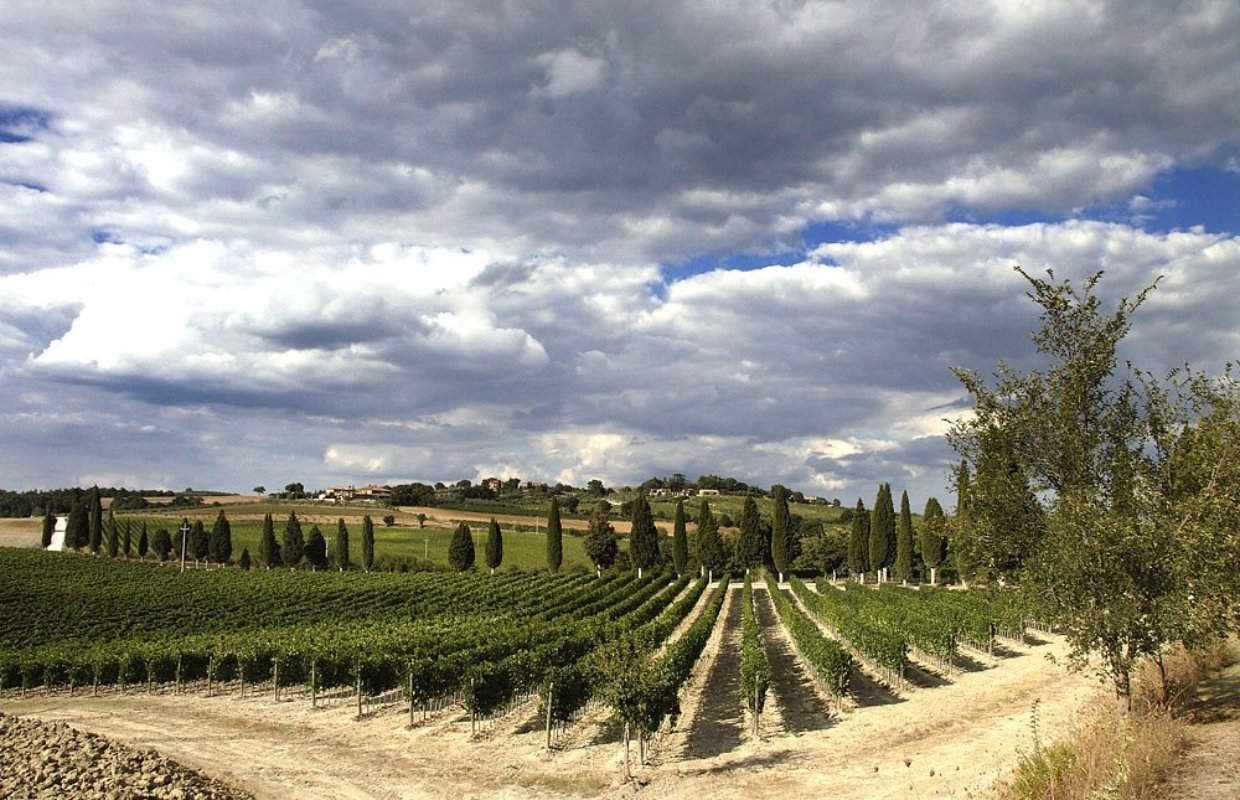 Orcia Wine Trail
Discover the wine, pecorino and saffron
The Orcia Wine Trail includes the areas of Abbadia San Salvatore, Buonconvento, Castiglione d'Orcia, Chianciano Terme, Montalcino, Pienza Radicofani, San Casciano dei Bagni, San Giovanni d'Asso, San Quirico d'Orcia, Sarteano, Torrita di Siena and Trequanda. It is an area characterized by lovely rolling hills, the "crete" that are geological clay formations, and large farms where Durum wheat (for pasta) and olives are grown, in addition to the many vineyards.

Traditional products
Local products include Vino DOC Orcia, produced in the area from characteristic grapes like Sangiovese and Trebbiano Toscano, as well as the classic, Orcia Rosso varietal. The same grapes can be used to produce red or white wines as well as Novello Wine and Vin Santo, the traditional wine made from dried grapes. Another excellent product of the area is Extra Virgin Olive Oil (certified DOP Terre di Siena) pressed cold from olives of the 'moraiolo', 'frantic' and 'leccino' varieties, which boasts a fruity aroma and bitter, slightly sharp flavour. Along this taste itinerary you are sure to encounter pecorino cheese from Pienza and the mushrooms of Amiata, the celebrated truffle of the Crete Senesi, and specialties like Cinta Senese pork products, and saffron, rediscovered only recently and grown by small producers.

Tourist itineraries
The best way to discover and enjoy the wines and all the other products of the area is to visit the individual producers directly. Also visit towns in the Val d'Orcia, some of which declared world heritage sites by Unesco, which are rich in cultural attractions and fine foods and wines. For more detailed itineraries we suggest that you visit the website www.stradavinorcia.it or visit the headquarters in Castiglione d'Orcia at Rocca di Tentennano, where you can also obtain a list of members and wine bars. Pienza ia also a town of great historical and artistic interest because it is known as the "ideal city" and birthplace of Pope Pius IX. It is sure to enchant thanks to its narrow, winding streets, Palazzo Piccolomini and its cathedral. Radicofani stands on a cliff and boasts a characteristic skyline and the Tentennano fortress in the horizon. Other towns to visit include Abbadia S. Salvatore, which takes its name from the ancient Benedictine abbey there, has many artworks of great interest; Buonconvento, where the village still has part of the ancient walls, and many buildings of historical and artistic interest; Castiglion d'Orcia, with its fortress that dominates the entire valley; Chianciano Terme, famous for its thermal waters and an interesting downtown area; San Casciano dei Bagni is famous for its hot springs; San Giovanni d'Asso has a fascinating castle; San Quirico d'Orcia is an intact medieval town; Sarteano has a lovely Renaissance church; Torrita di Siena still has the ancient watchtowers and walls; and Trequanda has a 13th-century castle.
You might also be interested in
&
Wine and Olive Oil Roads