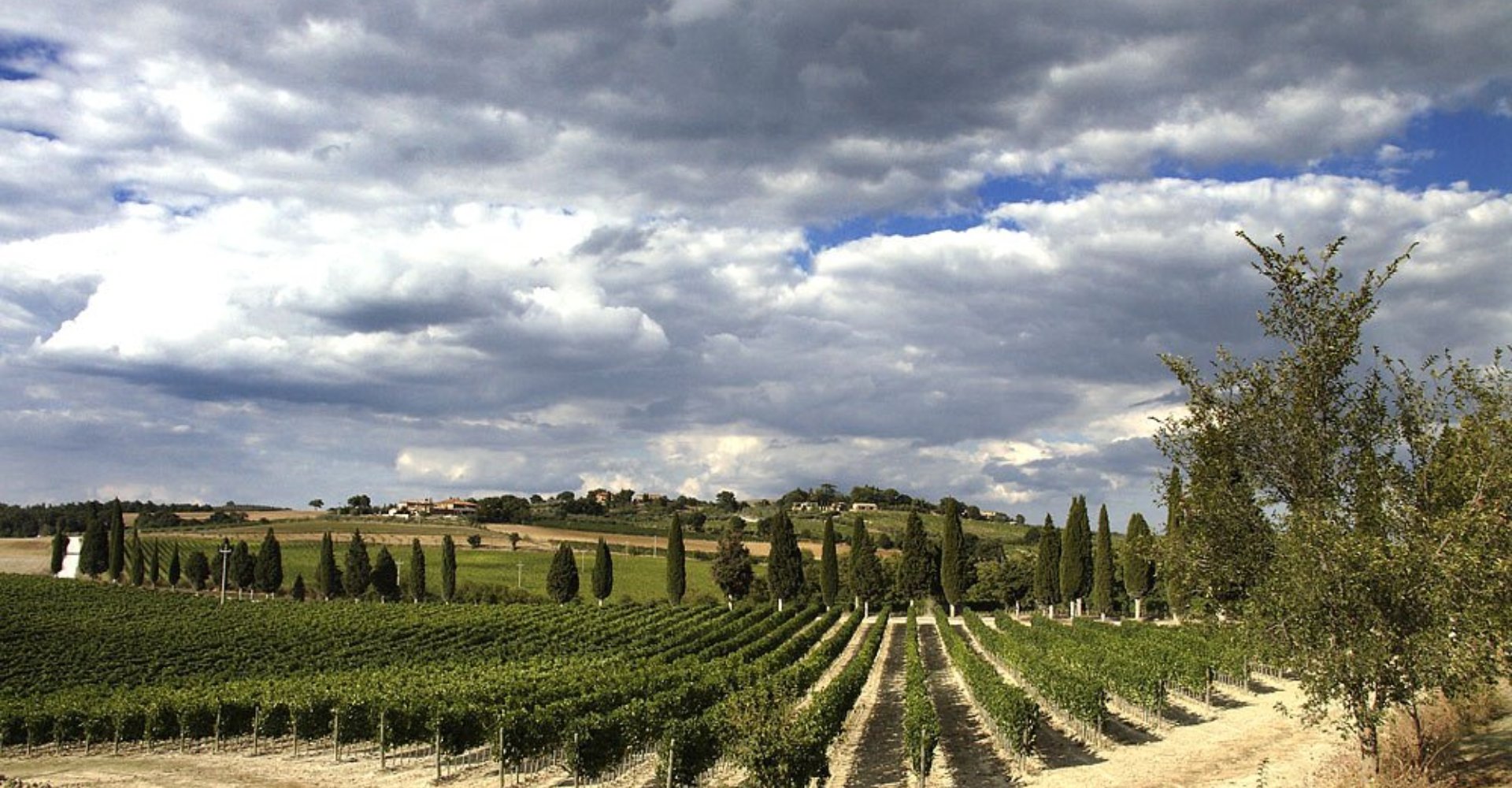 A land of sensuality, where you can lose yourself in wonderful landscapes
The Orcia Wine Trail runs through the municipalities of Abbadia San Salvatore, Buonconvento Castiglione d'Orcia, Chianciano Terme, Montalcino, Pienza, Radicofani, San Casciano dei Bagni, San Giovanni d'Asso, San Quirico d'Orcia, Sarteano, Torrita di Siena and Trequanda. The territory is characterized by rolling hills, the Crete, cereal and olive cultivation and, of course, wineries.
The oak and chestnut forests bestow aromatic mushrooms and chestnuts, the latter of which is used to produce tasty flour, which in turn is used to make various dishes. Sheep have been reared in these parts for decades, useful for meat and milk production, the latter of which is used to make Pecorino Toscano DOP.
Suggested route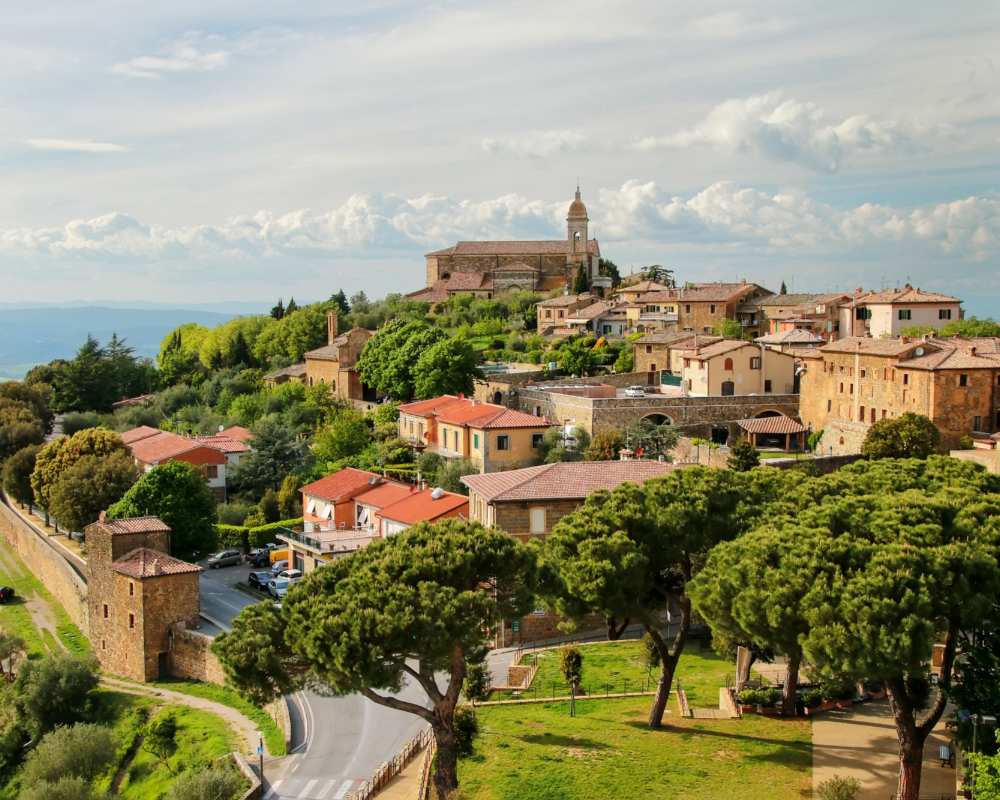 View of Montalcino from the fortress - Credit: Shutterstock / Don Mammoser
To learn and fall in love with not only wine but also all the other products made in this area, the best recommendation is to directly visit the individual producers and all the towns in the Val d'Orcia, recently recognized as a UNESCO World Heritage Site and full of culture and food attractions.
These include: Abbadia S. Salvatore, which gets its name from the Benedictine monastery that conserves important artworks; Castiglion d'Orcia, which with its fortress dominates the entire valley; Montalcino, dominated by a 14th-century fortress and historically and artistically important; Buonconvento, which conserves a large part of its medieval walls as well as historically and artistically important buildings; San Giovanni d'Asso, where you can find a fascinating castle; and Pienza, known as the "ideal city" conceived of by Pius IX and home to intriguing, winding alleys, Palazzo Piccolomini and a cathedral.
Typical products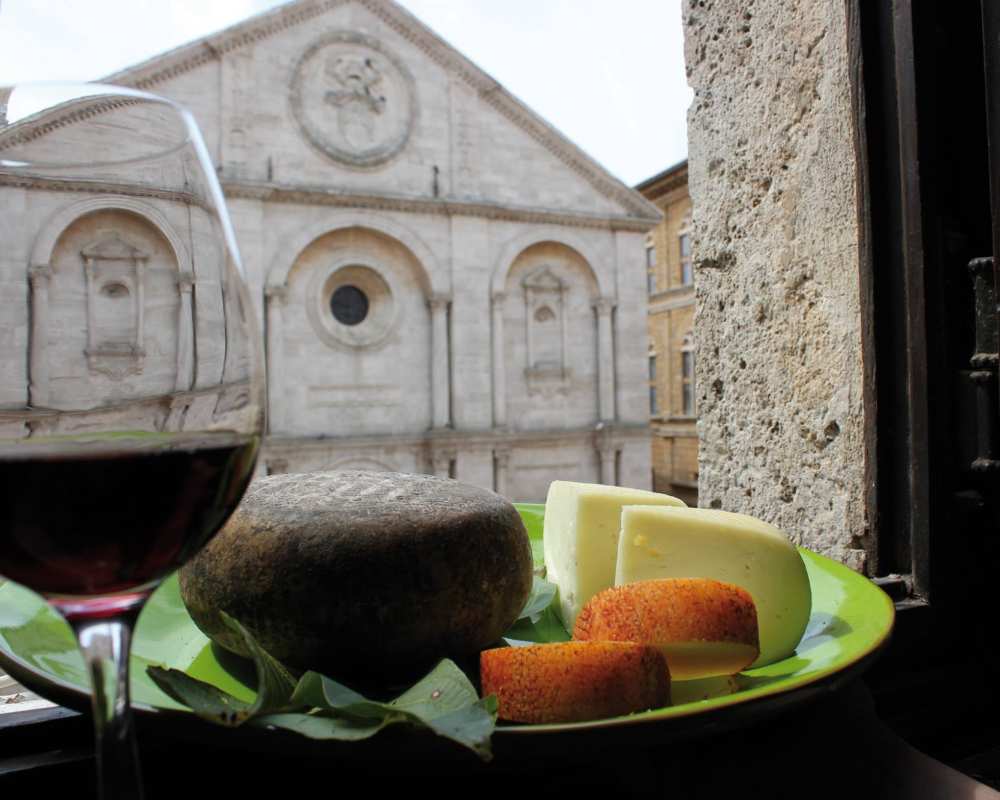 Some typical products from the Val d'Orcia
Amongst the typical products, the most exquisite and famous are the cold cuts, with their sublime and delicate flavour. Others include pecorino from Pienza, chestnuts and mushrooms from Monte Amiata, the renowned Crete Senesi Truffle and unique products like cinta senese and saffron, which has only recently been rediscovered by smaller producers.

Naturally, the Orcia Wine DOC, produced in the aforementioned area and made from Sangiovese and Tuscan Trebbiano; besides the classic Orcia Rosso, either white or red wines can be produced, also as Novello and Vin Santo, a traditional sweet wine.
Another excellent product from this area is the extra-virgin olive oil (certified Terre di Siena DOP), made by cold pressing moraiolo, frantoio and leccino varieties of olives; the oil vaunts a fruity aroma and a bitter, slightly spicy taste.
Info: stradavinorcia.com
Explore
Discover something of interest near this itinerary