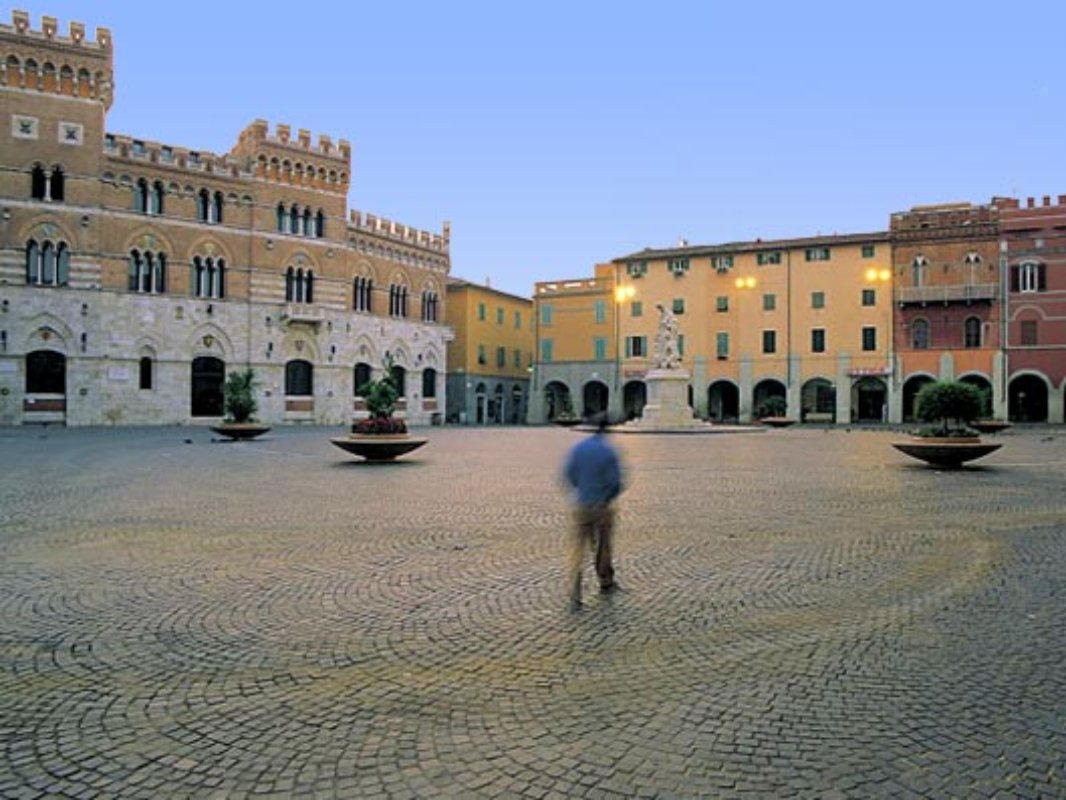 Grosseto, the colours of an ancient land
Once a Florentine province lying in the Maremma plains
The town has Etruscan origins but is documented for the first time in 803 ac.
During the 14th century the town was conquered by Siena, beginning a period of decline due to the spreading Black Death and frequent Aragon attacks.
Siena's domain ended in 1559 when Grosseto was annexed to the Tuscan Grand Duchy ruled by Cosimo I dei Medici. In the 16th century the town's fortified walls were built plus churches and palaces were embellished. Medicean domain lasted until 1735, then Grosseto passed under the Lorraine Princedom, thanks to whom the city slowly regained prestige.

The cathedral is well worth a visit even though the numerous modifications have altered its artistic identity it still remains quite fascinating. The most important modification was completed in the 1800's, attempting to regain its original Gothic aspect. The interior offers a great deal to the keen observer, such as the original 14th century stained glass windows, Christening fount, altar dedicated to the Madonna, holy water stoup and the venerated image of Madonna delle Grazie.

Walk along Corso Carducci until the facade of the church of San Pietro can be seen. It is Romanesque in style, documented for the first time in 1188, undergoing various modifications throughout the centuries. It is now completely submerged by new buildings. The apse in Piazza Beccaria was built on a small church (Chiesa dei Bici) which was once part of the Poor Clairs convent, rebuilt after the Medicean walls had demolished the original construction. In the nearby Piazza San Francesco the church bearing the same name dates from the 14th century. The interior has a 13th century crucifix and a frescoe depicting San Cristofano

A trip to Grosetto would not be complete without a visit of the fortified walls. The first recognisable city wall remains date back to the Sienese domination, then once Grosetto and Siena passed under the Grand Duke, Cosimo I constructed new sturdier city walls capable of resisting new forms of war-faring. With the passage of time however, the city walls lost their strategic importance, and once demilitarized, they became public domain.

The Argentario is near Grosseto, this stretch of headland lies along Tuscany's southern coast, extending as far as the Tyrrhenian Sea for roughly 13 kilometres, ending at Monte Telegrafo (615m above sea level). This land was originally an island, but the shifting river drift joined it to the Tyrrhenian coast with two stretches of land (Tombolo di Feniglia and Giannella), giving rise to the Orbetello lagoon.

The Argentario has a characteristically high coastline and narrow beaches with alcoves, which are a favourite tourist haunt during the summer months. The key resorts are Porto Santo Stefano and Porto Ercole.
You might also be interested in