A horseback riding adventure in Maremma's famous 'Terre del Tufo'
Horseback riding on the Etruscan trail
'Life moves pretty fast, if you don't stop and look around every once in a while, you could miss it' – a quote from the movie 'Ferris Buellers day off' felt appropriate when describing our Saturday excursion to the areas surrounding Pitigliano, Sovana and Sorano for a morning horseback riding adventure in Maremma's famous 'terre del tufo'. While being constantly connected means that people like me have a steady job, nothing really compares to being able to truly live in the moment – eyes straight ahead, not a distraction in sight.
Horseback riding with Giulio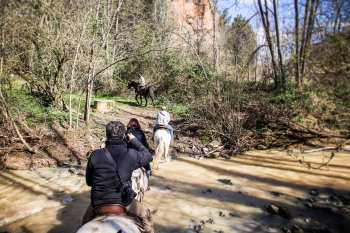 We met a jovial Giulio, a mountain man who looks right at home around these parts. He had our horses tethered to the wooden fence while his partner Ezio rode up on a beautiful horse to help us learn how to master the art of getting on a horse without fear. We nervously put our feet in the stirrups and soon enough, we were high above the ground and walking along paths that would eventually lead to an ancient Etruscan necropolis.
It took some time to get the hang of guiding my new friend Tamerlano, named after the powerful founder of the Timurid Empire (in central Asia and Eastern Persia) and the Mughal dynasty. My new friend was more interested in eating the fresh grass surrounding us while the sun made the day feel like springtime. We rode together through stupendous Volcanic rock villages, at one point traipsing through a steam and stepping carefully down rocky, muddy paths. What blew me away was when we passed through the Cava di San Giuseppe, a sunken ancient walkway carved into the rock.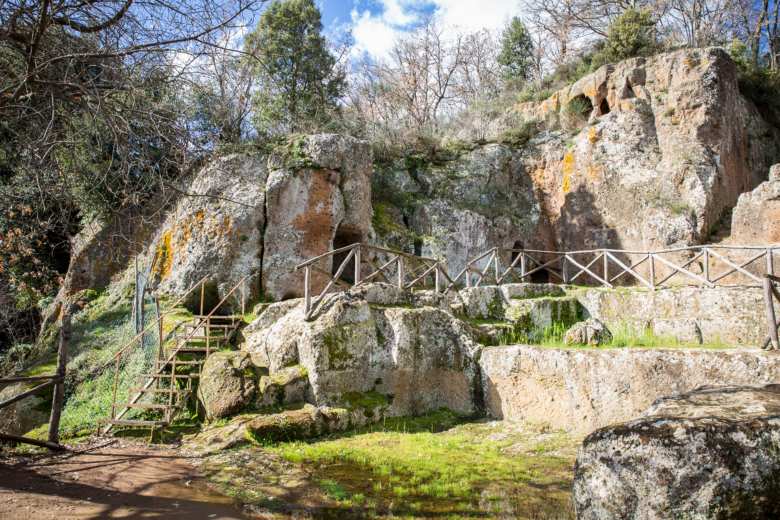 We stopped at some of the most famous Etruscan tombs in the area, from a civilization that dates between the 7th and 1 centuries B.C. One of those most important was the Ildebranda tomb, comprised of both burial chamber and tomb – a lasting reminder of the life of an obviously very wealthy man. We could still spot some of the columns carved in that stone.
When it came time to get off our horses and head to the agriturismo for a delicious homemade lunch, we were all a little sad to leave our horses behind. Coming from a Tuscan Texan, it's one thing to go horseback riding – it's another thing to do this. Now I could understand why this is the kind of place that people always seem to find their way back too.
You might also be interested in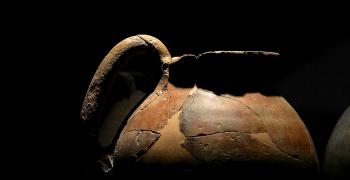 trip_origin
Learn more
Etruscans
Mistery, history and arts: exploring Tuscany in the footsteps of the Etruscans means getting in touch with an ancient, fascinating and enigmatic
continue...