Free natural hot springs in Tuscany
A selection of open air natural hot springs you shouldn't miss in Tuscany
Imagine steamy, hot water that flows over rocks from which you can see only nature, fields, or woods. Tuscany has this in its hot springs, and some of them are free and open, meaning that there is no ticket to pay, they are open air and you can visit them any time you want: day or night, winter or summer.
Let's discover together the top free natural hot springs in Tuscany!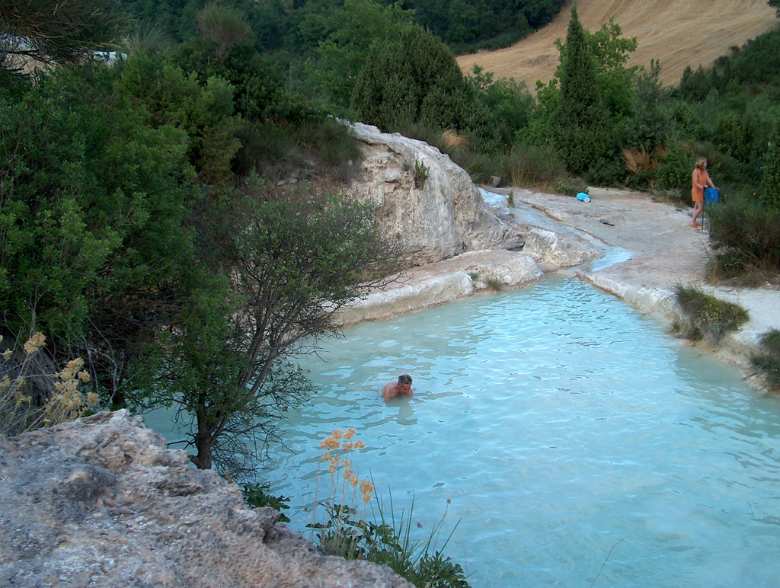 What in traditional towns is a main square, in Bagno Vignoni is a huge thermal pool, but you can't jump in there! Try the Parco dei Mulini for a free bath just steps away.
The thermal baths of Bagno Vignoni, probably well known even in Etruscan times, were definitely enjoyed by the Romans, who consecrated these waters to the Nymphs (as a plaque located under the arcade of the church of Santa Caterina testifies).
Thanks to their close vicinity to the Via Francigena and to their curing properties, these baths grew in importance during the medieval period. Bagno Vignoni became a halting and refreshment point for the numerous pilgrims who traveled the Francigena on their way to Rome. The spa also became a popular resort for dignitaries like Lorenzo il Magnifico and Pope Pio II Piccolomini.
In this video from one of our Play Your Tuscany blog tours you can see a glimpse of Bagno Vignoni. Isn't it an amazing scenery?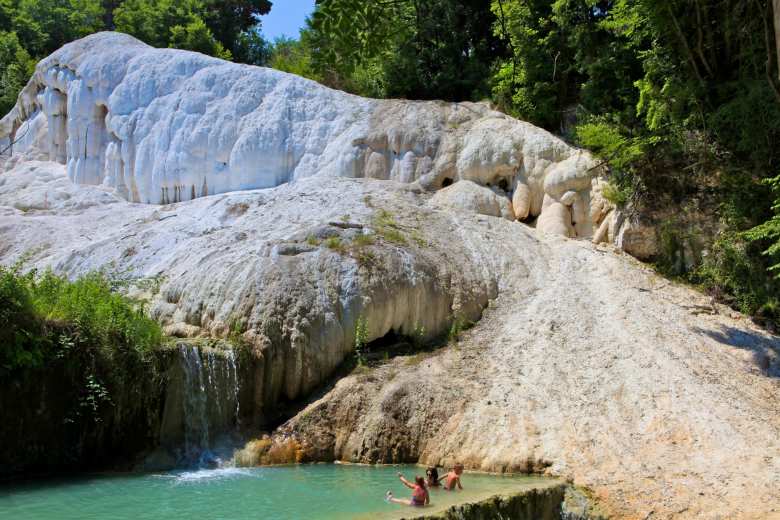 San Filippo is only half an hour away from Bagno Vignoni and it has a similar past: the waters of San Filippo were known by Romans, became famous in Middle Ages, treated famous people like Lorenzo il Magnifico and other princes of the Medici family.
In the heart of the Val d'Orcia, the Bagni San Filippo are characterized by suggestive calcareous sediments made by the hot sulphurous water.
The thermal baths are set in the forest just outside the small town: you can choose between a pool carved in rock (known as "balena bianca", or white whale") or you can cross a small bridge and take a mud bath.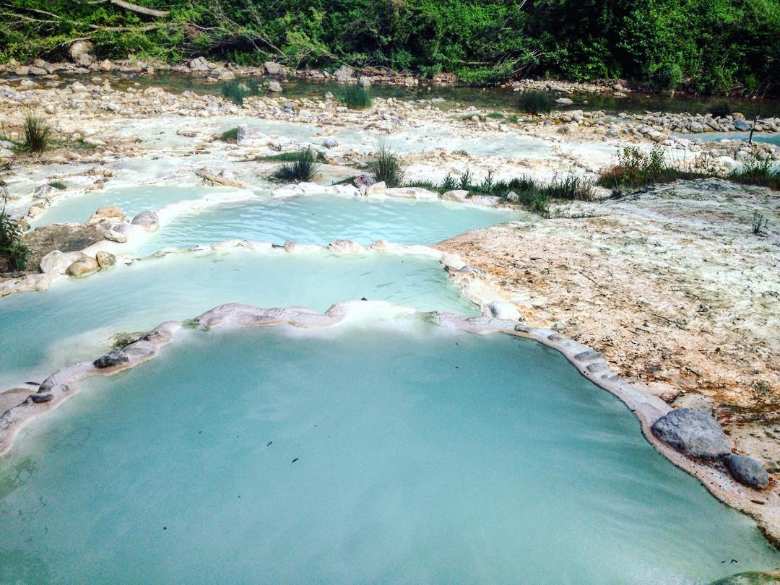 The hot springs of Petriolo are located halfway between Siena and Grosseto. The waters are around 42°C (107 F) warm and give way to a great experience, especially during winter: just imagine the contrast between the hot water and the cold air outside.
Fun fact: the pools are located right below the ruins of fortified thermal baths dating back to the Roman era. At this point, we can take for granted that Romans really loved hot baths... easy to understand the reason why, isn't it?
Saturnia is certainly one of Tuscany's most famous thermal centers and also has origins that are lost in the mists of time.
According to legend, Saturnia is the most ancient Italian town: it was founded in Etruscan times and then conquered by the Romans, who planned the town and encircled it with walls. For the record, a section of such historical walls still stands in the vicinity of Porta Romana. Where does the name "Saturnia" come from? The town takes is name from Saturn, god to the Greeks and, later on, to the Romans.
Last but not least, let us give you a little advice: don't even think about having a bath with your favorite bikini... The smell of the sulphurous water is too strong and it would stick to it even if you wash your swimsuite a hundred times! An old one will do!
Have you ever been to any of these hot springs?
You might also be interested in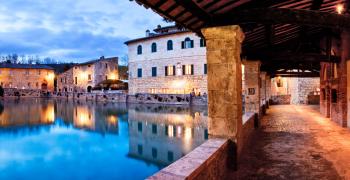 spa
Learn more
Spa and Wellness
If you could close your eyes and push away the overwork, the traffic, the pollution, the stress… it would be a desire for many, especially now that
continue...