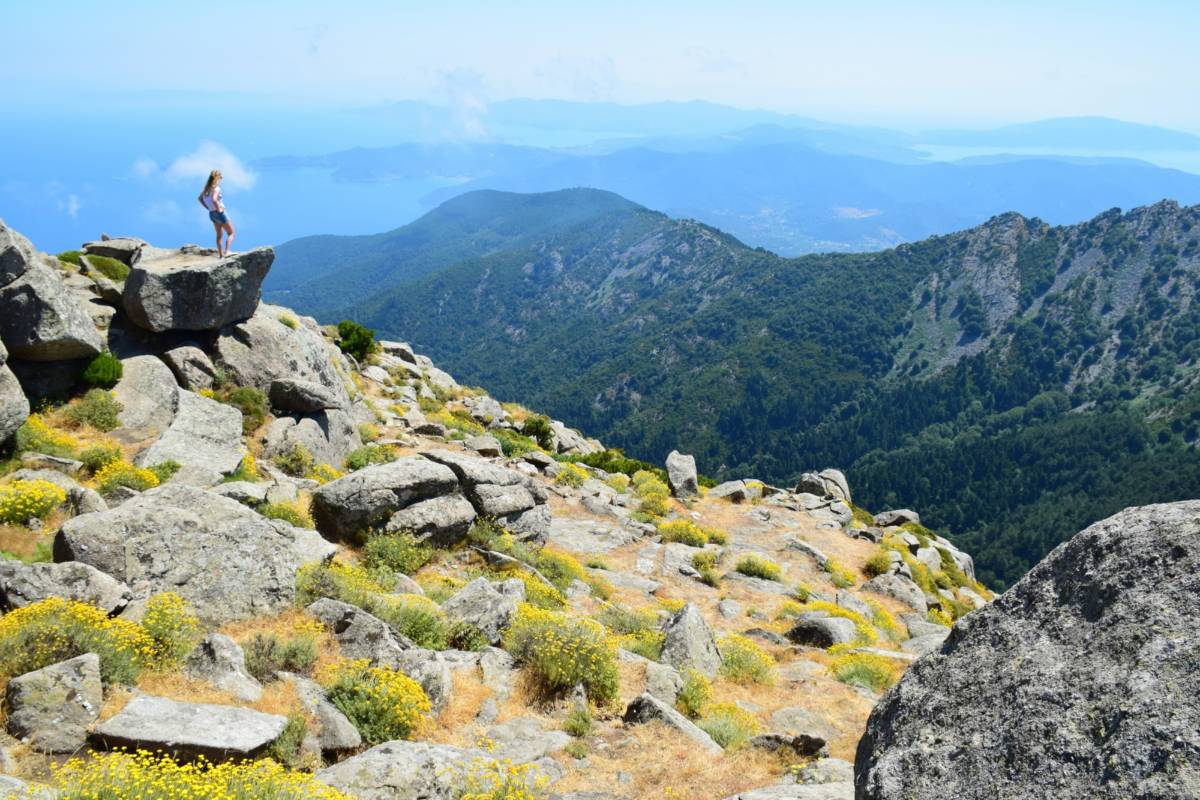 Photo ©Shutterstock.com / Zuul72
An incredible ride between sky and sea on the island of Emperor Napoleon
Legend says that when Venus, the goddess of beauty and love, was immersed in the waves of the Tyrrhenian Sea, the splendid tiara she was wearing around her neck broke and seven precious gems fell into the sea, transforming, out of divine metamorphosis, into islands. Thus were formed Giglio, Capraia, Gorgona, Pianosa, Giannutri, Montecristo and Elba.
On the largest island in the Tuscan Archipelago, the Mediterranean atmospheres blend with the extraordinarily varied nature, in which granite, limestone, endless forests and the crisp air of the mountains create a one-of-a-kind cocktail of nature and history. Elba also conceals a precious treasure underground: the iron and pyrite mines were among the oldest iron-yielding deposits in the world to be mined and for centuries launched the island into the spotlight for its never-ending mining resources, sought by the greatest powers in Europe. The mining activity on the island continued for over two thousand years before coming to end in 1981 when the last mine, Galleria del Ginevro, was closed.
Elba is an island that deserves to be walked, possessing a magnificent coast of 147 kilometres of cliffs, beaches and coves. But in addition to the beauty of the island's waters, Elba boasts an important patrimony of nature, characterized by a lush vegetation that has earned the island a spot among the greenest in the whole of the Mediterranean. And thanks to this precious heritage, it's the ideal destination for excursionists who find here both the pleasure of discovering the beauties of nature and a thousand-year history of the most important civilizations in the Mediterranean.
The Great Elban Crossing is an impressive hiking route, considered one of the most beautiful walks in Italy, which unfolds primarily on the ridge of the island's mountain. The whole journey can be done in four to five days, through hiking single stretches is just as doable.
The walk allows visitors to see all the ecosystems present on the island and its varied nature, from the coasts to the forests, before arriving at the peak of Monte Capanne, over 1,000 metres high, from where you can enjoy one of the most fascinating views offered by Italy's mountains.
The route stretches along the ridge of Elba's mountain chain, with plenty of opportunities to view your surroundings in every direction, allowing you the chance to enjoy infinite panoramas of Corsica, the Tuscan Archipelago and the Italian peninsula while discovering the wonderful blossoming of the Mediterranean scrub.
nature_people
Learn more
Outdoors
Tuscany is not only the region of art towns and hamlets: there's another face of Tuscany that is genuine and wild, waiting for you to discover and
continue...